This article is one in a series, Healthy Liveable Cities, in the lead-up to the Designing Healthy Liveable Cities Conference in Melbourne on October 19 and 20.
---
Australia's population has grown by 3.8 million over the last decade. Of the capital cities, Melbourne has grown the fastest – close to 1 million newcomers in the ten years to June 2016.
With such growth comes a need to expand social infrastructure – all the common social services and facilities people need over their lives which are critical for an area's liveability. However, our analysis shows a noticeable mismatch between the fastest-growing areas and the social infrastructure available to these communities.
The suburbs in the outer growth corridors of Melbourne are growing fastest, with large increases in young families and school-age children. The concentration of population growth is clearly visible when growth rates across metropolitan Melbourne are mapped in Figure 1 below.
Figure 1: Population growth rates across Melbourne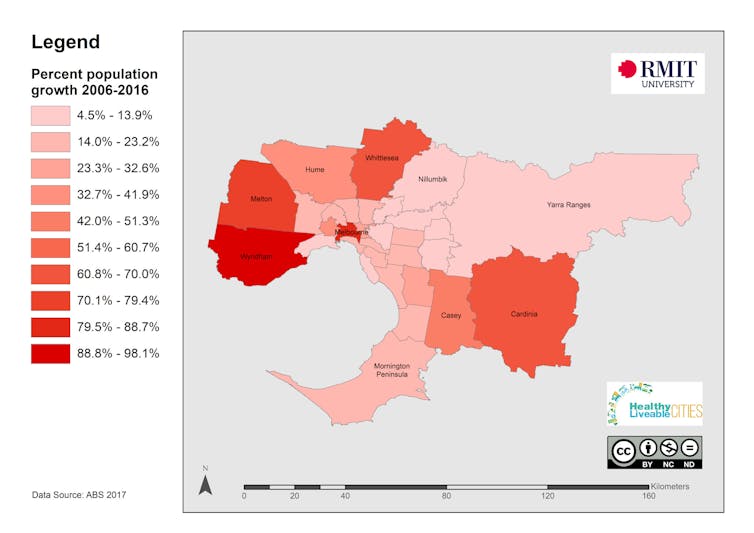 Local Government Areas with the fastest population growth between 2006 and 2016 include Whittlesea, which increased by 62%, Cardinia by 69% and Wyndham by a staggering 98%, or 113,000 people. In stark contrast, Nillumbik had the smallest population growth of 4.5%, or 2,765 people.
Population growth has a huge impact on the planning of communities and the services to these. Governments use demographic data like the population statistics from the Australian Bureau of Statistics Census to inform policy and planning decisions on the location and funding of schools, hospitals, parks, roads and public transport. These are the physical infrastructure needed for human settlement.
Most attention is usually directed to such "hard" infrastructure – such as transportation, power, water and telecommunications – which is of great significance to economic development.
In comparison, social infrastructure is often described as "soft" infrastructure. It's a name that fails to reflect its important role in society and the importance to health, wellbeing and liveability.
What is social infrastructure?
Social infrastructure describes the common services and facilities people need across their lives. These are very important influences on the liveability of an area. It also refers to the amenities most people look for when making decisions about real estate or where to live. These include:
hospitals, health services and medical centres

primary and secondary schools, kindergartens and child care

libraries, community centres and neighbourhood houses

public transport, walking and cycling options

community support agencies

movie theatres, museums and art galleries

pools, gyms, parks and public open spaces

police, ambulance and fire stations

aged care and retirement accommodation, social housing and a diverse range of housing options for all ages and demographic groups.
These are key ingredients for liveable cities. They create the conditions needed to promote the health and wellbeing of all city residents – not just those living in affluent, well-serviced suburbs.
The quality and range of services available where people live, learn, work and play have a direct influence on their long-term health and the future development of chronic health conditions.
Importantly, this means that government-funded social infrastructure has longer term benefits for universal health prevention. As a result, good design and planning of well-serviced communities directly benefits all levels of society.
Social infrastructure in Melbourne
Social infrastructure should be fairly and equitably distributed across cities. However, the fastest growing suburbs of Melbourne, with increasing numbers of families and children, are the areas with the least services (Figure 2).
Figure 2: Levels of social infrastructure across Melbourne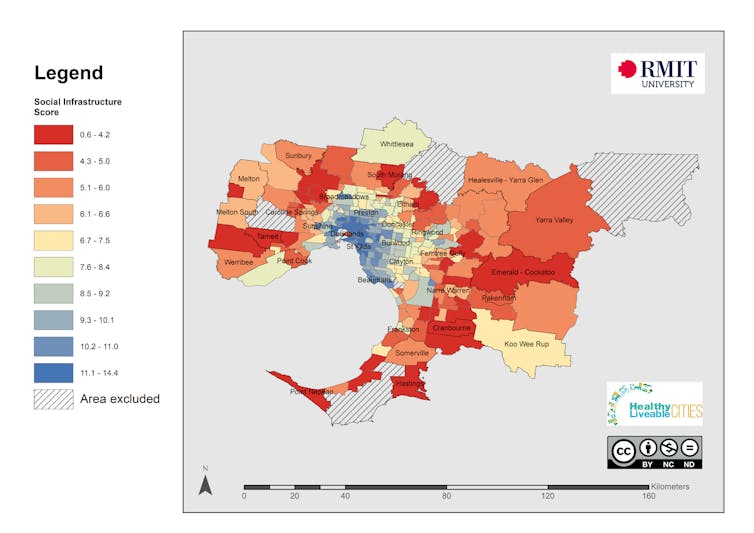 This disparity is largely because current methods of planning social infrastructure are based on projected population targets measured before services are delivered to new areas.
People living in new suburbs have to wait for enough people to move in before government can justify delivering new social infrastructure. This means it can be years before important services like local schools, parks and community facilities are built.
The current approach to social infrastructure planning encourages car dependence, social isolation and stark inequity across our cities. This has a devastating impact on the liveability of some areas and the health and wellbeing of residents.
It's particularly unfair when people are often forced to move to outer growth areas in search of affordable housing. This creates a breeding ground for complex social problems, mental and physical health disparities. The result is communities where people have less time and opportunity to live a healthy, active lifestyle and connect with each other.
Creating more liveable communities from the start
Building new infrastructure is very costly. The simple solution is for well-serviced inner and middle suburbs to share their existing social infrastructure with new neighbours.
This means increasing densities in these areas and sharing existing services (take note "not-in-my-backyard" development opponents). This is a key recommendation of the Infrastrcture Victoria 30-year plan and consistent with the Plan Melbourne goal of maintaining liveability.
New suburbs will also continue to be developed. Here, social infrastructure needs to be in place before people move in. This is important because changing the methods used to determine social infrastructure requirements in advance will also dramatically improve the liveability of these areas.
A more equitable method for social infrastructure planning is based on access. Hard infrastructure, like roads, is built as development occurs, and the same model should apply to the provision of social infrastructure. This will ensure easy and close access to social facilities and services, which in turn will create healthier and more liveable communities.
Government planning processes and developer contributions need to be rethought. We have much to learn from the Canadians, who have been using these methods for years.
---
You can read other articles in the series here.
The Designing Healthy Liveable Cities Conference is being hosted by the NHMRC Centre of Research Excellence in Healthy Liveable Communities in Melbourne on October 19-20. You can register here.