Open up volume two of the report of the Royal Commission into Trade Union Corruption and Governance, and the first substantive thing you encounter is an unattributed poem – about blackmail.
Written before the first world war, it was seen as an argument against peace with future enemies. By placing it here, commissioner Dyson Heydon consciously likens unions, particularly the Maritime Union of Australia, to Viking raiders and says that if you give in to union demands once, they will keep coming back until you finally defeat them.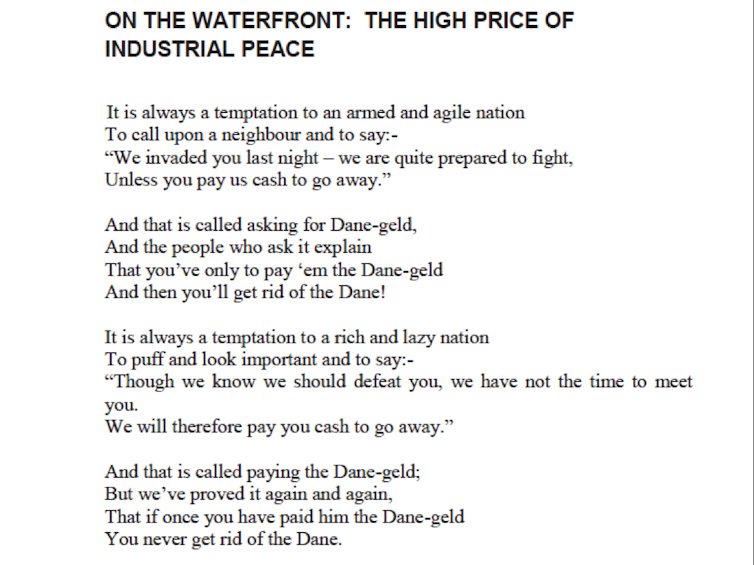 It's hardly an unbiased view of trade unions in 21st century Australia. Nor is it the only hint of bias in the report nor in its behaviour.
And why should it be unbiased? A royal commission is not a court, it is an arm of the executive government, or what Heydon called an "administrative inquiry". A royal commission report is like a huge, and very expensive, consultancy report.
Lobby groups and governments use consultancy reports because they give the aura of third-party endorsement to things others want to do. Marketers refer to third-party endorsements as "one of the most powerful forces in the universe for anyone marketing a product". They promise "campaigns to obtain third-party endorsement" and to "build trust through third-party influencers".
Journalists, with some noble exceptions, rarely challenge the assumptions of consultancy reports providing third-party endorsements.
A report produced by royal commission is even better. Its "expressions of opinion" endorsing a particular agenda have a judicial aura. They "attract public confidence as being impartial, non-political and independent". But, in the end, they are written by an arm of the executive, not the judiciary.
Why focus on unions?
And there are much bigger fish to fry than trade unions. Lawbreaking within the 7-Eleven franchise chain might reportedly total A$100 million, though there is little sign the mansions or private jets of the owners are at risk.
This dwarfs what seems the largest amount at issue in the royal commission – the $1.4 million that "whistleblower" Kathy Jackson was ordered to repay, with workers perhaps missing out on $2 million of back-pay from her activities.
Other recent issues include an alleged $76 million Ponzi scheme operating out of a major bank, a $170 million home-loan fraud scheme, allegations of interest rate rigging over two years netting $12 million profit in just one day, $164 million of employee fraud attributed to gambling addictions, "tens of millions" of dollars bribes paid by an Australian construction company, $655 million per year in unpaid wages and entitlements by "phoenix" corporations, including in construction, untold losses in tax avoidance through the use of offshore entities, politics and more.
Yet that bias, and the ignoring by government of worse evils, does not mean that unions can avoid dealing with the issue – because the potential impacts on them are important.
The effects on unions
To assess the effects on union, we should consider what research tells us are the reasons people join and leave unions, or do not do so.
Workers' views about union membership are heavily shaped by experience. So, in unionised workplaces – especially those with delegates – views about success or failure of the union will shape what people do.
The things that are under the influence of unions are several times more important than the things under the influence of management in determining union effectiveness. They are, to a significant extent, inoculated from the royal commission's discourse.
In non-union workplaces, on the other hand, many workers have no personal experience of a union. They are much more influenced by what others, including the media, tell them. It is harder for an individual union to directly determine that. Non-unionists may be more influenced by the royal commission's narrative, and by perceptions of whether unions are corrupt, self-serving or the like.
There has been a significant drop in union membership in the last couple of years, even after accounting for some oddities in the data. The data suggest, though, that it is not due to a drop in people joining unions but to a growing number of exits from unions, especially among people who have joined in the last few years.
This suggests that the effort that has gone into recruitment has not been matched by retention – and also that the royal commission's narrative is not causing most of the recent drop in union membership. But it still might.
Changes in union density, over the longer term, have not been driven by changes in public approval of unions. However, as the number of non-unionists increases, such attitudes become more important. And if some of the royal commission's recommendations are adopted, the power of unions in unionised workplaces would decline – and that would affect union membership there as well.
If unions are unable to overcome the royal commission's narrative and develop an effective response, the decline will likely continue and worsen.
The union response
Unions need to work out which of the recommendations are worth considering – to sort out the gems from the dung.
Amid all the bias, including unacceptable recommendations for parliamentary control of a specific union, or increased right of entry requirements penalties for breaches, there are some worth supporting. These include for expanded disclosure requirements, retaining minutes, and mandating financial management training.
Others could be accepted with modifications, to focus on fiduciary duty rather than industrial behaviour. Some observers have given close attention to what is worth supporting and why or why not.
Unions also must take action against corruption in their own ranks. The trouble is, the Australian Council of Trade Unions has minimal power over affiliates. That means individual unions must have mechanisms in place for good governance. Many do. But it's clear that some greedy individuals have created ammunition for the opponents of unionism.
Members have a right to a decent say in what their own union does. Research shows democratic unionism is essential for union growth, and democratic unionism is impossible if there is corruption.
Unions must also be seen to be doing the right thing, because that's going to influence future recruitment into unions.
Many of the recommendations are not about improving democracy in unions. Much of the government response is not that way either. The defeated legislation to restore the Australian Building and Construction Commission, for example, would deal with neither corruption nor productivity, and targets one industry. Whatever compulsory interrogations of building workers do, they don't make unions more democratic.
The Registered Organisations legislation creates fines for ordinary union members and, given the ability and track record of government in making heavily biased appointments in industrial relations, runs the risk of establishing another partisan body targeting unions rather than improving governance.
It's very clear that unions aren't the only site in public life where corruption exists. But it's harder for unions to point to those other areas of corruption if the media is focused on bad governance in unions. No matter how biased the report, and despite the fact that the media hold union officials to much higher standards than they hold others in positions of greater power, unions must confront governance problems in their ranks.
Like organising, digital campaigning, recruitment of young workers, retention, better use of data and developing narratives, it is a part of "reinventing" unions and needs to be included in that agenda.
---
You can read other pieces in the series here.