On May 9, South Koreans will vote for their next president. Whoever wins the election will have to face serious domestic and international challenges.
It's been almost six months since a political scandal engulfed then-president Park Geun-hye and three months since the Constitutional Court made the decision to impeach her. Because Park was not able to complete her term, which was supposed to end in February 2018, this election has had a hasty campaign and transition schedule.
The new president's tenure will start immediately from May 10.
Domestic factors
The country's conservatives have become fragmented because of Park Geun-hye's impeachment and loss of the ruling party's political legitimacy. This is a new feature in the country's 30-year-old democracy.
Traditionally, conservative candidates have been able to garner more than 45% of votes. Other than the ten years from 1998 to 2007 when the progressive Kim Dae-jung, of the National Congress for New Politics, and Roh Moo-hyun, of the Millennium Democratic Party, were in power, the country's conservative party has dominated national politics, despite a number of name changes.
But Park's impeachment has split it into two factions. They comprise those who were against Park's impeachment and remained in the newly named Liberal Korea Party, and those who voted for the impeachment and created the Bareun Party.
This implosion of the ruling party has left many conservative voters confused about which party and candidate to support.
This support has wandered from Ban Ki-moon (the former UN secretary-general who was regarded as one of the strongest conservative candidates but who decided against running on February 1) to Hwang Kyo-ahn, the acting president, who also chose not to run in spite of his popularity among conservatives.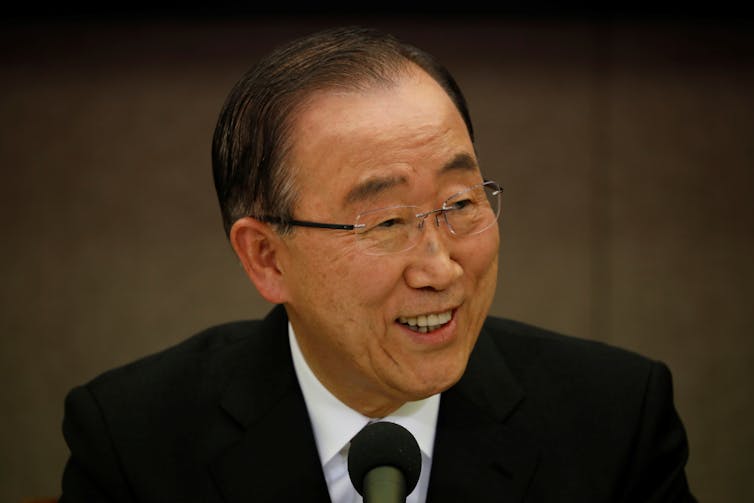 Support then shifted from a centrist left Ahn Hee-jung (governor of the western province of South Chungcheong), who lost his party's primaries, to Ahn Chul-soo (the centrist People's Party's candidate) and Hong Jun-pyo (the Liberal Korea Party's candidate).
Conservative voters have thus become an unpredictable variable in the election.
In what is – theoretically, at least – a positive for Korean democracy, this election also has an unusually large number of candidates. In all, 15 candidates had registered, and 13 are now running. But only the five candidates from parties that already have multiple seats in the National Assembly are regarded as contenders.
Their ideological spectrum is very wide: from far-right Hong Jun-pyo (Liberal Korea Party) and conservative Yoo Seung-min (Bareun Party) through to centrist Ahn Cheol-soo (People's Party), moderate left Moon Jae-in (Minjoo Party) and left Shim Sang-jung (Justice Party).
Other than Moon's consistently high approval rating since Park's impeachment, the other candidates' approval has fluctuated, especially after heated television debates.
One of the most challenging tasks for the new president will be how to effectively govern the fragmented country. Korean society is divided into those who want fundamental political and economic reform, and those who remain sympathetic to Park. And whoever wins the election is likely to prevail with a small margin.
What's more, the National Assembly will remain divided until the next legislative election in April 2020. None of the major candidates' parties has more than 150 seats (the total number of seats is 300 and, under the National Assembly Advancement Act, even the majority party cannot force through legislation without agreement of 60% of the house (180 votes).
Front-runner Moon Jae-in's Minjoo Party has only 119 seats. So even though he looks likely to win the election, he and his party will have to negotiate with other parties to pass legislation.
International implications
And then there are the myriad international challenges.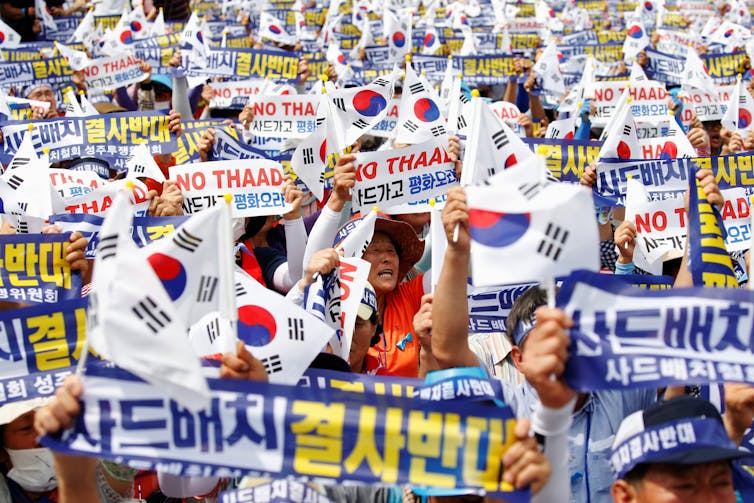 The first will be managing the country's alliance with the United States and its unpredictable new president. When the Park Geun-hye administration announced the deploying of the anti-missile Terminal High Altitude Area Defence (THAAD) system in July 2013, it triggered a major backlash in the local community.
The announcement also hurt the historically good relations with Beijing, which retaliated with economic measures targeting Korean businesses. Moon's stance toward THAAD has been lukewarm and ambivalent, so if he wins the election, Beijing might push his administration to review the decision.
Meanwhile, the Trump Administration wants to review and reform the Korea-US free trade agreement. Ratified by both countries in 2011, it was the largest trade deal for the US since the North American Free Trade Agreement (NAFTA) in 1993. What the US administration wants to change is unclear, but it is causing anxiety among South Korean businesses, especially as the country's economy is slowing.
Last but not least, there's North Korea. Threats from the reclusive regime have been on the rise in recent months, with regular missile tests and its continuing development of nuclear weapons. The prospects of the nation's sixth nuclear test and of a US pre-emptive strike are causing worry in the southern part of the Korean peninsula.
Kim Dae-jung's Sunshine Policy, which emphasised inter-Korean cooperation and won him the Nobel Peace Prize in 2000, has been criticised because it's thought North Korea earned time and capital as a result and used both for its missile and nuclear program.
Moon Jae-inis widely expected to win the election. His Minjoo Party, following the convoluted splitting and renaming of political parties in South Korea, is related to Kim's. Conservatives are worried that Moon may try to restart inter-Korean dialogue or rapprochement in spite of tough sanctions facing North Korea for its arms programs.
South Korea's new president will have much on his plate come May 10. Balancing domestic expectations and delicate relations with the country's neighbours while trying to deal with North Korea's race to become a nuclear power will make for a challenging five-year term.