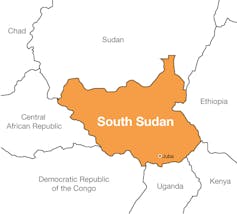 South Sudan seceded from Sudan in 2011 after a protracted war of independence that started in 1955.
One internal struggle in this war was between the Sudan People's Liberation Army's (SPLA) leadership, headed by John Garang and his deputy Salva Kiir, on one side, and current rebel leader Riek Machar on the other.
In the early 2000s, these two factions united under Garang and Kiir to put pressure on Omar al-Bashir's Sudanese government while negotiations on an internationally supported peace agreement were underway in Kenya. That agreement was signed in 2005, and the SPLA joined Bashir in a government of national unity in Khartoum.
This unity did not mean everything was excellent within the SPLA, but Garang made it appear that way. However, in 2005, Garang died in a helicopter crash. Kiir became the leader with Machar as his deputy. Together they oversaw the 2011 South Sudanese secession referendum that the voters overwhelmingly supported.
A mere two years later, the Sudan People's Liberation Movement – the political party that emerged out of the SPLA – began to fracture internally. The political conflict quickly reached crisis point and turned into a military confrontation between Kiir and Machar in 2013. This raged until 2016, when they signed a peace deal in Ethiopia.
Soon after his reinstatement as vice-president, Machar again fled the South Sudanese capital of Juba following an attack on his compound that he blamed on Kiir's forces. Most of his fellow rebels stayed in Juba and elevated his deputy, Taban Deng Gai, to the position of leader and vice-president.
Although Taban Deng Gai is widely accepted as the new legitimate leader, elements of the rebel movement loyal to Machar are still very active on at least three borders – Sudan, Ethiopia, and the Democratic Republic of the Congo. Unless these groups are integrated into society, South Sudan's fragile peace is unlikely to stand.