Over the Easter weekend in Australia the furore around gambling and sport intensified. Prominent racehorse trainer Gai Waterhouse defended her son Tom's gambling business in the tabloids, and legislation was proposed to limit gambling's intrusion into coverage of sport.
Channel Nine, meanwhile, agreed with a parliamentary committee that it had overstepped the mark by blending commentary and marketing by engaging Tom Waterhouse in their NRL telecasts this season.
TV ads, hoardings around the ground and club websites as well as the jerseys, shorts, and - in the case of the NRL, the name of the ground on which the sport is played - are all used to promote gambling. It's clear that the promotion of gambling is omnipresent in Australian sport, and now presents a supreme irritant for fans.
In the face of this, it's important to realise that sports betting - although the current focus of public ire - accounts for only $350 million or so of Australia's $18.5 billion expenditure (that is to say, losses) on gambling in 2009-10, the most recent year for which we have comprehensive data. Of this, $10.2 billion went into poker machines in local clubs and pubs. Horse racing consumed $2.7 billion, casinos $3.6 billion.
Nonetheless, sports betting is the fastest growing segment of the gambling market. It is focused on a new generation of potential gamblers, for whom the pokies hold few attractions.
This is perhaps why Clubs Australia wants its members to be monopoly licensed to operate online gambling sites. They can see that the future of gambling is online and mobile.
At the heart of the present furore is that Australians, like many other nationalities, love sport. To see it "polluted" by crass commercialism is something many people find greatly offensive.
Along with this, a big difference between, say, the pokies and sports betting is that pokies are largely concentrated in areas of disadvantage. Most people – 70% or more of the adult population - never use pokies, and avoid their habitat. Similarly with casinos and the races: if you're not interested, they are relatively avoidable, save for the occasional racing carnival.
Sports betting is in your face, on TV, at the ground and in the sports pages of newspapers. More importantly, it's in the faces of your children, on footy tipping websites, on the uniforms of their heroes, and endlessly promoted during coverage of their favourite games.
We don't know with certainty what the results of this will be. We do however hear numerous accounts of children able to recite the odds of various betting possibilities, as they once recited the game statistics of favoured players. We do know that ready accessibility to gambling is a major risk factor for gambling problems. Sports betting could hardly be more available, and the knowledge of how, and where, to do it is ubiquitous in mediums where children are at home. It is not hard to deduce the likely consequences of this new preoccupation.
Since a High Court decision in 2008 authorised interstate marketing of online bookies, we have witnessed the "gamblification" of sport, and to a certain extent everyday life, as the bookies take advantage of a perfect storm of intensified marketing opportunities, technological innovation, and ineffective regulation.
The bookies promote themselves by offering odds on novelty bets – whether the trains will run on time, who the next Pope will be, whether the prime minister will make it to the election. In most cases, these are simply ploys for free media coverage. The media generally oblige, hungry for free copy.
But this is not simply marketing. A critical element of the "perfect storm" is reflexivity – the social fact that we change our perceptions of reality and our associated social practices as a consequence of how reality is presented to us.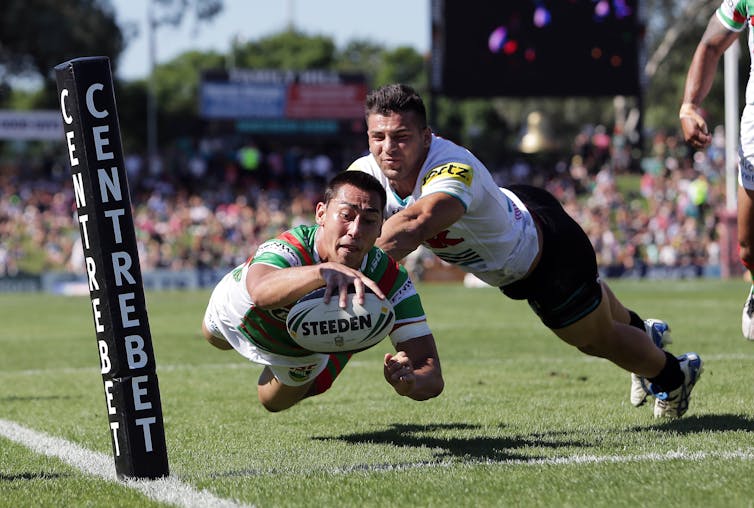 The generation that grows up with sports betting, pokie apps, online casinos and football clubs desperate to profit from and market gambling is likely to produce problem gamblers in record numbers. This will not be because they are any more venal or flawed than any other generation. Rather, the world they inhabit will be - if it is not already - one where gambling is portrayed as the epitome of a normal healthy life.
Once upon a time, the tobacco industry successfully sought to normalise smoking by its sponsorship of sport. That ended when we realised the harm that was done by allowing "the best and soundest thing" (as Sherlock Holmes put it) in society to become dependent on tobacco dollars.
Gambling doesn't yet have sport in a stranglehold, as the pokies lobby does with Australia's state and territory governments. We can act to limit the promotion of gambling during broadcasts watched by children, and the sporting codes can wean themselves off the still-modest dollars they make from associating themselves with bookies.
By and large, state governments have not been up to the challenge of sensibly regulating the promotion of sports betting. If there is to be an effective response, it must come from Canberra. Against the recent onslaught from Clubs Australia over pokie reform, the current government turned to water. Perhaps the backlash against the bookies will empower them to act.