This is an edited extract from Ted Snell's book, Stan Hopewell: Facing the Stars.

This is a love story!
It is the story of Stan Hopewell and his beloved wife Joyce, a couple whose lives intertwined during the second world war and remained fused together during 60 years of marriage.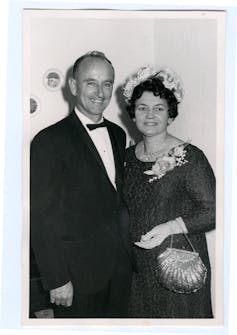 Their story weaves through the history of Perth and Western Australia illustrating how the major changes that transformed a small country town into a wealthy modern city impacted on working people raising a family.
What is extraordinary about their story is not only the ebb and flow of joyous family life but how they dealt with pain, with suffering and with the agonising reality of severe illness, infirmity and finally death.
During this crisis, Stan began to paint to express his love for Joyce and his love of God. Despite the fact he had never painted before and never shown any inclination toward making art of any kind until then, Stan began to make paintings.
My book documents that brief moment of creative focus and energy. While it lasted only a matter of years, it resulted in an outpouring of remarkable images that celebrate the resilience of the human spirit and the impulse toward creative expression.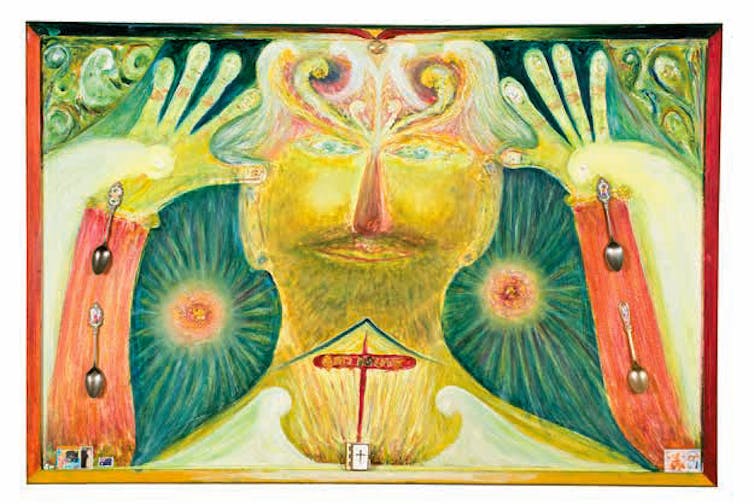 Meeting Stan
In March 2007, Robin McClellan, then American Consul General in Perth asked me to accompany her to see the work of a local artist, the father-in-law of her driver Tony Scurry. Stan Hopewell had invited her to see his work in the house museum he had created by stacking paintings and painted constructions top to bottom on every surface of his home in Bibra Lake.
Gradually they had edged out into the increasingly limited traversable space in each room until the house was literally wallpapered and carpeted with paintings. From the moment we arrived it was clear that Stan was "the real thing," as my wife whispered in my ear upon first glimpsing his work through the window.

As we discovered that day, Stan is an extraordinary artist, an octogenarian who developed his painting practice as a solitary activity while looking after Joyce. With few models of artistic practice to work from he developed a highly sophisticated way of making paintings that describe what is important in his life; his wife, their marriage together for over 60 years, his family, memories of his childhood, his experiences in the Air Force during the second world war, the Masonic Lodge and his Christian faith.
In 2003, when Joyce was confined to her bed and Stan became her principal carer, he began to write in his journal and make paintings and constructions that recorded important events, that documented their life together, and that recorded the ineffable presence of God in everything they encountered.
That intimate spiritual relationship guided him through a life that has not been without hardship and challenge. Throughout it, all his faith sustained him and during the years of his wife's serious medical condition he was driven to give visual form to his love of God.
Work and life
Stan has an exceptional capacity to create potent images and to re-imagine all manner of events, emotions and activities in his paintings.
In this sense, his amazing life story acts as a parallel text to the works, illustrating and informing our reading of each complex work. His years in Egypt as a member of the Royal Australian Air Force provided source material for his retelling of Biblical stories. His experience of the beach at North Cottesloe as a young surf lifesaver was the catalyst for paintings about the ineffable presence of God in nature, and his life with Joyce provided the theme of many paintings celebrating the power of love.
In one series of pictures, he describes the conception, birth, death and resurrection of Jesus Christ, combining the theological with the personal, the spiritual with the everyday and the ethereal with the banal. The second painting of the series articulately represents Christ's passage down the birth canal to enter the world and take on his mission of salvation, represented by a golden megaphone protruding from the surface.
On the back, he describes The Mirical of the Birth of Christ and The Mirical of Creation in a beautiful drawing that includes a personal commentary on the significance of this event for humanity.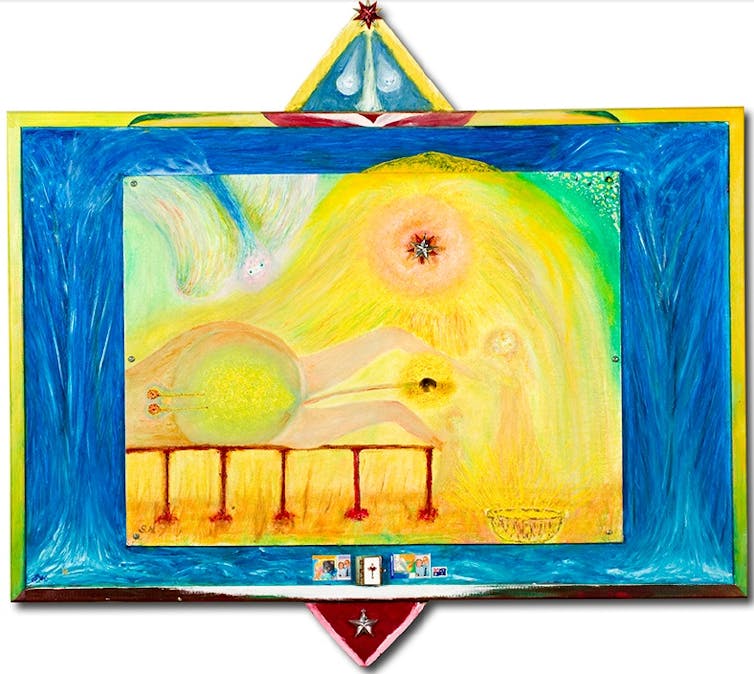 Stan's ability to summon up a visual language from his own resources, referencing what he found in the world around him but digging deeper to reveal new insights, is the essence of significant art, and it is what makes these works so powerful, so authentic and so beautiful.
The artist, his world – and the art world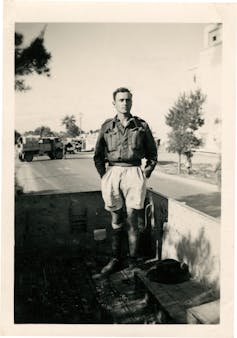 Yet like others drawn to make images that try to answer the big questions and confront the really important problems in life, the task is so great and so necessary and so profound that it does not seem possible to embark on such a project without assistance.
How are artists like Stan, with little or no formal training and little or no relationship to the art world, able to revitalise image making and offer new insights into the power of images to tell significant stories?
It is a question Stan asked himself: how is it possible for me to create such powerful works when I have had no training and when, until now, I have never considered myself an artist or even attempted to make a painting?
His answer was simple. He does not claim responsibility for these works. He is adamant that he is only a conduit through which the works materialise. As he explained in a letter he wrote to me on March 23 2007, just weeks after our first meeting:
I have a confession to make to you re my paintings I have done. My hand and arm was guided by an unseen Power on my paintings and the skill which may be evident in their presentation for any one who likes my art is done by an unseen Angel.
Like many artists gathered together under a number of mostly unhelpful descriptors such as Naïve Art, Outsider Art, Marginal Art, Visionary Art, Folk Art and Art Brut, Stan believes forces beyond his control guide his work.
Outsiders
Held within the net of those terms listed above they adopt a similar position on spiritual guidance and reflect a comparable fusing of personal narrative with spiritual imagery and compelling visual inventiveness.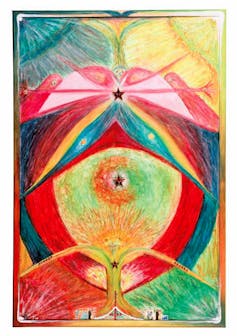 Some like the extraordinary Adolf Wölfli were identified by psychiatrists Dr Morganthaler and Dr Hans Prinzhorn, medical practitioners who documented the work of their patients.
The French artist Jean Dubuffet identified another large group of artists creating "raw" art (Art Brut) from their everyday experiences. He discovered the work of Henry Darger, Martin Ramirez, Madge Gill among many others, all artists with no previous training and no links to the art world who nevertheless made astonishingly vivid and compelling paintings and objects which they claimed were inspired by spirit guides, angels or other unseen forces.
Since Roger Cardinal's book Outsider Art, published in 1972, many other artists have been identified with similar stories.
Some like the Reverend Howard Finster have become extremely well known, even being taken up by the commercial world and invited to produce album covers for the American New Wave band Talking Heads.
Indeed Finster's Paradise Garden and Simon Rodia's now famous Watts Towers, both extraordinary environments created by men with phenomenal dedication, have become tourist destinations in Summerville Georgia and Watts in Los Angeles.
There are also a large number of Australian untutored visionary artists whose work provides an informative context for Stan Hopewell's work.
Henri Bastin, James Fardoulys, Charles Callins, Iris Frame, Lorna Chick, Selby Warren, Harold Kangaroo Thornton, Roma Higgins, Sam Byrne and the Western Australian artist Ivy Robson (Jesus Brush) who believed her hand was guided by Jesus himself, are a few of the better known.
Of course, not all of the above believe in religious or cosmic guidance but they do have the ability to summon up extraordinary images from their creative imagination.
Added to this selection of artists are a significant group of Indigenous artists whose work shares stylistic similarities, such as the Carrolup group of Nyoongar artists from the South West of Western Australia and also H.G. Wedge, Ian Abdulla, Robert Campbell Jnr, and more recently Billy Benn.
For many commentators who view their works, this group of artists does have a special ability to reach into the unknown and to see further.
When the painter Henri Rousseau died in the Hospital Necker in Paris on the 2 September and was buried in the Cimetiere de Bagneux, the poet Guillaume Apollinaire wrote his poetic tribute to the artist who had painted his portrait, and it was carved on his tombstone by the sculptor Constantin Brancusi:
We salute you
Gentle Rousseau you can hear us

Delaunay his wife Monsieur Queval and myself

Let our luggage pass duty free through the gates
 of heaven

We will bring you brushes paints and canvas

That you may spend your sacred leisure in the 
light of truth
Painting
 as you once did my portrait

Facing the stars.

Facing the stars, looking towards a bright future, toward a world of illumination and possibility, with eyes as old as time, so Apollinaire salutes Rousseau and situates him in history as a person blessed with an extraordinary gift; the ability to forge his own path, to follow the stars of fortune and promise.
Together these artists provide a comparison and point of reference that assist us in understanding Stan Hopewell's extraordinary achievement in finding a way to make sense of the world around him, to answer the important questions of life and to commune with his God in the process.
"We are all in the gutter" Oscar Wilde proclaimed, "but some of us are looking at the stars" and throughout his life Stan has shown a remarkable ability to make the best of every situation and see the best in everyone he encounters. That sense of optimism, of certainty in a benevolent power that will assist and guide, has been the bedrock of his life and his faith.
Exploring how his work fits within these wider art contexts and critically analysing its success in picturing all manner of incidents and ideas provides revealing insights into the creative process and the human compulsion to create images that make sense of the world by revealing the unseen and decoding the inexplicable.

Stan Hopewell: Facing the Stars by Ted Snell is published by UWA Publishing, 2013.