This past June, radio conglomerate Clear Channel (now known as iHeartRadio) announced it was converting Boston's 101.7 FM to a country station. The story they told the Boston Globe was a familiar one: country had gone mainstream, and people in greater Boston were clamoring for it. The once-vaunted home to Boston's alternative rock station WFNX is now WBLW – "The Bull" – playing the hits of Jason Aldean, Carrie Underwood, and Blake Shelton.
For corporate radio, expansion into new territory is sold to the public as a populist triumph. Yet this so-called triumph in Boston signifies a deep affront to America's cultural equity by displacing yet another region's distinct traditions with national pop culture. In fact, country music has been found in multicultural milltowns, industrial cities and rural outposts in every corner of North America for a century now, and its once healthy regional variations – which included New England, Texas, the Upper Midwest, Canada, Maryland, Louisiana and California – are now threatened.
To the casual observer, country music seems out of place in New England. iHeartRadio exploits this perception, presenting country as something new – even exotic – in a northern metropolis like Boston.
Yet it was only 60 years ago that New England was home to a robust country music culture all its own – not only in small-town Grange Halls, but also in high-brow urban locales like Boston's Symphony Hall, where the weekly "Hayloft Jamboree" showcased live performances of New England country talent every weekend. The music was instantly recognizable as country, even though many of the singers' accents indicated ethnic heritages – Italian, Polish, Armenian, Quebecois, Greek – not typically associated with they mythical Anglo-Saxon mountain origins of country music.
And it was only 50 years ago that New England's biggest regional star – the eyepatch-wearing Dick Curless of Bangor, Maine – rode the Maine potato truck-driving anthem A Tombstone Every Mile to national fame, in part through substantial airplay on mainstream independent radio in Boston.
From the 1920s through the 1950s, most of the music heard on the radio in New England was performed live, by local musicians, seven days a week. Even then, many of those musical broadcasts featured New Englanders performing country music – either of the ballad variety or of the "Western" sort, complete with yodeling. Stations in Boston (WBZ) and Hartford (WTIC) had powerful signals that reached deep into the South, the Midwest, and Canada, and both were home to regional country music stars like Georgia Mae and the Down Homers. Smaller stations in Providence, Bangor, Springfield, Portsmouth, and Portland launched the careers of singers like Lone Pine and Betty Cody, and Jerry and Sky. Country music broadcasts generated live performances in towns and cities throughout the region, and musicians earned a full-time living – far better than the alternative at the local shoe mill – playing live music.
So what happened? If this music was so prevalent in working-class New England, where did it go, and why?
I spent several years documenting New England's country music history and traditions in order to understand this reversal of fortune. In short, the arrival of television compromised the profit margins of radio, replacing live musicians with disc jockeys. Meanwhile, the country music industry consolidated in Nashville, where country format radio was born.
When the Country Music Association formed in 1958 (an effort by a reeling industry to respond to the popularity of rock'n'roll), Nashville marketing agents streamlined country's image, eliminating "western" music from the airwaves (and changing the genre's name from "country and western" to "country" in the process), while packaging and promoting country as strictly rural, southern, and white. Suddenly, once-popular local tunes sung with regional accents were replaced by a nationally oriented sound sung with a Southern drawl – regardless of what corner of the continent the singer hailed from.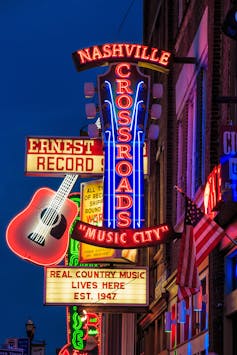 We, as a nation, have adapted to this image of the genre. But it is false. Country music is not Southern music – at least not exclusively. Country music is working-class music, and its regional variations have been muffled by the stranglehold that the heavily centralized music industry has on the content of our regional broadcasts.
This is a tragedy – not so much because something once beautiful has been lost (though it is that), but because it represents a larger problem: wherever we come from, it is very difficult to hear ourselves reflected in major media broadcasts. This extends beyond country music – or any music, at that – and into virtually every cultural sphere of regional American life. It wasn't always this way, and there is still a generation of Americans who can recall a time in which the content of radio broadcasts struck a balance between the interests and styles of both the region and the nation.
What offends many of the New England country musicians I have interviewed over the years isn't so much the stylistic shift (from the boom-chikka-boom-chikka-boom style of yore, to the "Lynyrd Skynyrd with a pedal steel" sounds of modern country). Rather, it's the movement away from "the people," whether it's at concerts where country musicians no longer take requests, or on radio stations where it's impossible for local musicians to get in the door, let alone on the air. Many who have witnessed this change resent the fact that New England working-class values are mined as a resource, manufactured in Nashville, and sold back to locals as a cultural import.