Stanley Donwood, writer and artist, has been designing Radiohead's albums and the band's associated artwork since 1994. At Sydney's Carriageworks this week, as part of the Vivid festival, his work can be seen in an interactive, retrospective exhibition. In trying to tease out what part Donwood has played over the years in the international Radiohead "brand", we can look to artwork and music more generally.
In the Cameron Crowe music documentary Pearl Jam 20 (2011), chronicling American grunge veterans Pearl Jam, frontman Eddie Vedder complains that "you can't even see" debut album Ten as he waves it on front of the camera. This complaint only makes sense with an anchor: vinyl.
By comparison, CDs are of course much smaller in size, along with the resulting album artwork.
Some 25 years later, with music becoming increasingly more digital, is album art at risk of becoming obsolete altogether? Far from it. Music-related art serves particular functions, both aesthetic and commercial.
Album covers and artwork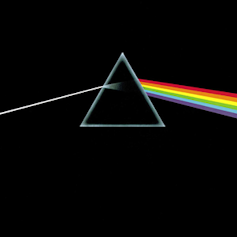 If someone asked me to think of the first album cover that came to mind, it would likely be Pink Floyd's Dark Side of the Moon (1973) or perhaps The Beatles' Sgt. Pepper's Lonely Hearts Club Band (1967). And not just because I like those albums a lot, but because I have been exposed to them a lot. Crucially, I was exposed to them before I heard them.
It's entirely plausible that I even sought them out as a result of my interest in artwork and the resulting stories about them.
I am not alone here. Thumbing through albums in record shops, an eye-catching album cover can mean the difference in choosing to purchase that album or not. Especially punchy album covers also make for great merchandise, be it T-shirts or posters.
This allows you to demonstrate your identity as a fan of a particular band to the outside world, something that is particularly important for adolescents and young adults.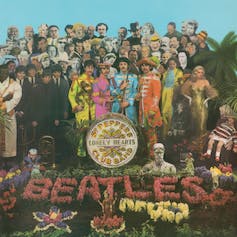 From a commercial point of view then, it can be said that artwork is a complementary product to music itself. Or put another way, artwork adds value to recorded music. To this end, it is striking to find the prominence placed on artwork when re-packaging old albums, as is common practice nowadays.
But album artwork can achieve more than just aid the relative success of a release in terms of sales.
Consider Nine Inch Nails' Year Zero (2007). A concept album, the artwork was integral to telling its story. Crucially, much of the narrative took place on the internet, with "hidden messages" on the album artwork (right down to a colour-changing CD) leading fans to websites which supplemented the dystopian narrative of the album.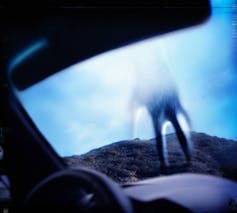 This notion that artwork can help musicians tell their story to fans can be dated back to Sgt. Pepper's Lonely Hearts Club Band, with the cover defining the loose concept of the band adopting personas.
More recently, Aidan Moffat released his album of poems and stories, I Can Hear Your Heart (2008). It begins with a printed story, to be read before listening to the music itself. Moffat explains:
The idea was to get the listener more involved, to put my thoughts in their head right away […] The printed word is the closest connection you can have with an audience - a direct line to their mind.
Put simply, art can help musicians tell stories, and help them connect with their fans in the process. Everyone wins.
Music videos and Bjork's MoMA exhibition
It's impossible to think of certain songs without their promotional videos. And, take a minute to think about that term: promotional videos. Inherent in that label is the notion that they are subservient to the music itself, existing only as a commercial aid.
Though it certainly accomplishes this (as the myth goes, people even bought televisions just to watch Michael Jackson videos in the 80s), music videos can be considered art in their own right.
And if you are unconvinced, one of the three components of the current Bjork exhibition at the MoMA in New York City is dedicated to playing all of her music videos on a continuous loop in a cinema room.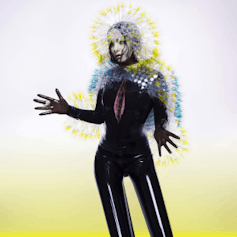 Separately, a new video (or "sound and video installation") to accompany a track from 2015 album Vulnicura was commissioned for the exhibition and is played inside a cave-like room where visitors are seated with different video screens both on front and behind them.
If ever a musician was worthy of such an event, it is Bjork. It's difficult to think of Bjork without thinking of her myriad of talents: music videos, album covers and costumes.
And yet, reviews of the exhibition have been mixed to poor. From experience, I am inclined to put the blame on the MoMA.
The centrepiece of the exhibit, Songlines, is described as:
An interactive, location-based audio experience through Björk's albums, with a biographical narrative that is both personal and poetic, written by the acclaimed Icelandic writer Sjón, along with many visuals, objects, and costumes, including the robots designed by Chris Cunningham for the All Is Full of Love music video, Marjan Pejoski's Swan Dress (2001), and Iris van Herpen's Biophilia tour dress (2013), among many others.
You will understand my disappointment then when I tell you that it was "fully booked" the day I chose to go.
Back to music videos
It's unfair to consider Michel Gondry's music video for Teardrop (1998), by Massive Attack, or Let Forever Be by The Chemical Brothers (1999), as anything other than art. But, what if equivalent videos were uploaded by anonymous YouTube users and not respected directors?
Nine Inch Nails has a dedicated Art Director, Rob Sheridan – as does Radiohead, with Stanley Donwood. Frontman Thom Yorke is also credited with contributing to album artwork under the pseudonym "Dr. Tchock".
It is widely known that Stanley Donwood is heavily involved throughout the band's recording process, working on artwork as the songs unfold. He is not brought in to simply draw some interesting pictures afterwards. He is an integral part of the whole process.
Interestingly, Thom Yorke has also created a bespoke, previously unreleased soundscape to accompany Donwood's Carriageworks retrospective. Yorke's exclusive contribution, which will play as a continually shuffled set of tracks on three speakers, completes the audiovisual pairing between these artists that fans have long followed.
This relationship significantly raises the expectation of the resulting artwork and its subsequent value.
This is likely one of the core reasons that so many fans forked out £40 for the deluxe edition of In Rainbows, despite the music itself being given away for free with their much-discussed pay-what-you-want model.
The album saw Donwood experiment with various techniques and the distinctive text on the cover was replicated on t-shirts bearing lyrics from album cuts, such as opener 15 Step ("You used to be alright. What happened?").
With Donwood collaborating on Yorke's side-projects, the so-called "brand" remains.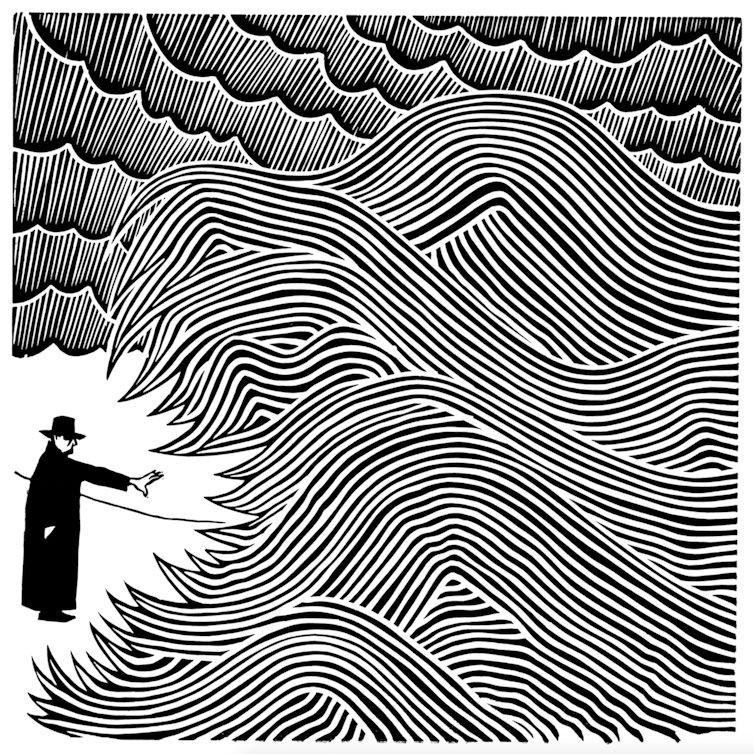 Importantly, fans of Radiohead are exposed to Donwood's artwork and vice versa. Though not the principal motivator for their continued relationship, this is nonetheless a profitable outcome.
The same of course applies to other collaborations such as musician Malcolm Middleton's Music and Words, in conjunction with artist David Shrigley.
And perhaps this is a trend which is set to continue as technology sufficiently progresses to afford artists (including musicians) new and exciting ways to create and communicate.
Bjork's Biophilia (2011) arguably set the bar, but new crowdsourcing practices such as fan-shot music videos ought to be considered also. Don't forget that Wikipedia is of course crowdsourced (or peer-produced) and album artwork is a prominent feature of many album entries.
Fans are keen to get involved in creating as well as consuming.
Perhaps the first example of music-related peer-production is with Sigur Ros' 2002 release: ( ). The lyrics of the eight untitled songs comprise a made-up language dubbed Hopelandic. In effect, there are no lyrics. But, on repeated listens, fans are able to "hear" words, noting them in the blank liner notes.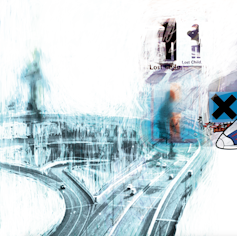 The result is that fans are heavily engaged in the listening experience, largely due to the absence of formal artwork. This makes it experience more personal.
This is at the heart of artist Rutherford Chang's We Buy White Albums project, where 1,000 original copies of the 1968 album were collected, all having aged in unique ways.
Music is what is known as "experience good". In other words, it must be experienced before it can be enjoyed. This is why sampling is so important, with subscription services such as Spotify intended to act as music discovery platforms, a try-before-you-buy sort of thing.
Music-related art helps us learn more about the intention of an artist, and with more music being released than can be heard, this is important. This can, as shown, be the absence of artwork as much as is its presence.
As the so-called music industry continues to shift its gaze towards live music events, so too can artists. New ways in which musicians can move and excite fans will continue to emerge, and with them the opportunity to work with artists in innovative ways.
Album artwork will continue to catch our attention and create recognisable brands. Music videos will continue to accomplish similar feats, albeit with smaller budgets.
Critically, art will continue to provide both musicians and fans ways to connect. And this, more than ever, is the name of the game.
Stanley Donwood: The Panic Office is at Carriageworks, Sydney, from May 21. The exhibition opens free to the public from May 24 – June 6. Details here).