Spring in southern and eastern Australia is a bit like an annual game of weather tug-of-war, with summer and winter pulling at each end of the rope. While Melbourne has been lashed by stormy weather this week, other parts of the country have had their first taste of summer heat.
Last week, much of New South Wales, and this week, large areas of southern Queensland, have been experiencing record or near-record hot conditions, and preliminary data suggests that October 25 was Australia's warmest October day on record.
Spring can be unpredictable, in Australia as in many other parts of the world. From Perth, down to Hobart and up to Sydney, the warm weather teases, but typically, it doesn't last for long – maybe a week or two if we're lucky, before we realise it's still too cold for evening backyard cricket.
Then the winds pick up, a change blasts through, and winter seemingly returns – sometimes in spectacular fashion, as Melburnians will this week attest.
Atmospheric tumult
For the atmosphere, spring is a time of tumultuous change. As we move from winter to spring, the Sun travels from being directly overhead in the Northern Hemisphere, across the Equator and south towards the Tropic of Capricorn (which passes close to Rockhampton, Queensland). As it does, it provides an increasing amount of energy as the sunlight strikes the Earth's surface with more intensity.
This extra energy causes the atmosphere and the land to heat up and weather patterns to migrate. The cold fronts and low-pressure systems that dominate southern Australia during winter are pushed south and are slowly replaced by semi-permanent areas of high pressure. This high pressure is part of a climatic feature known the sub-tropical ridge, which helps to generate the fine, sunny weather that is predominant during a southern Australian summer.
But these changes do not necessarily happen as a smooth transition, and on many occasions during spring, the weather systems most common in winter like to remind the southern states that cold, wet conditions haven't yet been banished for the year. This can make spring weather in southern and eastern Australia typically variable, and sometimes extreme.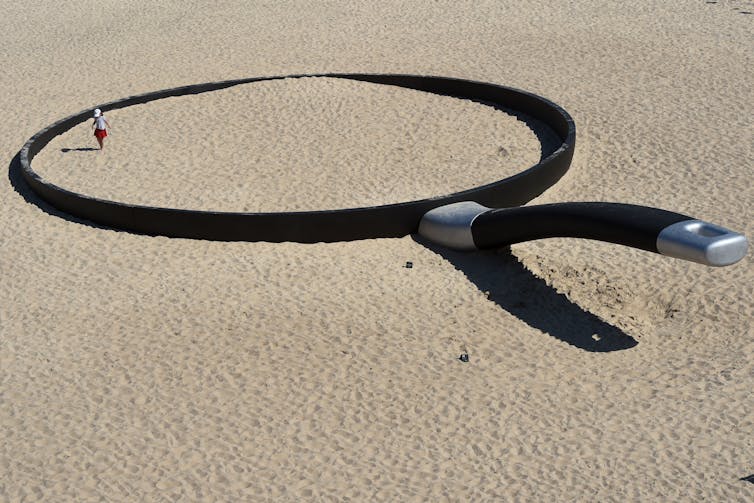 Under some circumstances, the re-emergence of winter weather systems can combine with extra atmospheric ingredients, like additional heat or moisture, that are ultimately the result of the extra energy provided by the Sun's southward journey.
If these ingredients are just right, the combination will go off with a bang, resulting in storms like those experienced across southeastern Australia over the past few weeks. Lightning storms, wild winds, heavy rain, large hail and the occasional tornado can be the result. Through eastern and southern Australia, thunderstorms are most typical from mid-spring to mid-summer.
During spring, extreme weather is not just limited to the occurrence of more thunderstorms in southern and eastern Australia. Very windy cool changes and wet cyclonic storms can also pass through the southern states. Meanwhile, further north, places like Sydney and Brisbane start to feel summer-like heat, including the occasional heatwave (which you can track using this website).
Unseasonable weather?
Although the recent stormy weather has seemed, at times, wild and unseasonal, it is largely to be expected in southern and eastern Australia at this time of year.
Even a few isolated days of heat during a single spring is quite typical. However, although the occasional bout of heat is not unusual, there have been noticeable and consistent changes in the behaviour of hot temperatures, and heatwaves, during spring in more recent years.
Year-round, including during spring, Australian heatwaves have become more frequent, more intense and are lasting for longer. In the first decade of the 21st century, record high temperatures across the country were being broken more than twice as often as low-temperature records, mirroring the increasing trend in Australian average temperatures.
The spring of 2013 was Australia's hottest on record. Records for high temperatures tumbled, and the hot and dry conditions encouraged an early start to the bushfire season in parts of eastern Australia. These hot spring temperatures also contributed to 2013 being Australia's warmest year on record.
Five separate studies published last month in the Bulletin of the American Meteorological Society found that the record heat of recent years should not be considered normal. In fact, far from being typical, all studies found evidence of the "handprint" of human-induced climate change on the unusual conditions of 2013.
Notably, this research found that the likelihood of experiencing the record hot spring of 2013 in Australia was 30 times greater with the influence of human-induced climate change than without. The record hot year of 2013 was 2,000 times more likely as a result of climate change.
Spring is normally a season of variable weather. So when considered in isolation, the recent heatwaves are not necessarily atypical for this time of year. Yet they add to the ever-increasing number of heatwaves that the evidence tells us are now occurring more often, often producing record-breaking temperatures. And that is certainly not normal.