As the 2014 Commonwealth Games began in Glasgow last week, a number of potential medal winners could only watch the events unfold as they were sidelined by injuries incurred at training.
Aussie track star Alex Rowe injured his hamstring during training on the weekend, and English heptathlete Katarina Johnson-Thompson (foot injury), Welsh triathlon star Helen Jenkins (plantar fascia) and Australian swimmers Meagen Nay (shoulder) and Jacqui Freney (fatigue) are some of the elite athletes who overdid training prior to the Games.
In the lead-up to major sporting contests, it is not uncommon for athletes to exert maximum effort during training – but this can lead to injuries and either sub-standard performance or withdrawal from the event.
But by using small wireless sensors, athletes can maximise medal chances without pushing themselves to the point of injury.
Prevention is key
In order to gain a place in the team, athletes must perform at their very best at the national selection trials. The training regime following the selection trials, particularly in the weeks before the Commonwealth Games, is particularly important.
A full recovery from even slight injuries might require more time than is available, even with the best medical and physiotherapy support.
There is no obvious way to prevent these injuries or to predict the situation and time at which they might occur. The coaches and trainers must always meet this challenge and sports technology offers hope.
Small wireless sensors can be used to monitor the movement of various body parts, and in all sporting situations (such as in the swimming pool, in the boxing ring, on the running track, on the hockey field) in training and during events. These small, battery-powered, inertial sensors are now becoming commonplace and are available at relatively low cost.
These sensors might just be a possible solution to the training injury problem!
But off-the-shelf sensors do not come with the necessary analysis tools and are not standardised to the athlete's characteristics or their sporting expertise. The key lies in the individualised interpretation of movement data, such as acceleration, rotation, speed, distance and number of repetitions.
Personalised medicine
Ensuring athletes have the most effective rehabilitation plan is largely dependent on their own characteristics, such as size, shape, age, fitness level and biomechanical structure.
For example, ankle extension of the foot is directly related to Achilles tendon "health". This is important in preventing the onset of lower-leg injuries and helps prescribe exercise limits during rehabilitation from Achilles injury.
While the causes of this problem are well known, there is no specific quantitative information given in the guidelines as every athlete is different.
The SABEL Labs team at Griffith University aims to individualise training guidelines by studying athletes' basic movements at various levels (from novice through to elite) and in various sports (such as classical ballet, swimming, running, field hockey and rowing).
Once the training framework has been developed, the sensors will be used to monitor the training load, training movements and a warning is given if the athlete is approaching the critical limits when injury is more likely.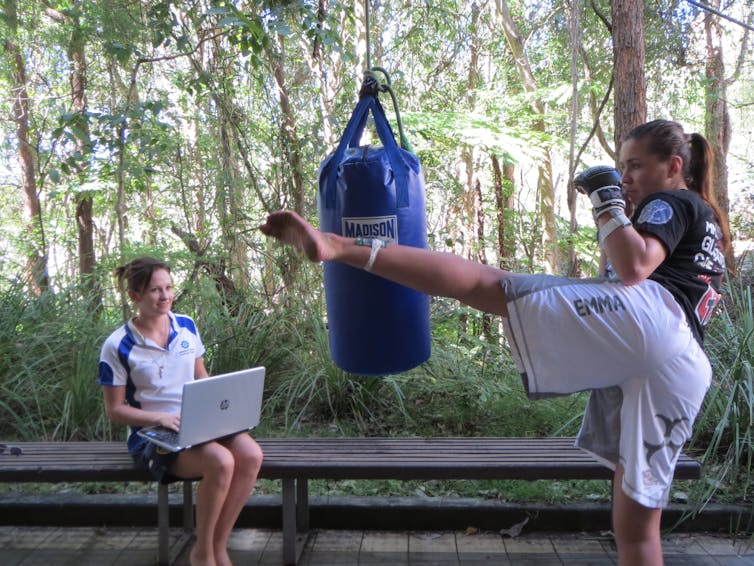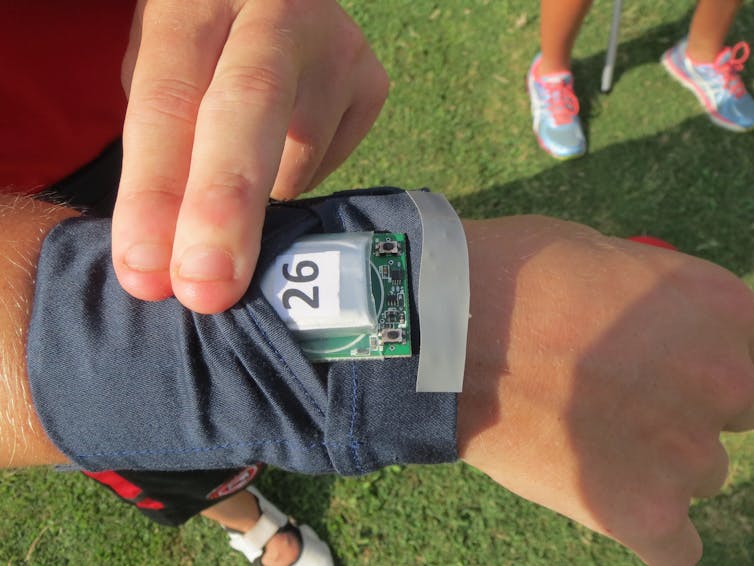 Clearly this is not a simple, quick solution as the technique will only become reliable if the system is used consistently over long periods of training and competition times for one individual.
The movement data must also be matched to an individuals biometric data, skill level and fitness. For particular sports, the skill level can be ascertained through the use of calibrated drills:
in field hockey, stick speed and ball control drills have been matched to performance level
in swimming, swim speed and turn speed can be simply deduced from a single accelerometer located on the lower back
in tennis, racquet stability in forehand and backhand strokes and body movement during serve can be monitored
in dance, core stability during demi-plies correlates with scores given by a qualified instructor from the Royal Academy of Dance.
So while the using sensors to monitor training is possible and soon to be widely available for athletes to use, extreme training and variations in training immediately before a major event are not recommended.
The potential for injury is high and the consequences for an athlete can be devastating – as those missing out on the Commonwealth Games know only too well.