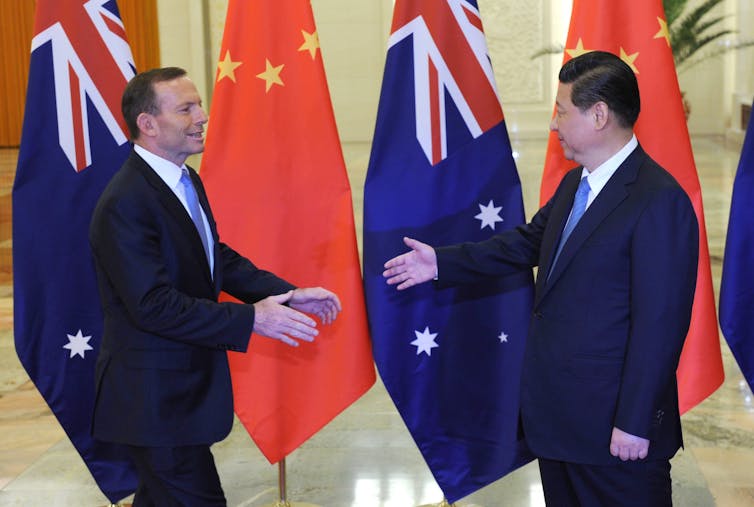 Tony Abbott has returned from his North Asian trip to generally upbeat reviews. He had some achievements and didn't make any gaffes.
Domestically, the three-country tour will soon fade in people's minds, if they ever tuned in to it. It's nothing compared with the coming budget. But it has shown the government successfully defining its objectives and framing its message around them.
The key was the strategy of smothering the trip in trade and economics – free trade agreements galore with one signed, another finalised, a third kicked along - so there was less opportunity for potentially more difficult political issues to grab the spotlight and things to go wrong.
Abbott laid the groundwork in a major speech to the Asia Society before he left - when he said "I will lead trade missions to Japan, Korea and China" - and didn't deviate from the script.
Although he attended the National Security Council in Japan and talked about military co-operation in China, trade was in the foreground and other issues in the background of the public picture. The exception of course was Australia's role in the search for MH370, which carried so many Chinese passengers. A terrible tragedy became a positive for the visit.
Abbott (no longer referring to Japan as Australia's "best friend" in Asia) navigated the challenge of visiting Japan and China in the one trip, a tricky path but the only way to manage the mutual rivalry of which Kevin Rudd fell foul when he went to China but not Japan on his 2008 round-the-world trip. Abbott glossed over delicate issues like human rights in China - another contrast with Rudd in 2008 - talking up the presence of Team Australia and being a friend.
The free trade agreement with Japan was given heightened drama by last-minute negotiations, though these were at the edges and might have been partly for show. Once the prospect of consummating the deal during the trip was raised, it was going to happen.
The agreement is about "freer" rather than "free" trade, as these things always are. It depends at what point countries are willing to cut the deal. The Abbott government probably cut it at a more modest point than the Howard government might have had in mind when negotiations started but at least it was finally landed.
The agreement is a mixed bag – for instance concessions on beef were reasonable but rice is totally excluded – and over a very long time-frame. But getting any movement on agriculture from Japan was a big step.
Abbott has been determined to finalise FTAs with South Korea, Japan and China this year. It is part of delivering on Australia being "open for business".
Former Treasury official Mike Callaghan, now of the Lowy Institute, has written that the deals with Japan and Korea are "very good in domestic political terms for Prime Minister Abbott as a demonstration of his 'can-do' government. They have also been important for Australia's broader relationships with both countries, just as a deal with China may have more symbolic value than representing a major trade breakthrough."
There is a still a way to go with China. But a measure of the Australian government's wish to get to a conclusion is the more flexible position being taken on investment in Australia by Chinese state-owned enterprises.
Contrast how far Abbott has come since visiting China as opposition leader in mid-2012.
He said then: "Chinese investment is complicated by the prevalence of state-owned enterprises. It would rarely be in Australia's national interest to allow a foreign government or its agencies to control an Australian business. That's because we don't support the nationalisation of business by the Australian government, let alone by a foreign one."
While in China last week he said: "We want to offer Chinese investment the same kind of access to Australia that our other free trade partners get. And I have to say that one of the things that I've learnt better over the last few years is that Chinese state-owned enterprises are highly commercial operations … they don't normally operate in the kind of way that a nationalised industry might have operated back in Australia."
What a difference being in government makes! And it's interesting that Abbott cast his change of heart in the terms he did.
The government wants and expects the China FTA to happen by November. Any doubt that it will must be dispelled by Abbott's inviting Chinese President Xi Jinping to address the federal parliament when he is in Australia for the G20. It would be a rash invitation unless the government believed all would be good on the FTA deal.
But the deadline will strengthen the hand of the Chinese in the negotiations for an agreement that carries some particular sensitivities for Australia.