Recent demands for a more diverse faculty at the University of Missouri are being echoed by student activists at universities across the country.
Inspired by calls for reform at Mizzou, 400 Virginia Commonwealth University students, faculty and alumni convened a forum on the scarcity of black faculty. Hundreds of Yale students called for an increase in faculty diversity, as a means of improving the racial climate on campus. The week before Thanksgiving, a group of Brandeis students began occupying an administration building demanding more full-time black faculty.
As a black professor whose teaching and scholarship explore racial diversity in higher education, I believe the students' demands highlight a deficiency that exists at institutions across the US. I also believe increasing faculty diversity would improve the climate and culture on college campuses, and improve the quality of education for every student.
Ethnic studies departments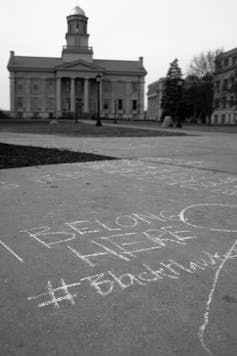 Demands for racially diverse faculty are nothing new.
In the late 1960s and early 1970s, students at campuses nationwide engaged in sit-ins, walk-outs, hunger strikes and calls for the creation of ethnic studies departments. Student activists also demanded course offerings focused on the histories and realities of black, Native, Asian, and Latino Americans. These efforts resulted in the creation of ethnic studies departments, predominantly staffed by faculty of color. By 1993, there were approximately 700 such departments.
In the 1980s and 1990s, spurred by civil rights lawsuits and White House guidelines, colleges and universities also engaged in conscious efforts to hire faculty of color across departments. The progress made, however, was short-lived, and by 2010 recruitment and retention rates for faculty of color began to stagnate.
According to the National Center for Educational Statistics, in 2013 only 21.5% of faculty at institutions of higher learning across the nation were black, Latino, First Nation, Asian or Pacific Islanders. During that same year, people of color comprised 39% of the total US population. Fewer than 17% of full-time faculty were from these underrepresented racial groups.
The reasons for small percentages of faculty of color on college campuses are manifold.
They include:
Today's students are tomorrow's faculty
Demands for increased faculty diversity are particularly timely as the US Supreme Court prepares to decide an affirmative action case this term. Some legal scholars and court-watchers anticipate that the court may decide that universities are no longer constitutionally permitted to consider race in admissions decisions.
It remains to be seen how such a decision would impact faculty diversity on college campuses. However, a ruling that ends affirmative action could cause a precipitous drop in students of color admitted to institutions of higher education. That would further narrow the pipeline of prospective faculty of color.
The inclusion of faculty of color is not merely a matter of optics. The dearth of diverse faculty compromises the quality of education for all students.
A diverse faculty, like a diverse student body, enhances the quality of the academic environment and yields positive learning outcomes for every student at an institution.
Making up for shortcomings of K-12 schools
As the Civil Rights Project at UCLA reports, K-12 schools across the nation remain largely segregated 60 years after the Supreme Court's decision in Brown v Board of Education.
That means that instruction from faculty of color at the university level provides many students with their first exposure to a nonwhite teacher in a classroom with racially diverse classmates.
This experience can surface students' conscious and unconscious racial biases.
It can also challenge students to reconcile different perspectives and experiences in a way that inspires higher order thinking and analysis.
The presence of professors of color can also positively impact the campus climate by fostering inclusion and cross-cultural understanding. Their presence can attract students of color to the campus who would view the environment as more welcoming and as embracing diversity as an institutional and educational value.
Recent demands for increased faculty of color emerge against a backdrop of racial tensions on college campuses nationwide. University leadership at other schools would be wise to take steps to increase faculty diversity before campus protests erupt and, in doing so, improve the educational experience of every student.