What a success! Right on track, confirmation was received just after 3am AEDT this morning that Philae had successfully landed on Comet Churyumov-Gerasimenko. It is the first time that a craft has landed on a comet and what a wonderful moment for the European Space Agency (ESA).
At first it appeared to have executed the perfect landing. But an hour later came concerns that Philae was moving and that the harpoons to tether Philae to the surface had not fired. It may take some time to determine how stable Philae is or if there is a need to refire the harpoons.
But for now, Philae has touched down on the surface of the comet, the ice screws on the lander's feet have dug in and the craft is operating as expected.
ESA is very close to getting its fairytale ending. It will be the perfect ending (or a great beginning) to the lovely "Once upon a time…" cartoon series that has told the story of Rosetta's adventure, so far.
Physics and maths can take you anywhere
Throughout yesterday, the series of Go/No-Go decisions seemed to pass by almost exactly as planned. Rosetta was true to course following the correct trajectory and both it and Philae were doing well.
It was during the fourth and last Go/No-Go that a problem was encountered with Philae's active descent system. It was discovered that the thruster could not be activated but the decision was made to press on regardless.
Confirmation of Philae's release from Rosetta was received just after 8pm AEDT and with that Philae was on its way towards a new home. Fifty seconds after separation, Philae snapped this photograph of its mothership, Rosetta.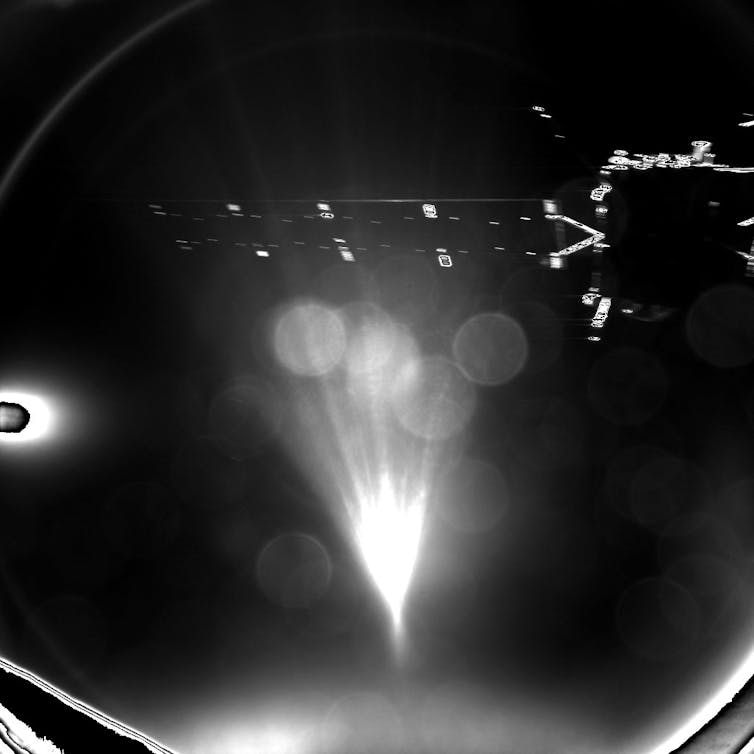 After separation Rosetta changed course to move into the correct position to start relaying communications between Philae and Earth.
Almost exactly as expected at 10:07pm AEDT, Rosetta regained contact with ESA mission control and communication with Philae was established.
Then began the long wait as Philae spent the next seven hours falling towards the comet. At 3:03am AEDT, the signal came through that the landing was a success - what a wonderful result for the ESA team.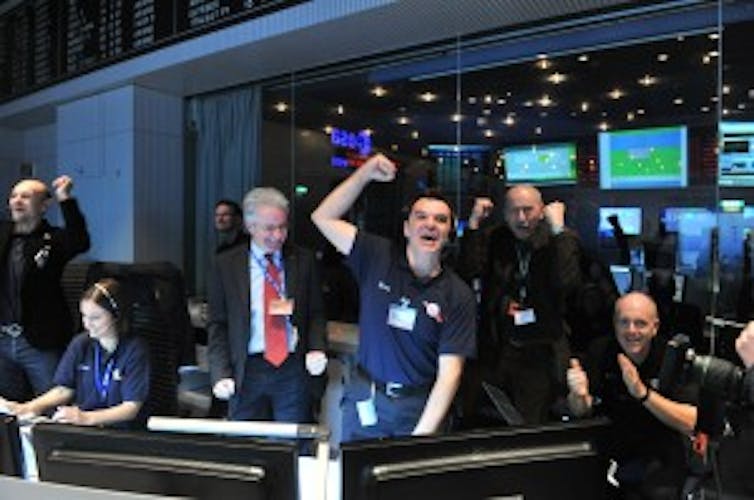 Just like being there
It's been such fun to enjoy the coverage of this mission (even at this crazy hour of the morning!). Throughout yesterday, there wasn't always much action in the mission control room, but there was still something special about being able to peek in at odd times - just as if I happened to be next door.
And of course, at the landing itself it was wonderful to share in that moment of jubilation.
Further updates will certainly be coming through from ESA throughout the day, including the first photographs from the surface of the comet. I can't wait to find out what wonderful things we are set to discover.