Updated and corrected 4th April With a run of recent summers of below par temperatures, energy pundits have been eagerly awaiting a good summer heat wave to see just how our electricity system would stand up. The big question was what would happen when all those newly installed air conditioners finally got ramped up, once the la Nina cycle broke and we got a good roasting? Would a return to hotter conditions finally break the trend of declining electricity demand over the last four or five years?
Well it looks like we got the summer that would answer these questions, and the answers are no doubt causing a fair bit of head scratching amongst the pundits.
Since the last hot summer in 2010, our electricity system has seen a lot of changes. For one thing, almost 2 gigawatts of distributed generation has been added in the form of domestic solar PV. To put that in context, 2 gigawatts represents a touch under 10% of average summer demand, though of course solar PV only produces at near maximum levels for a few hours in the middle of a sunny summer day. However, when solar PV is producing it takes away from the demand for electricity that otherwise would be dispatched across the poles and wires via our National Electricity Market - or NEM.
So with this summer just past setting new records for extreme heat, it's a good time to point the summer sun on the NEM and see how it is standing up.
With blistering summer heat, particularly across New South Wales and Queensland, there was an expectation we might see new records in peak demand. But despite the weather and the supposed new air-conditioning load, the NEM doesn't seem to have been pushed very hard at all during this last summer.
In Queensland peak demand was the lowest in 5 years, down 360 megawatts on 2012 levels.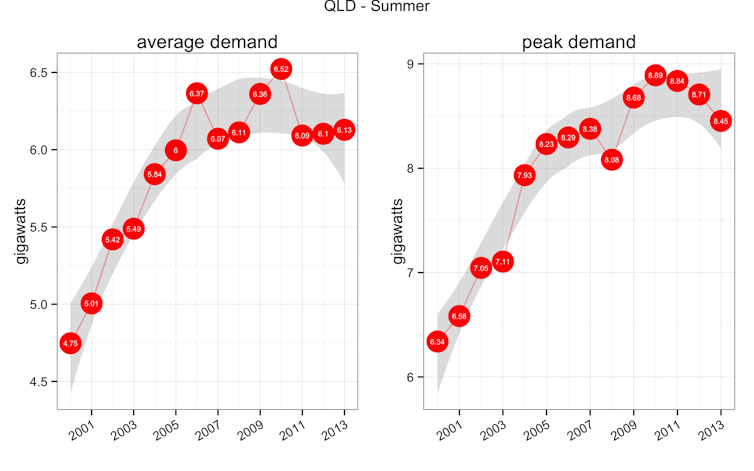 In New South Wales peak demand was up a massive 1.6 gigawatts from the previous summer but that was no great achievement, since the 2012 peak was the lowest since 2002. In fact the New South Wales peak this summer was almost 700 megawatts below 2011, and came in at only the third highest on record.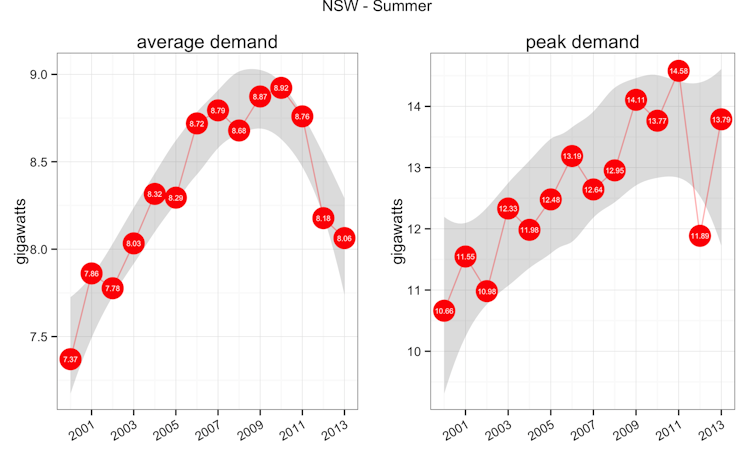 In Victoria, peak demand came in at 9.1 gigawatts, some 12% lower than the 2009 record of 10.4 gigawatts.
To put these numbers in context we need to take step back in time. Up until about 2008, peak demand was growing at around 3% each year. So back then the expectation was for peak demand to rise another 15% or so by 2013. In Victoria that meant planning for a 2013 peak demand of around 12 gigawatts, some 25% higher than we actually achieved.
The situation is not much different for average summer demand. In Victoria average demand was down 150 megawatts to levels not seen since before 2005. New South Wales was down 120 megawatts to levels not seen since before 2003. Queensland summer demand was up 30 megwatts on last year but still down 390 megawatts on the high of 2010, and was only the 4th highest average summer demand on record.
One obvious contributor to the general decline in demand for electricity dispatch by the NEM, and the lack of extreme peaks, is solar PV. Because domestic solar PV is used locally, it reduces demand for electricity dispatched by the NEM across the poles and wires. And because solar PV capacity has been ramped up so quickly, the way it is impacting is readily assessed by comparing this summer daily average demand profile to that of a few years ago. When we do so, the signal of solar PV becomes blindingly obvious, especially in South Australia and Queensland where the domestic solar PV penetration is highest.
As shown below, the parabolic day-time reduction in demand centred on midday is a strong signal of the way solar PV is impacting by cutting more than 10% off midday summer demand in South Australia compared with the summer of 2010. It is also skewing the average demand profile, making it more peaky in the late afternoon, as air-conditioning adds load while PV diminishes in output. It is also clear that solar PV has helped shave some of the peak load, which up until a few years ago was occurring at around 3 pm, and is now pushed back to lower levels, later in the afternoon.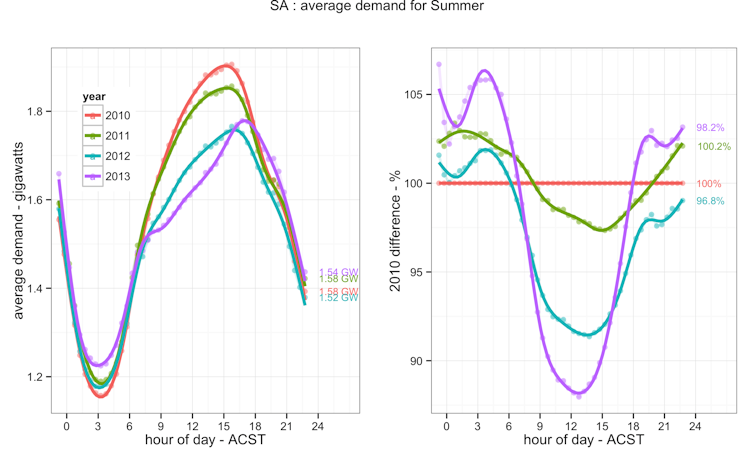 In South Australia, where about one in four houses now have solar PV installed, there is still capacity for a lot more. It's salient to ask what would happen to electricity demand if solar PV penetration reached 50% of houses. What it would do, as indicated in the Figure below, is take midday demand down to near the lowest in the 24-hour cycle, effectively creating a second off-peak demand regime.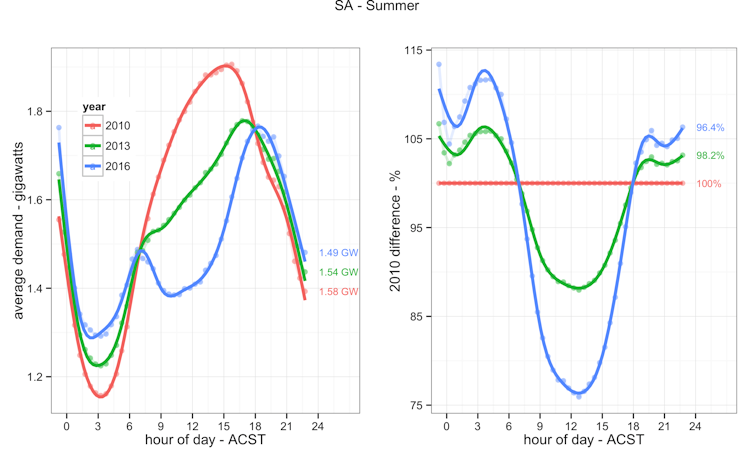 Catering for two off-peak periods would make for a big change to our current thinking about how we supply affordable poles and wires electricity to meet the needs of just a few hours of high demand at the beginning and end of each day.
---
Further notes added March 13, 2013
While the 2013 Summer has not pushed the NEM very hard despite warmer than average conditions, Autumn has begun to do so, at least in Victoria, where peak demand on March 12th reached almost 9.6 gigawatts. That is the sixth highest daily peak-demand on record in Victoria, and occurred on a midweek day (Tuesday) with a peak temperature of around 36.2, at the termination of a record run of nine days with maximum temperatures above 30 degree for Melbourne.
The plots below show some salient features.
The first plot below shows 2013 has (so far) the second highest Autumn peak demand recorded for Victoria (behind 2008). It is just the third time Autumn peak demand has exceeded the preceding Summer peak demand. It is however, the first time since 2000 that the Summer peak demand lagged both the preceding Spring and the following Autumn.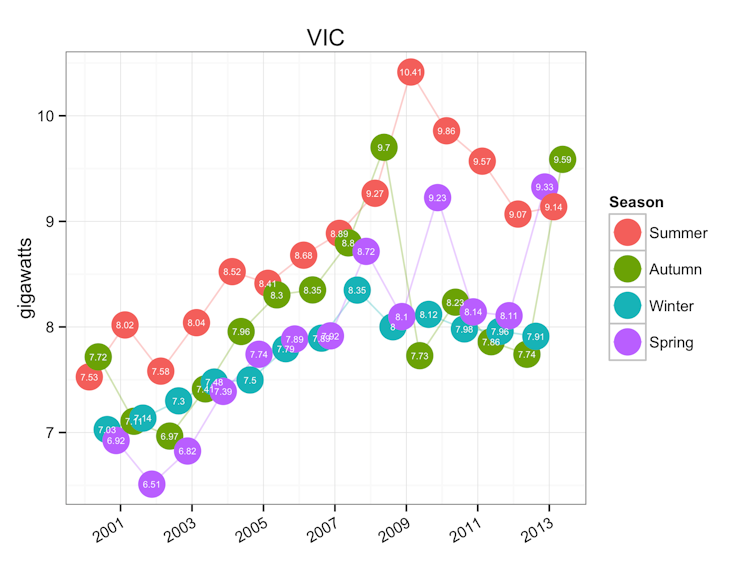 The second plot illustrates the way in which peak demand is changing as a function of daily maximum temperature (for Mondays through Fridays only) for the period January 15th through March. Up until around 2007, there was an increase in peak demand across all comparable temperature conditions. Since then there has been a marked reduction in peak demand on comparable cool working-weekdays. On comparable high temperature days, peak demand continued to grow until around 2010. Since then, peak demand has held relatively steady for comparable high temperature days. Of course, as highlighted in the comments to this piece, the peak demand is not just a function of daily temperature maximum, but also the time of year and week, and the temperature in the prior few days.