This year's summer resort wear collections have received lukewarm press, and have seen the whole idea of resort collections thrown into question. Writing in the New York Times, Vanessa Friedman described them as "that interminable, puzzling, ill-defined women's wear season that is known as pre-spring".
One of the problems for today's designers is that resort wear, which used to be a very particular and seasonal type of clothing, has lost much of its original impact in an age of global access to fashion information. Clothes are now sold to women across various climates and on different timetables, causing a breakdown of fixed seasons.
Lightening up
Resort wear has a long history. It truly came to fruition during the interwar period, when monied socialites, actresses and film stars took to sunny spots that offered not just the opportunity for relaxation, but also publicity, with the growth of a mass media fascinated by their every move.
But holidaying in seaside locations, whether French Riviera towns or British resorts such as Scarborough, became increasingly popular during the 19th century, and more relaxed dress codes began to prevail then even if, to our 21st century eye, that may be hard to detect.
For women, corsets and petticoats were still essential, but lighter colours and fabrics and straw boaters indicated the change in pace and location. By the end of the century, bathing costumes emerged – albeit with knee-length skirts, bloomers, and matching sandals and bonnet.
But it was only in the 1920s and 1930s that resort and beach wear became a specific, widely available and heavily marketed clothing category, both at couture and ready-to-wear levels.
Follow the money
In the mid-1920s, American fashion designer Elizabeth Hawes, then a fashion sketcher and writer in Paris, noted that most couture houses produced four collections per year – the most important in August and February, then mid-season small collections in November and April. She linked these showings to the need for fashion as news. During the 20s boom, newspapers in particular craved constant stories – but, as she put it:
Only four times a year is there really fashion news in Paris. Two of those times, it's big news, all the summer or winter clothes, shoes, hats, bags, jewellery which Paris can think up, and that's plenty. The other two times, it's mid-season collections, small, fill-in showings of advanced spring or fall clothes, tossed out for foreign buyers.
In between these collections, resorts became key to fashion writers like her. She would follow the international elite, as they travelled around the Continent to the chicest resorts: in summer, Cannes, Biarritz or the Lido, in winter, Gstaad or St Moritz. Other regions had their own equivalent destinations – Palm Beach was popular with glamorous Americans, for example.
These resorts provided the perfect luxurious environment for the elite to flaunt the latest fashions, with couturiers such as Chanel and Madeleine Vionnet even opening up branches in key resorts to ensure clients had easy access to their latest offerings.
As suntans became an important signifier of a leisured existence, promoted in part, by Coco Chanel's own bronzed physique, designs became light, simple and most importantly, modern, putting their wearers at the forefront of fashion.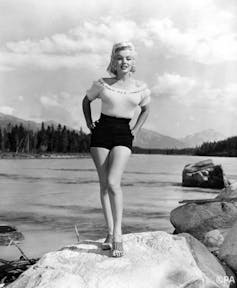 Images and reports of film stars' and socialites' chic outfits were then syndicated internationally and helped to popularize not just couture travel and holiday wear, but also burgeoning ready-to-wear options from designers such as Claire McCardell in America and Jaeger in Britain that increasingly filled fashion magazines during the summer months.
Easy-to-wear
McCardell's popular travel wardrobes, colour-coordinated selections of five or seven garments to be mixed and matched over the duration of a holiday, encapsulated the shift to easy-to-wear, well-thought-out resort clothes that appealed to fashion-conscious, busy women, eager to dress in chic, modern separates.
These selections of shorts, sun tops, trousers, jackets and skirts in pale blue cotton chambray, for example, were widely copied; they are the precursors of the fashion spreads we see in magazines today, with suggestions for interchangeable garments that will be quick to pack and light to carry.
Mid-season collections from these decades featured distinctive sets of garments designed to fit into emerging lifestyle trends. And although these clothes were most attainable for the elite, they were aspirational items for many middle-class and working-class women. Breezy styles became even more popular in the 1950s and 1960s, running the gamut from fluid, spiraling prints at Pucci to more conservative summer styles at Marks & Spencer.
It's interesting to note that the more successful efforts among the most recent crop of resort/pre-spring collections all looked back to resort wear's mid-century heyday. Designers such as Tomas Maier offered more than a hint of 1960s St Tropez in their simple cut and monochromes, highlighted with tomato red and sandy shades.
Perhaps this is the best way to plan our own summer wear: look to stylish, modern resort classics, and avoid a holiday identity crisis.