The study and preservation of Australia's neglected and decaying historic shipwrecks stands to leap in sophistication through a new multi-disciplinary project.
Bringing in expertise from behavioural archaeology, maritime archaeology, conservation sciences and maritime object conservation, the Australian Historic Shipwreck Protection Project (AHSPP) aims to set new national and international benchmarks in historic shipwreck management.
The three-year project is primarily funded by the Australian Research Council with supplementary sponsorship from public and private organisations (AHSPP). It investigates the excavation, reburial and in-situ preservation of degrading and at-risk wrecks and their associated artefacts, and could reveal much about technological innovation in the colonial period.
The AHSPP will focus on a particular shipwreck site at risk - the colonial schooner Clarence in Port Phillip. The ill-fated Clarence - built in 1841 and sunk in 1850 (with accusations of insurance fraud) - is considered ideal for study. It has already been extensively monitored by Heritage Victoria for more than 25 years and was partially test excavated in the 1980s.
The first season of excavation on the Clarence runs from 16 April to 12 May 2012 from a jack-up barge positioned over the wreck. The barge will be the base for the diving operations, as well as purpose-built imaging and conservation laboratories. Overseas researchers and practitioners from Thailand, Cambodia, Indonesia, Philippines, the US, and New Zealand will participate.
Clarence is representative of the majority of Australian-built vessels, which were small coastal traders that were often unregistered and therefore largely unrecorded. There are 2,786 Australian-built vessels recorded as having been wrecked on the Australian coastline. The available databases indicates that only 271 vessels have been located to date (approximately 10% of the total number wrecked) and that only 14 Australian-built vessels have ever been properly surveyed and/or excavated with the results published. This project will build on the long-standing interest of Australian maritime archaeologists in the origins and development of colonial shipbuilding.
The project has three main components focusing on:
• Australian wooden shipbuilding to a better understanding of the colonial ship-building industry which is still poorly understood;
• developing a world-class, and best-practice, protocol for the rapid recovery, recording and reburial of artefacts from historic shipwrecks;
• in situ preservation of historic shipwrecks at risk from natural and human impacts.
Australian wooden shipwrecks have huge potential to teach us about colonial history, including technological innovations in those years. Their archaeological potential, however, is unfortunately often under severe threat. Maritime cultural heritage in Australia and abroad is increasingly endangered by treasure hunting and looting as well as by onshore, coastal, and offshore development activities or the effects of scouring resulting in the sudden exposure of buried sites.
We plan to develop a model for state and federal government collaborative research and policy development, and seek to create a national approach to the management of maritime cultural heritage.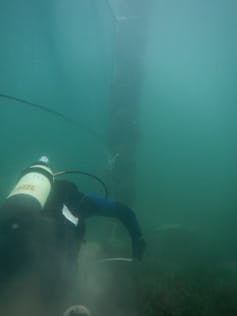 One of the main aims of the project is to develop a protocol for the rapid recovery (excavation) of wrecks, their detailed recording, and subsequent reburial, as well as the in-situ preservation of significant shipwrecks and their associated artefacts. The reburial methodology will subject all excavated artefacts and objects to a sophisticated, forensic documentation prior to their reburial. Rapid documentation includes X-ray imaging on the working barge-platform and morphometric and physico-chemical recording. Documentation will include non-invasive analytical methods such as X-ray and imaging systems.
This approach maximises what we can learn, while minimising how much we damage in doing so. We also hope to make a major contribution to international management protocols - work that is critical to the future development of policy and technical guidelines for site managers of historic wrecks.
Comments welcome below.