Last week in the Supreme Court of New South Wales, jurors were shown surveillance footage in the trial of a Sydney man, Simon Gittany, who stands accused of murdering his girlfriend Lisa Harnum.
It is alleged that Gittany was a controlling and jealous partner, and that he installed hidden CCTV cameras around their apartment.
The new challenges posed by surveillance technologies such as hidden CCTV cameras for journalism, law, privacy, computing, art and military operations are the subject of a panel discussion, Welcome to the New Normal, which takes place at the University of Technology, Sydney (UTS) tonight. It's timed to coincide with an exhibition, Trace Recordings, that explores some of the challenges, threats and opportunities for surveillance and identity in the 21st century.
The police officer who witnessed Harnum's autopsy testified that she pieced together a torn note that was found in Harnum's jeans, which read: "There are surveillance cameras inside and outside the house". Harnum's mother testified that the note was in her daughter's handwriting.
Those fragments from the lives of these otherwise-ordinary people testify to the democratisation of surveillance, and the ways we have adapted to live with it. Once part of a totalitarian discourse, now we have learned to love Big Brother.
Our lives are crammed with devices, and those devices capture enduring traces of our travels, our thoughts, our intentions and our actions. We have surrendered willingly to this perpetual recording and, in the process, produced endlessly-new forms of evidence, without our fully grasping the consequences.
It might be, as Simon Gittany has now discovered, that our self-surveillance is later used against us as evidence of alleged crimes.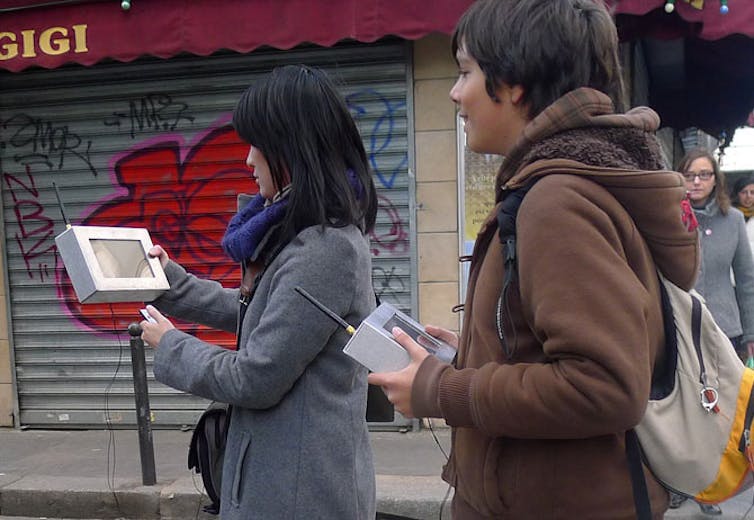 It could be, as Facebook users realise, that our voluntary disclosures might be commercialised. And specialists in "big data" warn that we simply cannot anticipate the future uses of what are now huge data sets which, when paired with "smart" algorithms, have massively augmented analytical capabilities of unknown scope and scale.
We are developing new capabilities for capturing, storing and analysing vast quantities of information. We might realise, in the exponential growth in the volume and complexity of big data, that we also develop growing expectations for more data.
Artists internationally have seized the contemporary frenzy for surveillance and sought to plunder, transform or destroy the systems from which this material has emerged. While some of their work is wilfully provocative and problematic, all of it forces us to re-think concepts we might have assumed to be stable.
Public and private, secret and open, transparency and bureaucracy, sensitivity, confidentiality; each of these begins to fall away as we start to examine the works on show in Trace Recordings at UTS.
Paris artist Benjamin Gaulon's work 2.4Ghz (above) demonstrates that everyday devices, including a baby monitor, operate at the same frequency, and that unencrypted video footage from shops, businesses and schools is broadcast and transmitted so that anyone with one of these devices can view this live material.
Visitors to the exhibition can borrow a baby monitor, walk around the UTS precinct, and be astonished at what they might see.
Denis Beaubois, whose works include Everybody Happy and Here, now, infinitely there (both 2000) is an Australian artist with a long tradition of attempting to engage in a kind of "dialogue" with surveillance cameras.
His art practice, similar to that of US artist Jill Magid, aims to remind us of the human operators of these machines, and also our own humanity as we are captured by them.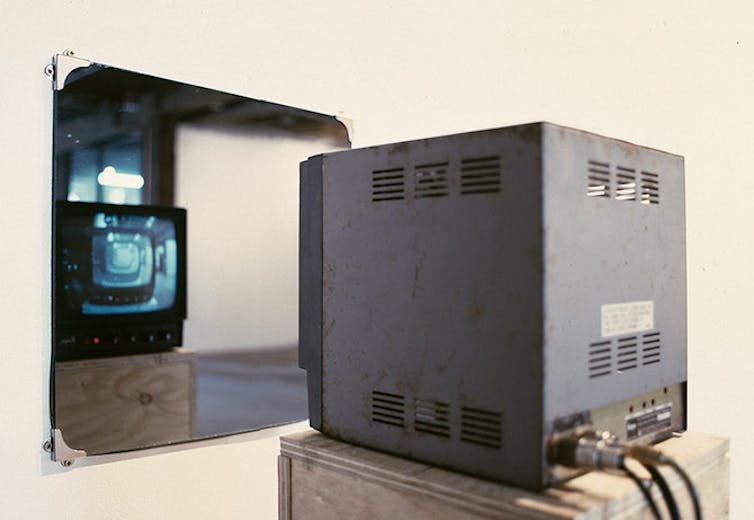 Paulo Cirio's Street Ghosts (2012-ongoing) is drawn from footage captured by Google Street View; Cirio, like artists including Hong Kong-based Michael Wolf and others, has discovered that Street View is a limitless archive of raw material from which artworks can be made.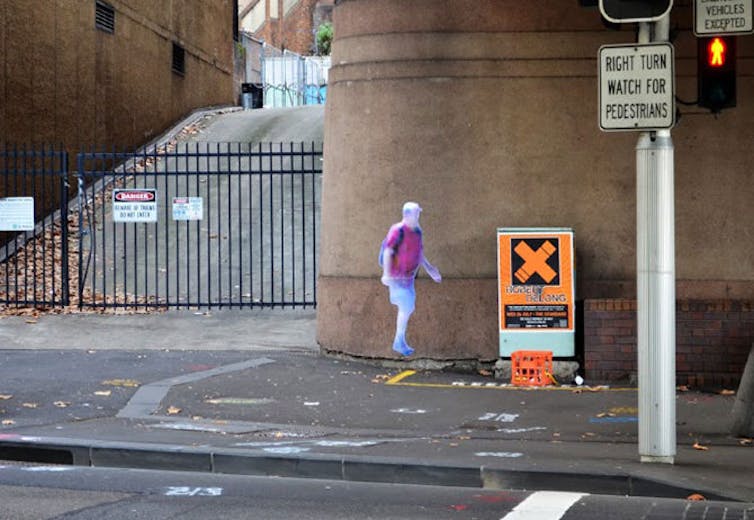 Cirio has made life-size portraits of the people inadvertently captured by Google's street-trawling cameras, and then placed them in the locations in which they were first captured. Several of these portraits can now be found in the streets around UTS, for the duration of the exhibition.
Katherine Biber will speak on the panel at the Welcome to the New Normal at the University of Technology, Sydney tonight.
Further reading:
Trace Recordings: surveillance, art and identity in the 21st century