Shopping can be confusing at the best of times, and trying to find environmentally friendly options makes it even more difficult. Our Sustainable Shopping series asks experts to provide easy eco-friendly guides to purchases big and small. Send us your suggestions for future articles here.
---
If there is one item of clothing that bridges the gap between land and ocean, it's swimwear. Most of our clothes release tiny plastic fibres into the water every time they are washed. But while some washing machines and waste-water treatments can filter out a large percentage of the plastic, what happens when we wear our bathers, a microfibre bomb, to the beach?
These plastics go directly into the water and are consumed by marine life, which finally ends up on our dinner plate! To help keep our bathers on the outside, rather than in our stomachs, it's important to know how to take care of them, recycle them, and shop for sustainable swimwear.
---
Read more: Togs or swimmers? Why Australians use different words to describe the same things
---
In 2015, 53 million tonnes of clothing fibres were produced worldwide. Of these, more than 97% came from new materials, around two-thirds of which were plastics.
In Australia, the annual market for swimwear is expected to reach 2.1 million pieces by 2021. This figure accounts for only around 0.1% of the national clothing market, but it points to a large potential source of marine plastics.
Most of us already know that plastics mean environmental bad news. We have seen the images of turtles that have come too close to plastic bags, and the remains of albatross chicks that starved with their stomachs full of cigarette lighters and bottle tops.
Far less visible is the tide of "microplastics" – tiny scraps of plastic that have big effects.
Microplastics are, by definition, less than 5 millimetres across. But like larger lumps of plastic, they resist breakdown in the environment. They float in water currents and their small size means they slip through water treatment filters. They are the perfect bite-sized morsel for many marine species and may transport harmful contaminants, which then end up in our seafood.
From laundry basket to beach
One of the biggest contributors to microplastic pollution is clothes washing. The tumbling and abrading forces in the machine result in the fragmentation of garment fibres.
This adds up to an estimated annual weight of up to half a million tonnes of fibres being released during clothes washing – a truly worrying figure. Although treatment works remove up to 98% of these fibres, tens of millions get through just one plant in a day.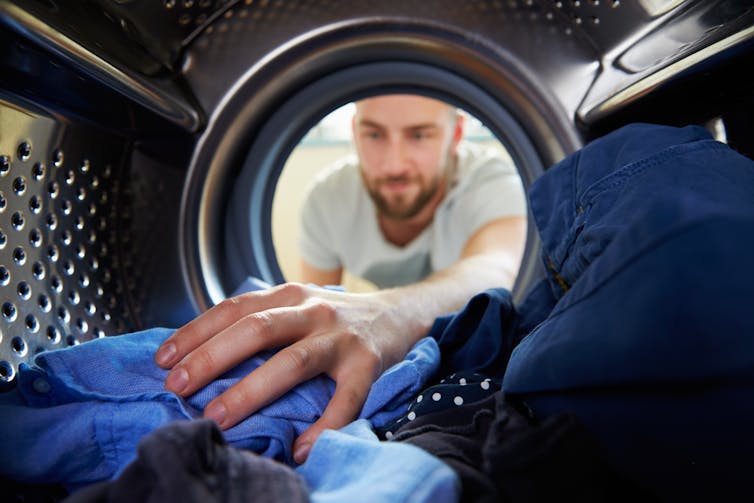 The recommended washing process for swimwear is not as tough as for the rest of our wardrobe. However, extended use at the pool or the beach will result in the introduction of microplastic fibres directly into the water.
The average swimsuit contains a mixture of manmade fibres. Unless you are sporting a super-technical suit, you can expect a mix of nylon (polyamide) and either elastane, spandex or lycra (polyurethane) in the outer, with a polyamide or polyester lining. The use of synthetic fibres, polyurethane in particular, give your garment the much-needed stretch to contour to your body.
The sun is a problem too. Ultraviolet rays damage the structure of plastic, making fibres more brittle and prone to breaking.
Whether exposed on the beach or tucked under your boardies, your swimmers are subjected to weakening and abrasion at every use. If you're swimming, kayaking or enjoying the surf, sooner or later your trunks or tankini become part of the problem. I should know – I'm a kayaker and ex-competitive swimmer, and have researched the impacts of microplastics in seafood for six years. Hands up, I'm in the same boat (and pool).
Take the plunge
So what can you do for a greener, cleaner suit?
Well, if you have a standard swimsuit, I'd recommend a gentle rinse followed by air drying out of the sun after every use. Getting rid of chlorine and salt is essential to maintain the strength of the fibres and minimise breaking. But steer clear of scrubbing – you don't want to add to the issue.
If you are in the market for something new, brands like Luz, Bare Beach, Ambika and Hemp Huggers advertise a combination of natural fibre for peace of mind and polyurethane for fit, reducing your guilt by around 97% per garment. While less resistant to chlorine, and with a potentially shorter lifespan, these alternatives may be perfect for the less active pool and beach fans.
If you need the durability of synthetic, then turn to the support of the circular economy. Brands like Vitamin A, Odina and Eco Swim use recycled fibres. Econyl, a recycled nylon, is also used by bigger brands such as Speedo. Bombshell Bay's Sustainable Swimwear, Faherty and Koru Swimwear are even made from recycled ocean plastics.
While none of these methods will entirely prevent plastics being released into the water (and their eventual impact on the environment), they will dramatically reduce the rate at which fibres are shed and the volume of plastics manufactured.
End of life
Currently, around 73% of our clothing goes to landfill or incineration. But with a reliable source of recycled materials being made accessible, more businesses are able to use reclaimed fibres. This helps us to raise the amount of recycled fibres in textile production from a pitiful 2% to something much more sustainable.
---
Read more: Sustainable shopping: how to rock white sneakers without eco-guilt
---
With that in mind, give your swimwear (and other clothes) a good send-off at the end of their useful life – when the elastic has gone and your bathers are sagging like a grocery bag.
Recycle them rather than sending that microfibre bomb to landfill. Some brands, like H&M, will take back your unwanted garments in store. Otherwise, you can keep an eye out for recycling points near you, and help someone else get into green swimmers.