SEVEN BILLION PEOPLE: As the global population passed the seven billion mark yesterday (give or take a few months – the data aren't exact), Australia's resident population will reach about 22.75 million. Given that our population represents just 0.325% or 1 in every 308 people on the planet, does the milestone have any relevance for Australia?
Indeed it does. World population will continue increasing well beyond 7 billion. The latest medium series projections from the UN estimates there will be 9.3 billion on the planet by mid-century, with growth continuing for several more decades after that.
Much of it will be in the poorest parts of the world, leading to increased pressure to migrate to wealthier areas.
More aid will need to be provided to developing countries and to open up more trade opportunities.
The challenges
The 7 billion milestone is also a useful reminder that we need to plan for coming demographic change. Such planning is often best undertaken at national and local scales.
Indeed, the United Nations Population Fund's new report The State of the World Population 2011 focuses to a large extent on nine individual countries rather than global totals and averages. It examines demographic and development challenges including ageing, urbanisation, food security, family planning, clean drinking water, poverty, unemployment, and climate change. And we need to worry about all of these in Australia too.
Down Under
The latest projections of Australia's future population are presented as ranges instead of exact numbers, because there are so many unpredictable factors involved.
By 2031 our projections indicate that 95% of possible population outcomes for Australia will put the population between 27 and 33 million. Twenty years later in 2051, it spans 29 to 43 million. The proportion of the population aged 65 years and above will lie between 21% and 28%.
The key point is that, although there is some uncertainty about the extent of future demographic change, population change is unlikely to fall outside those 95% intervals. Hence, Australia's population will definitely grow and age over the next 40 years.
Interestingly, the growth rate is pretty fast relative to the world as a whole. The middle of the projected range for Australia's population translates to an annual average growth rate gradually falling from about 1.5% in 2010-15 to 0.9% by 2045-50.
For the world as a whole the equivalent figures from the United Nations' medium projection are 1.1% and 0.4%.
Where the people will be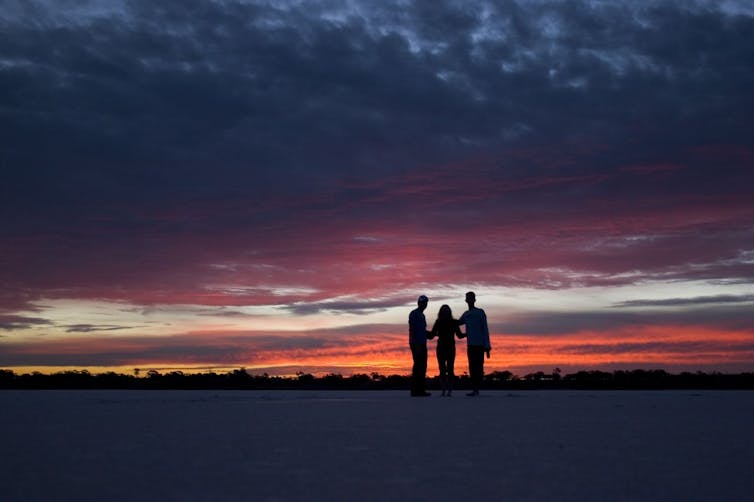 Much of Australia's projected population growth is likely to occur in the capital city metropolitan regions.
ABS projections suggest that by mid-century both Sydney and Melbourne's populations could be well above 6 million and those of Brisbane and Perth in excess of 3 million.
Outside the big metropolitan areas, population change is likely to be strong in coastal regions adjacent to capital cities, while there will be little overall difference in population in the remote outback areas. Almost all areas of the country will experience population ageing.
Clearly, these projections present significant urban planning challenges. Many of these are well known, including:
The need for a lot more housing, whilst trying to prevent endless urban sprawl.

Increased demand for services such as water, sewerage and power.

The need for more transport infrastructure.

Employment growth outside the CBD to reduce long commuting times and transport congestion.

Minimising the environmental footprints of urban growth.
In Australia much of this planning currently goes on at state and local government level.
Changing government
There is, I believe, scope for planning to be integrated into an Australia-wide population policy with an explicitly stated set of goals, coordinated perhaps by a government department combining the currently separate areas of Immigration and Sustainable Population.
Regrettably, the federal government's Sustainable Australia – Sustainable Communities document released in May this year was light on specific objectives and shied away from population projections.
A more effective population policy would take projections as its starting point.
Development and sustainability
The State of the World Population report discourages readers from paying too much attention to the headline figure of 7 billion and instead emphasises the importance of development and sustainability.
The same general approach could be recommended for Australia's population policy.
So rather than aiming for a particular population total, for example, one of the goals might be to prevent excessive population ageing by aiming for a total fertility rate of at least 1.8 babies per woman.
Building on current immigration arrangements, another goal might be to set a minimum proportion of the annual Migration Program intake to designated regional areas.
And the Humanitarian Program could be increased in light of growing global population.
The State of the World Population report argues that with careful planning and investment in people and infrastructure at the present time, a more populous world can be a more productive, healthy and sustainable place.
Australia shouldn't be the exception.
Read more:
Why China's mega-cities leave their citizens struggling
Seven billion reasons to open our hearts and homes to adoption
Population is only part of the environmental impact equation
Rise of the planet of homosapiens: The death sentence for other life