Three years after New South Wales' housing minister announced that all 579 public housing tenants in Millers Point, Dawes Point and the Sirius Building would be moved within two years and their homes sold, only 24 tenants are still resisting the move. So far, 151 properties have been sold for A$400.89 million, with a median sale price of $2.44 million.
The NSW government would argue that these statistics indicate the displacement has been a great success. But, drawing on 40 in-depth interviews I conducted with tenants, the displacement has been a monumental policy failure on various levels.
Let's begin with the justifications for the displacement. The NSW government's main justifications were that the homes were expensive to maintain and that the escalation of house prices in Millers Point represented an opportunity to raise $500 million that would be used to build 1,500 additional social housing dwellings.
Tenants interviewed were adamant that maintenance was negligible. Many spoke about maintenance requests being ignored or the work done being so shoddy that the problem was not fixed or promptly recurred. Many felt that a deliberate policy of neglect had been one of the key strategies to encourage tenants to move.
Doing the sums
The high cost of maintenance certainly cannot be used to justify the planned sell-off and destruction of the Sirius Building.
The age and concrete structure of the building mean that the maintenance costs per unit are probably lower than for many other public housing complexes. It is 35 years old – the average age of social housing properties in NSW is 45 years – and in good physical condition.
The government's promise to use the sale proceeds to build 1,500 social housing homes has been its central justification for the displacement. On the surface, this appears reasonable. However, there are a several issues with this argument.
First, the actual number of additional homes will be closer to 1,100 as at least 400 homes have been lost in Millers Point and the Sirius Building.
Second, tenants posed the obvious question: why should public housing be financed by the sale of public housing? The massive increase in house prices in Sydney has resulted in a stamp-duty bonanza for the NSW government – around A$9 billion in the 2016-17 financial year.
The government is awash with cash. A surplus of around $4 billion is predicted for this financial year. Surely some of this money could have been used to reduce the scandalous public housing waiting list of more than 60,000 people.
Another question tenants raised was: why the rush? Why was it necessary to sell all the homes as soon as possible? It is highly likely that property prices in the area, within walking distance of the Sydney Opera House, will continue to increase.
If we accept this proposition, then the government could have compromised. It could have allowed tenants who were vehemently opposed to moving to stay, and sold off the homes of tenants who did not mind relocating.
'Like leaving your family'
The main argument against the displacement is not so much the questionable financial justifications, but the devastating human cost.
Although some tenants were happy to move, the removal process and subsequent displacement has been traumatic for many. Tenants who had strong social ties in Millers Point and Sirius have been moved to areas where they know no one.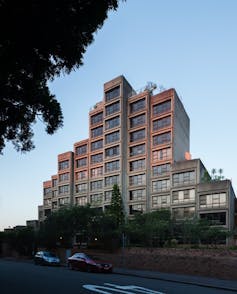 I interviewed a tenant who was moved out when he was 90. In the Sirius Building he knew a couple of people and his fellow tenants looked out for him. In his present housing complex he is totally isolated.
Another tenant interviewed was 85 when he was moved. He said that leaving Millers Point "was like leaving your family".
The actual removal process was seriously flawed. Tenants were aghast that it was to be a blanket removal – those who were born in the area, were frail or had lived in the area for most their lives were to be forced out. Tenants had no choice but to move.
They were told that if they did not accept two "formal offers" of alternative accommodation, their public housing status would be terminated. This would have rendered most tenants homeless.
The total lack of consultation was particularly unfortunate. Tenants had no warning prior to the announcement. After making the announcement, the minister responsible, Pru Goward, refused to meet the residents. Her successor, Gabrielle Upton, also ignored requests for a meeting.
To his credit, Brad Hazzard, who replaced Upton in April 2015, met the working party representing the tenants and spoke to some of the older tenants. He was reportedly "persuaded, over scones and cream in residents' homes, by their argument that it would be 'a huge challenge' for the elderly to move out of the area".
The minister managed to persuade the NSW Treasury to fund the refurbishing of some existing properties. In November 2015, 28 apartments were made available for the 90 or so Millers Point residents who had not yet moved.
Unfortunately, yet again there was no consultation; 24 of these apartments are small one-bedroom apartments that are not suitable for most of the older residents who need an extra room for a carer and/or family visiting.
Social harm is irreversible
The displacement is also destroying an area of great historical significance. In 1999, the whole of Millers Point was declared a heritage site. The statement of significance said:
Its unity, authenticity of fabric and community, and complexity of significant activities and events make it probably the rarest and most significant historic urban place in Australia.
The displacement has exacerbated an already deep and growing spatial divide between rich and poor in Sydney. The social mix that was a feature of Millers Point has been obliterated along with its rich history.
The 24 remaining tenants are still hoping that the government may show some compassion and let them age in place. It's a long shot, but it would be a marvellous and humane gesture.