Several British theatres have made a pledge to address the levels of gender inequality on the contemporary stage. And a theatre complex in Sheffield has gone a step further, promising to create parts for equal numbers of male and female actors in its in-house productions in the next year. How it will do this remains to be seen – whether in commissioning more modern plays or by featuring more cross-gender roles, as seen in Maxine Peake's current title role in Hamlet at the Exchange Theatre.
But ignoring the gender of stage roles is not a recent thing. In the 19th century for example, female Hamlets were not the rarity that they've become today. As a writer in Sketch magazine wrote of Sarah Bernhardt's 1899 Hamlet, "she is not the first Dame to assume the role of the Dane".
There had been upwards of 50 female Hamlets in the 1800s before the famous French tragedian Bernhardt took to the role in 1899. That year, the Daily Telegraph noted: "It is hard to remember a time when the female Hamlet has not been with us." The role was played by American, Australian, Irish, Italian, as well as English actresses, in Britain and throughout the world.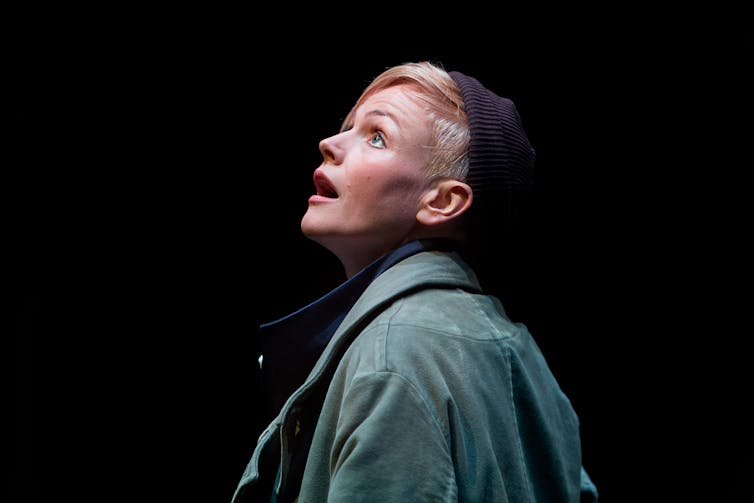 Both role and actress benefited from this female casting. The boyish, picturesque, thoughtful aspects of Hamlet were highlighted by many of his female impersonators, and the actors took to it enthusiastically. Here was an opportunity to demonstrate the intellectualism of their art, rather than the more emotional and physically pleasing aspects that were primarily valued by audiences and managers. Bernhardt was not alone in achieving, through her Hamlet, a critical seriousness, a recognition of her gravity as a performer. The lure of the male role was very considerable, particularly if it was Shakespearean.
Cross-dressed
But Hamlet was an anomaly rather than a rule. Women most often had to leave the stage before they could take on male roles. For example, Fanny Kemble was one of the most renowned Shakespearean female actors of the early and middle parts of the century. She was able to appear in male roles after she'd retired from acting by giving staged readings of the plays, in which she took on all the roles. She toured theatres, working men's institutes and music halls throughout the UK and America. Recently divorced from her American slave-owning husband, Kemble also benefited financially from these highly lucrative reading tours. But she also saw herself as an educator. James described her as bringing "the genius of the poet … in whom she found all greatness and beauty" to her audiences.
There were other opportunities for cross-dressing in Shakespeare but these other instances tended to be dictated by the plot, and so were far less progressive. One notable such part is that taken on by Rosalind in As You Like It, when she lives in exile as the shepherd Ganymede. The Victorian actor inherited a strong stage tradition of "hoydenish vivacity" in playing Rosalind, but to be reputable an actor had to try to wrest the part away from that tradition, to demonstrate instead something of the role's exemplary femininity.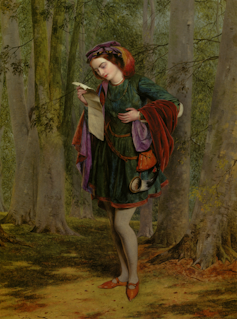 So there was a very difficult balance to negotiate. Managers often insisted that female actors in the role wore Ganymede's customary short tunic. This was one of the primary reasons for cross-dressing's popularity in the theatre: the unwonted display of female bodies in more revealing male costumes. The grounds upon which Victorian female actors occupied the stage in the early and middle parts of the century were clear: ideally they had both to exemplify femininity and to appear sexually attractive.
But as the burgeoning feminist movement of the late-19th century infiltrated the world of theatre, opportunities for a different female dramatic aesthetic took hold. The works of Ibsen in particular politicised the theatre and made available within it not only a new range of female roles on stage, but also new managerial opportunities.
It was within this context of dynamic change that an all-female production of As You Like It was staged at the Prince of Wales Theatre in 1893. But for the critic William Archer, who was usually a fervent champion of the feminist "New Woman" both on and off-stage, the production was a step too far. He saw neither beauty nor purpose in the production:
The performance had not even the comprehensible attraction of burlesque, that appeal to the average sensual man which lies in the display of "shapely" limbs; for jack-boots were the only wear in the Forest of Arden. The whole thing, then, was a purposeless curiosity, and rather ugly than beautiful.
The final straw for Archer seems to have been the appearance of bearded ladies in a production of the great Bard's work. To use Shakespeare for political ends was too much for him, but, as Bernhardt went on to confirm a few years later, and as Kemble and others had already shown, a skilled actress might enhance not only her career, but understanding of a role, by bringing her own insights and talents to bear on any part.
Once Ibsen and others started providing more "serious" roles for actresses, Hamlet's part in testing a burgeoning actress's skills was less necessary. Although the female Hamlet has surfaced from time to time, both in professional and student theatre, the lure of the role is felt less strongly now that the roles for actresses and the potential for creative recognition are far greater than in the Victorian period.
It might seem ironic then that Maxine Peake's Hamlet in Manchester suggests that, whether for a male or female actor, Hamlet is still the measure of a great performer. Perhaps as theatres move to explore issues of gender (in)equality, we might see more intriguing examples of gender-blind casting. The case of Hamlet, after all, is no new thing.