The latest ABS labour force statistics show a steady trend developing. Both the unemployment rate at 6.1% and the participation rate at 65% have remained stable since March 2015. This smooth trend bodes well for Australia as a whole.
However, as an academic specialising in the ageing workforce, I am often more interested in the hidden issues that these statistics do not reveal. Often hidden is the discrimination mature-age workers experience in the workplace – particularly during the recruitment process. This includes anything from underemployment to intergenerational competition from younger workers who feel older workers are "blocking the way" to higher positions.
Other issues include incivility in the way they are spoken to, exclusion from conversations and events, and ideas being ignored.
Age discrimination has lasting impacts
ABS data consistently shows that, despite their wealth of knowledge and experience, older workers are over-represented in underemployment statistics. They experience countless problems, such as being denied additional work hours or experiencing unwanted cuts. Consequently, they are unwillingly locked in to part-time or casual work.
Mature-age workers often face limited training and promotional opportunities. As a result, they are left with outdated skills and minimal career progression. They are often denied flexible working conditions, with less of an opportunity to assume responsibility within the workplace.
With such obstacles, older workers are sometimes unable to have productive impacts in their workplace.
This is just the tip of the iceberg of age discrimination in the workplace.
Work-related age discrimination and mature-age unemployment and underemployment can have complex and far-reaching outcomes. It can impact an individual through their finances, physical and mental health and overall wellbeing.
Older job seekers can become severely stressed and discouraged when searching for work. These feelings of frustration sometimes lead to self-employment, or "self-selecting" out of the workforce through unemployment or involuntary early retirement.
Mature-age people who are not in the workforce, or are chronically under-employed, frequently experience lower savings and superannuation. This legacy can stay with them for the rest of their lives.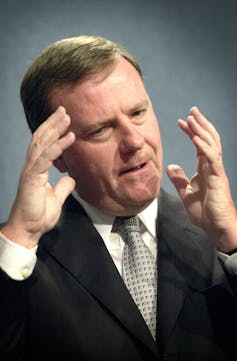 In a broader perspective, low mature-age labour force involvement is economically unsustainable. To deal with this, the government is pushing hard to encourage extended working lives.
Engaging an older work population
Many often overlook the wealth of knowledge, experience and skills that equips mature-age workers to apply leadership in workplace settings and projects. Most older workers have crucial business relationships and industry contacts. These cannot be recorded in a manual for others to read and easily implement.
Industries requiring specific skills and knowledge – such as the mining sector – are deeply concerned about losing this specialised knowledge as older workers retire.
Many organisations are responding in an attempt to capture this valuable knowledge. They are aiming to do so through knowledge transfer or succession planning, such as mentoring programs.
Mentoring programs positively and actively engage older workers, giving them a sense of value while retaining corporate knowledge within the organisation. But reverse mentoring is also an option. Here younger colleagues can share their specialised skills and knowledge with their older colleagues.
Such programs are useful as they often foster intergenerational relationships. More importantly, they help break down the stereotypes that contribute to age discrimination.
HR and line managers need to apply an understanding and positive approach to how the ageing workforce can improve business. Many retail and finance organisations, with an older clientele, have been hosting targeted recruitment drives for mature-age workers in attempt to reflect their growing customer base.
But organisations must be careful not to implement age-friendly workplace policies and practices with a "one size fits all" perspective. Older workers are not a homogenous group – they have varying and changing needs over their life course. Strong supervisor support based on a person-centred approach may prove far more beneficial.
As a society, we need to better understand and prepare for the impending issues facing ageing populations. Crucial to responding to these complex issues is an interdisciplinary, intergenerational and international approach. We need to move away from silos and towards synergistic ways of thinking.
Closer partnerships between education providers and industry are necessary to encourage innovation and strong leadership in this area. Collaborations between researchers, policymakers and industry will assist in the development of the skilled professionals who are needed in the rapidly expanding ageing sector. University programs are beginning to respond to the increasing demand for a more holistic set of workplace skills.
Such influences can shift the focus of ageing from catastrophe to opportunity – and remove barriers to older people leading healthy and productive lives.
---
This is part of a series of articles on ageing. Read the others here.