For too long "building your own home" in the UK has been a privilege reserved for those who already own property. Expensive land, tough planning rules and the time and expertise required have meant that most people self-build homes were more architectural vanity projects – like you might see in Grand Designs and less a practical housing solution. While design-led homes might be the dream for architects, TV producers and the restless urban middle classes, they tend to be an unaffordable luxury for almost everyone else.
Yet it doesn't have to be that way. Why shouldn't those who most need housing also get to build it themselves? The huge demand for new homes in the UK has lead to a resurgence in collectively owned self-built developments, featuring many first time owners. This opens the property market up to a new demographic and may even help overcome the housing crisis.
You don't have to go far back to find the more egalitarian roots of self-built housing. Until the end of World War II, self build offered a way for working class people to become home owners. However, over time building your own home became increasingly more restricted to the middle-class who already owned property.
Yet even within this landscape a small number of schemes aimed specifically at those in housing need have succeeded.
Build your home – and your neighbour's
My own research has focused on understanding how self build fits into the wider housing economy. I've worked closely with self builders to understand their motivations and experiences, and have documented several group projects.
Two particularly stand out: one, a group of nine families in north-east London who helped build their own secure social housing; the other, a scheme in Liverpool that combines self build with shared ownership.
The London project was started by a local council tenant, John Struthers, whose only motivation was to provide housing stability for his children. Faced with overcrowded homes and a ten-year wait for larger properties, Struthers and other families instead formed the Headway Selfbuild Group and worked together to fit out the inside of ten new houses in exchange for tenancy.
Struthers pushed the council and the housing association Circle Housing Circle 33 to provide support (the council still owns the new homes). He identified available land and demonstrated the scheme was viable. He approached the Community Self Build Agency, all the while encouraging other council tenants to join the group.
They worked evenings and weekends for 18 months fitting out the insides of the houses, attending evening college classes to learn more about construction and carpentry. No one could move in until all the homes were completed and they had successfully worked on each others' houses – a truly collective endeavour. After they completed the kitchen fitting and carpentry training in March 2015 the group moved on site.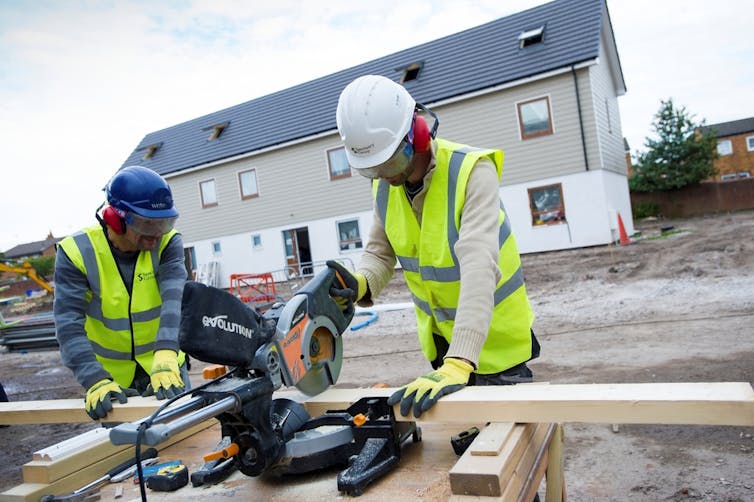 The award-winning project in Toxteth, Liverpool, focused on giving people in housing need access to shared ownership, while also building up relationships between future residents and the wider community.
Future residents had to already live or work in the city, or otherwise have strong links. These "home partners" worked with volunteers to construct 32 houses. In exchange for 500 hours of work on site, future residents received "sweat equity": a £10,000 reduction on the cost of their home. A model of shared ownership, potential residents also had to have an income that would permit them to take out a mortgage to cover at least 50% of the value of the property.
This scheme was managed and organised by the charity Housing People, Building Communities (formerly Liverpool Habitat for Humanity), in association with Sanctuary Group.
A serious alternative to the mainstream
These examples demonstrate that, even in the current housing climate, self build can offer alternatives to the mainstream.
The schemes that have succeeded are to be commended and celebrated. Often championed by one or two individuals determined to see the projects through against the odds, these schemes are hard work, requiring specialist training in construction, group processes and conflict resolution. They have to be carefully managed. Finding land and investment partners, bringing on board housing associations and councils, and maintaining peace between the various groups, all require significant time and energy. At the same time, this is set within a housing economy that favours large house builders and profit-driven developments.
The significant barriers to self build in the UK that have resulted in a sector dominated by middle-class homeowners reflect the state of the wider housing economy. Widespread adoption of group self build schemes faces serious challenges from rising land and property values and profit-driven housing developments. Nonetheless, with some hard work and organisation, they can offer alternatives to mainstream housing both for those people who can't afford to buy a property and those who need a decent roof over their head full stop.