Taiwan is limbering up for its 2016 presidential election. Its two main parties have picked their candidates – and gotten very different receptions.
When the ruling Nationalist Party (KMT) nominated Hung Hsiu-chu as its candidate for the 2016 Taiwan presidential elections, the reaction was disbelief. Instead of picking its much younger chairman, Eric Chu, who has a PhD in accounting and who's already served as deputy premier in government, the KMT has instead chosen a quirky party apparatchik with no substantial record in government.
Hung, who has been dubbed Taiwan's Sarah Palin, offers an outspoken antidote to President Ma Ying-jeou and Chairman Chu's temperate demeanour and sagely tenor. But she faces a tough opponent in the Democratic Progressive Party's (DPP) Tsai Ying-wen.
Though younger than Hung, Tsai has considerably more executive experience. Like Chu, she has served as deputy premier in the past – and a recent visit she paid to Washington was widely deemed a success. Crucially, she is said to have allayed American fears that a DPP victory would destabilise Taiwan's delicate relations with China, potentially dragging the US military into a conflict it would rather avoid. After all, US-China tensions are already mounting over China's maritime disputes with the Philippines and Japan.
Tsai's visit was proof that Taiwanese politics has come full circle. The KMT, once the Chinese Communist Party's (CCP) fiercest enemy, is now pushing for closer links with a CCP-led mainland; Hung's own father was smeared as a CCP agent and jailed for three years, and yet she is now suggesting she would steer Taiwan even closer to Beijing's orbit.
Meanwhile, Tsai is going out of her way to portray herself as the status quo candidate par excellence – definitively breaking with her party's history of exuberant opposition to Beijing.
About face
Tsai's success at the DPP helm has convinced many observers in the West that the KMT is headed for a crushing defeat in 2016; the ruling party has already taken a drubbing in the 2014 local elections, and the popular tide in Taiwan seems to be turning against its policy of compromise with Beijing, which many Taiwanese see as a step towards "peaceful reunification" on Beijing's "one country, two systems" terms.
Indeed, the 2014 protests by the Sunflower Movement – a groundswell of opposition to Ma's proposed free trade agreement with Beijing – badly rattled Taiwan's establishment. The last local elections confirmed the movement was not just a student uprising, but in fact a reflection of broader public discontent at the KMT government.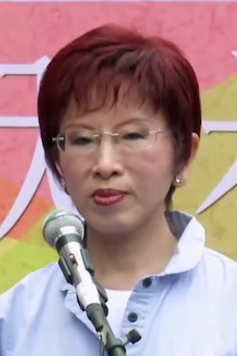 Given that clear signal from the electorate, many Western observers expected the KMT to pick a centrist candidate who would appeal to these popular currents without changing Taiwan's relationship with China. In Hung, they see a Beijing appeaser who is likely to alienate not just the electorate but also the Taiwanese military top brass, who are still understandably suspicious of Beijing's grand strategy.
Hung has gone beyond Ma by suggesting she would end Taiwanese arms procurement from the US if elected president. Before the KMT elders prevailed on her to change tack, she even hinted she would break with the tradition of visiting Washington in the lead-up to the presidential elections.
Wind of change
But Tsai has not shown any real enthusiasm for a new push for true independence from China. Whatever the Taiwanese people's sentiments, she clearly has no intention of reviving the policies that typified her DPP predecessor Chen Shui-bian's controversial presidency in the early 2000s.
At its height, the Chen era saw a carefully orchestrated "de-sinification" campaign. Chen pushed Beijing's patience to the limit by adding the word Taiwan to the cover of new passports alongside the familiar Republic of China emblem, and besought Ban Ki-Moon to readmit Taiwan to the UN as an independent polity.
Things have changed greatly in Taiwan since then. What Western analyses of the DDP tend to miss is that its policies may be beginning to converge with the KMT's – and could build a new bridge between Taipei and Beijing even if Tsai is the one elected. Thus, for example, the DPP position on the South China Sea as well as the Senkaku/Diaoyu maritime disputes is very similar to the KMT's. This is a position that aligns with Beijing's ethnocentric claims by and large. Moreover, the DDP's position is surprisingly at odds with the position of Tokyo and Manila in spite of the fact that Taipei, like Tokyo and Manila, is heavily tied to a US security umbrella.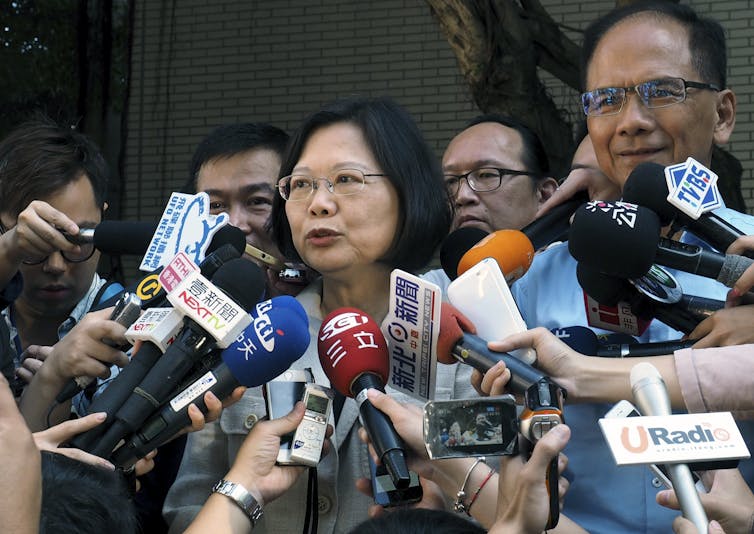 Today's Taiwan is much more reliant on China economically than it was when Chen took power, and it's highly unlikely Tsai would renege on her assurances to Washington by changing course. As president, she might opt to tone down the DPP's rejection of the "One China" principle too.
Tsai is even backing off the party's longtime military posturing against China, keeping relatively quiet about the KMT's plan to abolish conscription. She reportedly wants to combine compulsory and voluntary military service into one system, but that hardly means she would increase the size of Taiwan's armed forces or send the armed forces on a weaponry procurement spree in Washington.
This emerging consensus speaks to a long-running narrative of Chinese identity, at least amongst the older, mainland-born population of Taiwan. And while one might imagine Taiwanese youth to be increasingly disdainful of mainland China, in recent years some younger Taiwanese have made a show of landing on disputed Japanese and Philippine islands while toting the Republic of China flag.
Whether Hung would be roundly defeated by Tsai in 2016, as suggested, or post an upset remains to be seen. A Tsai win, at any rate, would not necessarily preclude accommodation with Beijing.
What is also clear is that Taiwan would have a new female president in 2016 for the first time in its history. This would be another major achievement toward gender equality in Asia, following Park Geun-hye's sweeping to power in South Korea. It has to be remembered in this context that none of the seven members in China's peak policy-making body (CCP politburo central committee) is female. China – like Japan or the US for that matter – has not had a female leader yet. In that sense, the 2016 elections in Taiwan are globally significant. Female presidents have been a common sight in Southeast Asian politics but not in the more economically powerful region of Northeast Asia.