Much commentary on Sean Baker's new film Tangerine, released this weekend, focuses on the fact that the film was filmed through the lens of an iPhone 5. But the fact that a film about two transgender sex workers has reached mainstream cinemas is just as relevant. Set in West Hollywood, Tangerine centres on the lives of two friends from LA's African-American and Latino transgender community, Sin Dee Reel (Kitana Kiki Rodriguez) and Alexandra (Mya Taylor). The reception has so far been overwhelmingly positive.
Tangerine follows in the wake of an upsurge in transgender programming in recent years, the quantity of which has resulted in some commentators asking whether there are too many. These concerns are often rightly underpinned with disquiet about how transgender lives are being represented and for what purpose. Debates circulate about whether storylines are voyeuristic, sensationalist, overly focused on celebrity lives (such as I Am Cait, Caitlyn Jenner's show), or pathologising.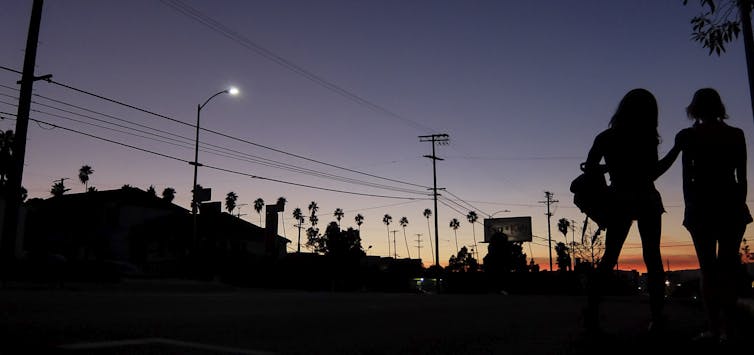 Given the marginal status of many transgender people, the mental health stresses they face and the likelihood of discrimination in access to health care, secure housing and employment, it is important that populist representations create realistic and non-shaming examples of trans lives.
In the UK, there is a third sector intervention into the way trans lives are represented in the media. Organisations such as Trans Media Watch play a vital role in improving understanding and reducing stigma, particularly in the press. Yet an overarching concern remains.
Trans on screen
When it comes to TV drama or film, there is agreement that trans characters should be played by trans actors. Laverne Cox paved the way with her role in the US Netflix hit Orange is the New Black. More recently trans actors have been seen in the UK with Rebecca Root's role in Boy meets Girl, the BBC's "groundbreaking" rom-com.
A key marker in queer film-making was Paris is Burning (1990). Directed by Jennie Livingstone, this documentary was set in New York City in the mid-late 1980s and focused on the culture of drag balls amongst the African-American and Latino gay men and transwomen. It is widely recognised for the force of its social commentary on norms of gender, race, sexuality and class, set against a backdrop of homophobia, racism and socio-economic deprivation.
Paris is Burning garnered widespread positive critical appraisal and won a Sundance Film Festival Jury prize. Its popularity was far reaching and it drew significant attention from feminist and queer scholars offering different interpretations. The legacy of the film can be measured in its influence at the time and it remains an important reference point in courses on LGBT history and queer studies today.
Going mainstream
Tangerine offers a chance to revisit these issues, and is receiving similar levels of attention. It is filmed on a super low budget using a $8 phone app that delivers a close up, social realist edge to a story that crosses the boundaries of drama and documentary. The script was co-crafted with the lead actors and draws on their own experiences and anecdotes of street work and survival around trade, transactions, drugs, pimps, friendship, betrayal, violence and care.
Set on Christmas Eve, Sin Dee is happy to be out of jail after a 28-day sentence and has a secret she wants to share with Alexandra about her pimp/boyfriend Chester (James Ransone). Alexandra mistakenly guesses that she's finished with him for sleeping around, which sets Sin Dee off on the trail of Dinah (Mickey O'Hagan) the "white fish" (slang for a white cisgendered woman) he has been cheating with.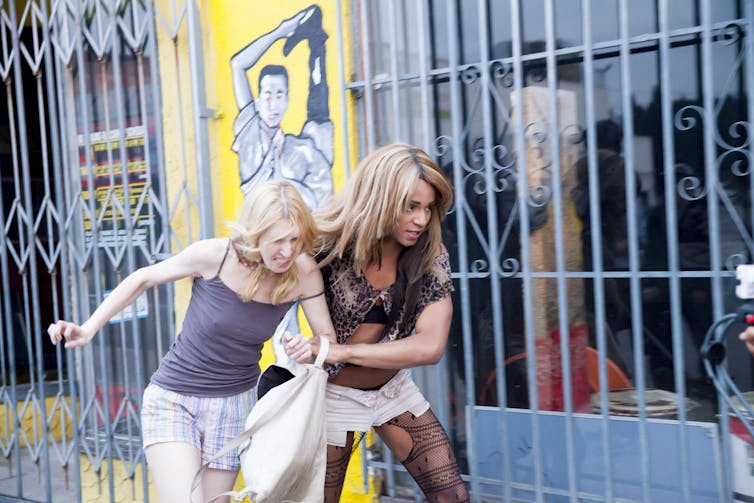 In the meantime, Alexandra walks the streets and picks up Raznik (Karren Karagulian), an Armenian cab driver who is married but frequently pays to perform oral sex on pre-operative trans women. The final showdown takes place in the Donut Hut, and the subsequent fall-out offers a surprisingly tender and compassionate insight into the multiple ways that people live on the margins, their isolation, and the importance of friendship and forgiveness.
Tangerine offers a wildly different insight into transgender lives and could be dismissed as sensationalist if it were not filmed in a nonjudgmental way. Importantly, it also draws attention to the most vulnerable, those most at risk of violence, those most likely to be remembered.
Like Paris is Burning, this is a film that warrants a close up reading. It appropriates and subverts racism, misogyny, homophobia and trans phobia. It has its own problems with representation, particularly the reiteration of blackness and aggression in Sin Dee's violent treatment of Dinah. But, ultimately, Tangerine reminds us that the real violence comes from outside of this community in the perpetuation of society norms.
Seeing this represented in mainstream cinemas is encouraging, making the content of the film as relevant to contemporary times as the way it has been made.