If you're grumbling about the number of athletes who have opted out of or are still prevaricating about whether to compete in the Commonwealth Games, blame Usain Bolt. The most charismatic and globally popular sports star since Muhammad Ali has decided to stay out of the 100m and 200m races that have made him famous and only compete in the 4x100m relay.
Bolt has redefined track in much the same way as Tiger Woods redefined golf and Michael Jordan basketball: not with his style, so much as his brand -– his name, image and imprimatur sell goods, most unrelated to sport, to any market in the world.
Brand Bolt
Last year Bolt renewed his endorsement contract with Puma in a deal worth $10m (£5.8m) over two years. The Jamaican superstar also has promotional contracts with Virgin Media, Visa, Nissan, Gatorade, Swiss watchmaker Hublot and Soul Electronics; with which he will develop his own line of headphones. He has also published two books, pushing his early earnings to about $20 million.
So for him, the prize money available on the IAAF Diamond League circuit from which most athletes earn a stable living (winners are paid $10,000 per event) is negligible. Typically, Bolt will command an appearance fee of between $200,000 and $350,000 per meeting. Promoters may balk at this, but his appearance guarantees a full stadium. He alone can confer respectability and glamour on the Glasgow tournament.
So why isn't he interested in competing in the best-known events? A Commonwealth Games medal would not add commercial value to Bolt's brand, and a defeat or disqualification (remember: he was disqualified from the 2011 World Championships) would be damaging from a marketing perspective. Bolt's declination of the 100m and 200m is a big blow for the Commonwealth Games. But you can imagine the cost-benefit calculation behind the decision.
The problem with the games
The tournament has nowhere near the lustre of the Olympics, nor even the IAAF World Championships. Its television audience is relatively small and interest among the world's richest economic nations is limited. The Commonwealth embraces some of the world's poorest countries, such as Mozambique and Rwanda. As many as 31 of the member states have populations of 1.5m or less.
So while there is a collective population of near two billion and a few fast-emerging economies, the games do not present an especially attractive proposition for advertisers. One can imagine the global corporations that pay Bolt wondering out loud whether it is worth risking his reputation in a tournament that counts for little. Allowing him to compete in the relay might have been seen as a compromise – it will not expose him to any conceivable embarrassment or brand damage and will be entirely ritualistic.
Those who reject this explanation as too cynical should recall the fuss Bolt kicked up last year when he was invited to participate in a post-Olympics event. HMRC, the British government's tax service, requires its 50% cut of sports stars' earnings.
HMRC agreed to International Olympic Committee demands that it grant stars an amnesty for the Olympics, and it will repeat this for the Commonwealth Games, but these are exceptions. Bolt is one of a number of stars that have avoided UK events because of the tax rules. Asked if he was staying away because he would lose as much money as he would earn from running in London, Bolt replied: "That's what my agent told me." It goes without saying, agents are in business to make money.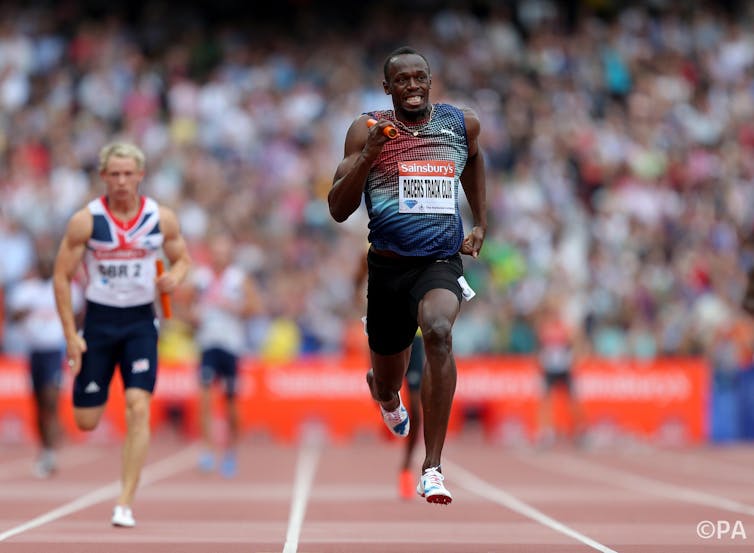 The cold reality
It may disappoint fans to learn their heroes are motivated by much the same pecuniary incentives as everyone else, but sports stars are not idealists. The Chariots of Fire have long since charged away. Bolt is far from unique: nowadays professional sportsmen and women are working for money and their priorities reflect this. Their pursuit of trophies or sporting accolades has long since been replaced by another, more basic pursuit. It's not unknown for sports stars to skip training or even competition to attend events for their commercial sponsors.
Bolt's official position is not clear: he is apparently not injured but just hasn't trained enough for the big events. He is not the only Jamaican sprinter to be giving the games a cold-ish shoulder. Shelly-Ann Fraser-Pryce is also only competing in the 4x100m relay, while Yohan Blake last week went further and pulled out altogether.
Double Olympic silver medallist Blake said he could not put his preparations for Rio 2016 at risk. Translated, this is: "The Commonwealth Games are worthless. There is no money, prestige or any kind of benefit to be gained from winning a tupenny ha'penny medal at a third-rate Games."
Luckily the organisers are having slightly better luck with athletes closer to home. Cyclist Sir Bradley Wiggins will be competing, though this appears to be only because he was left out of the Sky team for the Tour de France. Mo Farah has been uncertain due to injury, but his fitness has been confirmed. He strongly hinted on Twitter that he would now compete in Glasgow.
As for Bolt, he may be secretly disappointed: an appearance at a venue full of adoring fans where he can do his usual shtick in front of TV cameras and pick up another medal for his cabinet would not be an onerous task for him, even if he did end up enriching the British taxman. But he isn't in control: like other pro sports stars, he's made a Faustian pact that renders him at the mercy of his corporate paymasters.