Tax deadlines, such as the annual January 31 deadline for filing UK self-assessment tax returns, typically cause an uptick in tax scams. This year, for example, an ad for a costly connection service disguised as the British tax authority's phone number is appearing at the top of search engine results for the agency's contact details.
But it's much more common for tax fraudsters to rely on unsolicited phone calls to extract information and money from victims. Each year the UK's HM Revenue & Customs (HMRC) and the US Inland Revenue Service (IRS) post warnings and updated lists of such bogus calls and phishing schemes. At any one time there are many different types of tax scammers attempting to trick unsuspecting people into handing over money to pay fake penalties and charges.
HMRC responded to more than 180,000 reports of suspicious contact made by people in the 12 months to August 2022, and almost 81,000 of them were scams offering fake tax rebates to access victims' bank details. In the US, similar reports of such suspicious activity grew from around 2 million to 8 million between 2021 and 2022, according to figures from the IRS.
When tax agencies warn people of such scams, they generally detail "phishing" attempts. This is when people are contacted and asked for private or sensitive information by someone pretending to be an official agency. This could happen because your contact information was stored in a database that has been hacked by criminals, exposing this private information to scammers.
During the tax filing period in particular, fraudsters have been known to impersonate government employees in an attempt to persuade or even threaten victims into handing over money or personal details. If you receive such a call, it might look like a legitimate number and could even include background noise that resembles a call centre to make the scam seem more authentic.
The fraudsters might pressure you to wire money through services such as Western Union or MoneyGram or to send a bank transfer. There have even been reports of scammers asking for payment of back taxes using gift cards.
The scammers might say you've miscalculated your tax payment in a previous year and must now pay to avoid a penalty, for example. They may provide a reference number, again to make the call seem more realistic, or a fake identification number for the officer that calls you. The amounts requested could vary from hundreds to thousands.
And although anyone can fall victim, the elderly and immigrants are among those that tend to be at greater risk of being successfully targeted by these scammers. Aside from the obvious financial cost, such loses can devastate victims, with some people even attempting suicide due to misplaced embarrassment or shame at being tricked and losing money.
How to spot a tax scam
There is little research into this type of scam, which can make it difficult to identify common features. Plus, the operators often work internationally or are based in other countries, particularly those in which western authorities find it hard to prosecute the groups involved.
Our research looked at recordings of calls with scammers to determine some common features. Unsurprisingly, we found that tax scammers use fake names and often adopt accents and language that matches with the country of the targeted taxpayer.
The specific language used to persuade potential victims can include common or phrases that sound official such as "tax miscalculation", but also informal or even emotive words. The idea is to draw you in and encourage you to believe the scam and become worried about the consequences of not paying out.
So, if victims are confrontational or don't comply, the caller might raise their voice and use insults. It is very unlikely that this would happen on a call with a real HMRC or IRS employee.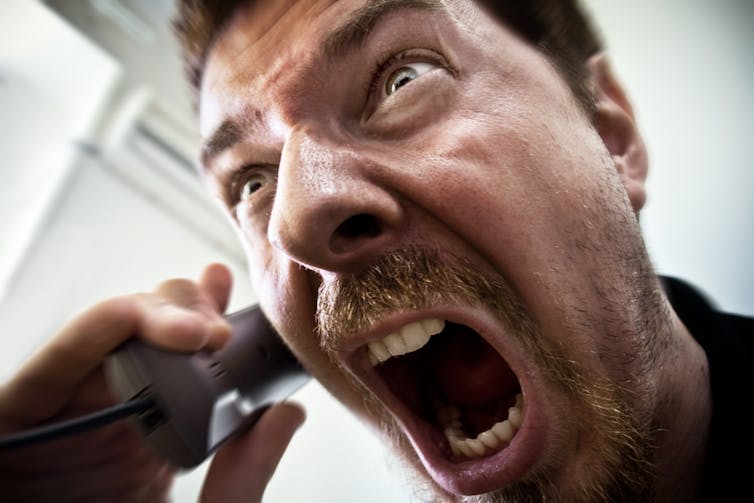 Tax scam scripts
Scam callers often speak from a "scam script" designed to make them sound more official and authentic, increasing the victim's trust that the call is really from HMRC or the IRS. As part of our research we compiled examples of steps often included in these scripts. The scripts might be adapted based on the victim, conversation or the level experience of the scammer, but the below chart shows an example of how such a phone scam might play out.
Tax scam call script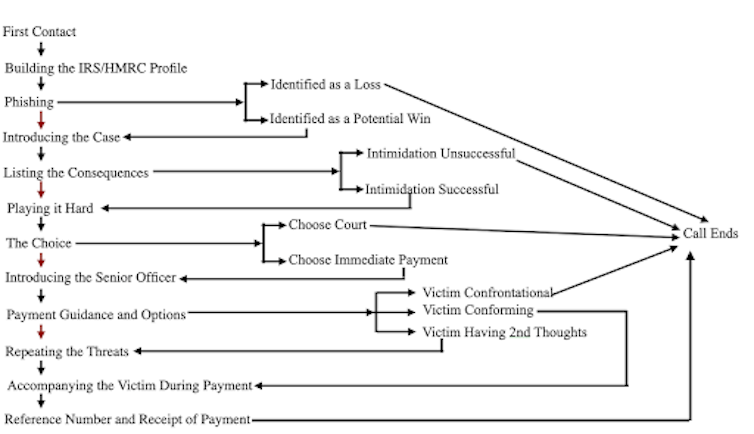 So, how can you protect yourself from tax scammers?
Both the IRS and HMRC issue warnings and information about how to distinguish between a scam phone call and one from an actual government department. This information is updated regularly, particularly during and right after tax filing season when scams can increase.
So, be aware and be vigilant; don't engage with random callers. The IRS and HMRC will never contact you to demand money or threaten you with a penalty. Even if you have made a mistake with your taxes, tax authorities such as HMRC only call about payments you already know about – either from an official letter or because you have reported the debt yourself, through your self-assessment tax return, for example.
If you receive a suspicious call, never call back, dial any number they provide, or respond to a voicemail. Search for the official number of your country's tax office online (in the UK this will end with "gov.uk" and in the US ".gov") to speak to someone about your concerns and check if you really do owe money.
And, if you do receive a call like this, inform your country's tax agency so they can update their records and make sure people remain aware of the latest tax scams.