Sydney based artist Técha Noble's solo show Crystal Romeo at UTS Gallery is a witty and colourful take on the relationship of the body to landscape painting in Australia. With skills developed in a range of contexts from high-end fashion design to drag performance, Noble presents a diverse body of work: etchings, experimental projections and costume, brought together by her own sophisticated version of camp aesthetics.
This is a language with which Noble has a long history.
As one of the four members of the Sydney queer performance group the Kingpins, formed in the 1990s, Noble's work has become widely know for its subversion of mainstream culture by using drag as a model for political agency. The visual language of the Kingpins drew heavily from Sydney's club scene, cutting up and re-performing music, fashion and dance, and later applying drag to architecture, corporate video and branding conventions.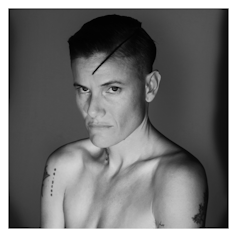 In Crystal Romeo, Noble both broadens her aesthetic and focuses her subject. She builds on Susan Sontag's famous 1964 essay Notes on "Camp", which articulates the aesthetic "not in terms of beauty, but in terms of the degree of artifice, of stylization" and its many interpretations in both popular culture and marginal scenes.
Taking the work of prominent Australian artist and writer Norman Lindsay as a starting point, Noble both challenges the way landscape painting has justified a white presence in Australia and thinks through the possibilities of other interpretations of nature.
Lindsay recognised the artifice of landscape painting. Unlike the early modernist painters of his time who were searching for truth, he used nature as a kind of set for his erotic imaginings. Noble reworks many of Lindsay's most well known tropes: The Magic Pudding (1918), for instance, features prominently. Instantly recognisable yet exaggerated grossly, the pudding appears here in a series of transmogrified states, rendered as immaculate etchings titled Current Mood over Uralla.
Lindsay, along with most painters of his time, is widely critiqued for his depiction of women, as objects of sexual fascination and exploitation, but without sexual desire. In Crystal Romeo Noble's response is neither to seek the truth or state moral outrage.
Rather she uses Lindsay's images to push the artifices of body and nature further. Consistent with Lindsay, Noble refuses the temptation to describe either nature or sexuality as something real. Both artists create layers of intriguing artifice that are poetic, spiritual, sexy, and distinctively Australian.
Noble extends Lindsay's eroticisation of the landscape into a global contemporary context by adding signs and symbols from the frontier of queer culture.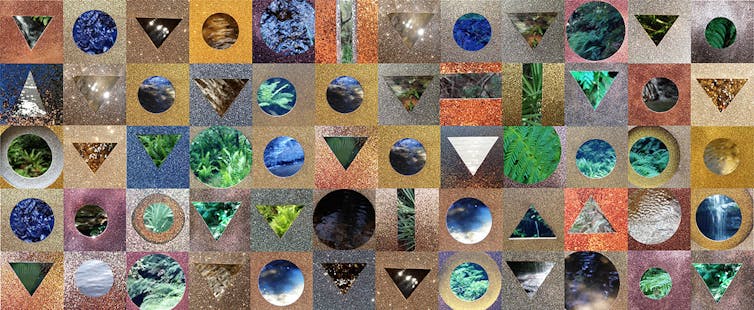 In the large-scale projection The Line from Daytona Beach, Florida to the Lyrebird Dell, Leura (above) Noble picks up on Lindsay's extrapolation of the Blue Mountains as a Hyperborean paradise and couples it with the allure of Florida as a frontier of American artifice. Both decorative and intriguing, this piece, a series of microscopic landscapes are framed by bold geometric windows, creates a glittering wallpaper that invites the viewer to consider nature through a camp lens.
In Part Body Rewin' made during Day for Night 2015, a Performance Space event celebrating queer culture as part of the Sydney Mardi Gras, Noble twerks alongside two other dancers to a reworked dance party track. Filmed as a composite body, a technique also evident in the Kingpins' later work, the three dancers form a mythical beast, Baku, a Japanese deity believed to devour peoples' dreams and nightmares.
The immaculate costuming, the trickery of the filming, and the choreography demonstrate Noble's ability to move fluidly between performance and installation mode with conceptual commitment. This piece is one of the strongest in the show, and perhaps leaves Norman Lindsay the furthest behind.
For Noble's focus is not really Norman Lindsay. His legacy helps her contribute to a more quirky genealogy of Australian modernism, but, as evident in Crystal Romeo, Noble's camp inventions are her own, and refuse to be marginal.

Crystal Romeo is on display at the UTS Gallery until April 2. Details here.