Over the next 25 years, the percentage of people aged over 85 is set to more than double, with one in four in this age group already counting as "frail". In the over 65s, this is estimated at one in ten. At the same time, the number of people, such as family, who might be caregivers is reducing due to different patterns of marriage and parenting, people living apart at greater distances and more women in paid employment.
Telecare is a range of remote care technologies and associated services that have been developed to accommodate an ageing population while helping people to stay in their homes. An alarm worn around the neck or wrist connects to a hub and telephone line to a remote monitoring centre. When the user presses the alarm, an alert is registered and a tele-operator gets in contact and organises help if required.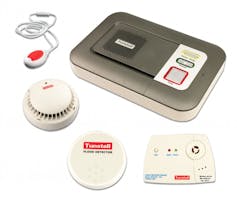 Traditionally, elderly people who need care in their own homes rely on paid or unpaid carers. Telecare can be thought of as a form of care at a distance, which can allow older and frailer people to live independently. While some might see a risk of decreasing social contact, it can provide safety and security to those people who because of mobility problems and other health issues are housebound. Telecare should be considered as an aid, not a solution to growing demands for care.
Telecare can provide some care on a personal level through attachments that can develop between users and telephone operators, who regularly check in with the telephone operators for monthly test calls.
What users say
My ongoing PhD research looks at how care in person and care at a distance both interconnect with how older people perceive themselves in their own home. Observations and interviews I've carried out with 16 older telecare users in the south of England suggest that the technology has allowed them to feel safe at home and less alone, giving them reassurance and peace of mind.
Technical issues such as false alarms triggered by the alarm pendant or claims that the technology is intrusive are some of the potential disadvantages of telecare, but the users I spoke to also suggested that it could be seen by some as stigmatising. Some participants felt that they did not always want to be seen as someone who was frail and in need of help, at times hiding their devices when others were present.
But on the whole, most participants appear satisfied with the service provided, especially the helpful attitude of telephone operators who referred to customers by name and gave them sufficient time to explain their issues.
One participant, aged 70, seemed to be very fond of the telecare provider's promptness in answering after alarms had been triggered:
Oh, they're lovely people. Very understanding. They're evidently trained to be able to talk to an elderly person, you know, not just brush you off. They really talk to you.
Although the service is offered from a distance, users still perceived it as "human", likely to be a result of the personalised relationship that can form between older users and the technology provider. Rather than a "cold" technology, for example, one of the research participants described it as "a voice on the other end of that [alarm unit], the minute I'm in trouble, which several times I've had to have help".
Telecare also appeared to be having an impact on how users saw the provision of their care. Respondents were keen for their telecare provider to acquire more responsibility by having a more direct influence over care agencies and medical services.
Open care network
In some cases, it was the pressure of loneliness that made staying at home difficult. It is not always possible or appropriate for an operator to provide an immediate physical presence – but telecare providers could still be seen as offering a virtual presence:
[Telecare provider staff members] sat talking to me and asked me how I felt, and I told them, and I said no I don't feel I'm alone. I don't feel alone. Although I'm on my own. I don't feel alone. It gives me the confidence to know that if I fall and I can't get up, there's somebody going to come and rescue me.
Clearly, care from a distance is complex. But these responses suggest that this type of care is perceived not as the mere sum of the technological devices, but as a care network. In fact, in order to work, telecare also requires a network of two nominated keyholders, generally friends, neighbours or family members, who can also enter the older person's house in case of emergency, as well as the telecare staff, who might be in touch with paramedics or other health professionals.
This care network, then, can be seen as having "open" boundaries that can expand according to the older user's needs. A fall, for example, may need a paramedic – but it may also benefit from immediate reassurance and a voice at the other end of a line.