The Ten Network is signing a five year regional television affiliation agreement with WIN, ending long standing speculation.
While WIN needs Ten's big name programs, this move looks forced and results in WIN sacrificing its affiliation with a higher ranking network, whereas Ten gains additional markets from WIN, the largest of the regional broadcasters.
WIN lost its metro programming after its long affiliation with the Nine Network ended. Nine instead signed a five year deal with regional broadcaster Southern Cross Austereo. Both of these agreements between the metro and regional broadcasters will commence on July 1 this year.
In its current agreement WIN pays Nine 39% of its ad revenue, which saw it pay up to up to A$13 million in affiliation fees to the Nine Network last year. WIN also earned 38.4% of the regional free-to-air market share in the six month period ending in December last year. Far greater than Southern Cross' 19% share.
It's still not clear the percentage of advertising revenue WIN will pay to Ten. It's expected to be less than what Ten would have asked of Southern Cross due to Ten gaining a greater audience reach with the WIN affiliation.
So who stands to gain what from this new deal?
What Ten stands to gain
It seems that Ten will get bang for its buck in terms of programming reach in regional areas, with "more than six million viewers across 23 markets around the country", greater than it currently has with Southern Cross.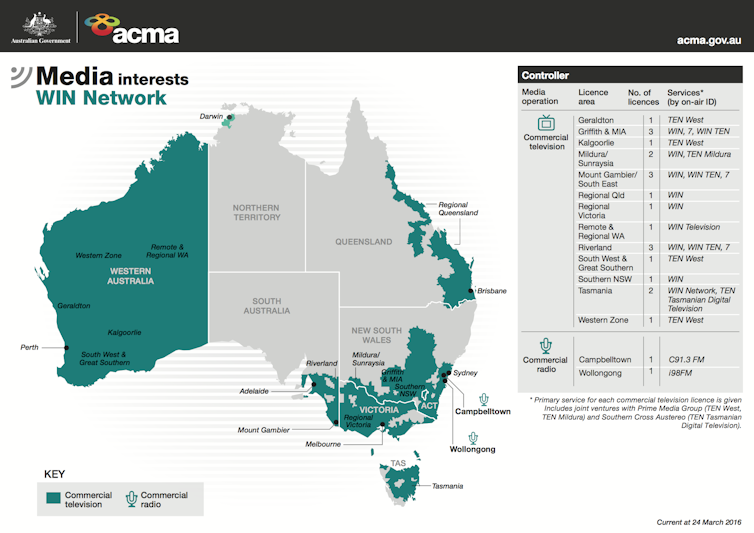 Despite the agreement with WIN, Ten will still have an affiliation with Southern Cross for Northern NSW, as WIN does not have stations in those areas.
Ten's programming is targeted at a younger audience, especially through its digital channel Eleven (aimed at the 13-29 year age group). An age group which is shown to get its media in different ways.
While Ten has a catch-up service, it hasn't fully explored the opportunities available via new distribution platforms and services, like live-streaming and video-on-demand, in the same way Seven and Nine have. Both networks offer a live stream of their linear broadcasts, an approach yet to be undertaken by Ten.
Both broadcasters also have joint ventures in Australia's two video-on-demand services, Seven with Foxtel in Presto and Nine with Fairfax in Stan. Ten is still yet to show how or in fact if it will also engage in the video-on-demand space. This despite the the network already targeting the key demographic for this type of viewing.
WIN backing a winner?
The lack of exploration in new media platforms will be of benefit to WIN. Part of the tensions between WIN and Nine were due to Nine's online live-streaming of its broadcast into regional areas. Which in a recent court case WIN failed in its attempt to stop.
In its new agreement with TEN, WIN may be able to have more influence on how a streaming or video-on-demand service would be introduced, particularly for its regional audience.
The new agreement also means WIN will broadcast some of Ten's big name shows including MasterChef Australia, The Bachelor, Offspring Formula One and the Big Bash League.
WIN maybe also be reassured by the fact that Ten was the only free-to-air broadcaster to see growth across 2015 and in its prime-time audience in 2014.
Ten also saw an audience increase for specific programs between 2014 and 2015 in the 7:30pm prime-time slot. For example, MasterChef had a 8.7% increase and The Bachelor 16.8% increase year on year. Meanwhile, both Seven and Nine saw large decreases in audiences for programs, with House Rules losing over 30%.
It may be due to these results that Bruce Gordon, owner of WIN, seems confident in Ten's strategy saying it will result in more audience growth.
It should be noted that while Bruce Gordon is a key shareholder in Ten of almost 15%, he also holds an equivalent share in the Nine Network.
Reach rules and potential mergers
Affiliations like those of Ten and WIN, also Nine and Southern Cross could be signs of future mergers if the Coalition succeeds in abolishing the media reach rules.
These rules state that one broadcaster can not have control of broadcast licenses where the combined reach would exceed 75% of the population. Both metro and regional broadcasters are in favour of the reach rule being abolished.
Collaboration between the organisations is already evident through the announcement that they will be sharing their news gathering resources as part of the new affiliation. Paul Anderson, Ten's CEO, argues this to be, "a natural part of the way a metro and an affiliate should operate".
If a merger between Ten and WIN were to come to fruition, it would allow for a new amalgamated television network that could increase the opportunities to experiment in new and emerging media platforms, an area which both have yet to explore.