Islamist terrorists, bearded jihadis (and bearded Arabs in general) and women in burqas. Stories of beheadings, bombs and genital mutilation. These are the images and narratives that continue to dominate Western media's coverage of Muslims, selling the message that they are perpetrators of savagery, deprivation and torture.
These stereotypical images are the subject of French-Algerian artist Kader Attia's work aptly titled The Culture of Fear: An Invention of Evil (2013), now showing as part of Attia's major exhibition curated by Rachel Kent at the Museum of Contemporary Art in Sydney.
It's an issue that comes up again and again. Recently on The Voice Australia, Muslim contestant Brittania Clifford-Pugh used her performance to make an emotional and political plea to end the stereotyping and prejudice that is produced from such imagery. She told the audience, "I came on The Voice to break down some of the stereotypes and misconceptions of Islam in the media and just generally in the community."
Watching the 17-year-old bravely take the stage wearing a hijab, I couldn't help but recall The Voice's host Sonia Kruger's 2016 call to ban Muslim immigration into Australia .
Kruger made her comments on morning television, citing a need to "feel safe". At the time, writer Randa Abdel-Fattah published a poignant article in the Sydney Morning Herald posing a number of rhetorical questions that sought to provoke Kruger to understand her fear of Islam. Abdel-Fattah noted one source of Kruger's fear as
the pervasive and relentless impact of political and media discourse in training people to fear Muslims.
I recalled Abdel-Fattah's incisive interrogation of Kruger's position when viewing Attia's work, which highlights the role images play in the history and creation of fear.
Kader Attia is a French-Algerian artist living and working in Berlin and Algiers. He was born in France in 1970 and grew up travelling between his ancestral home of Algeria and his birthplace in the suburbs of Paris. In the catalogue interview with the exhibitions curator, Attia tells of being part of two cultures, citing this experience as the basis of his practice.
The Culture of Fear is a kind of library, displaying images and illustrations from 19th, 20th and 21st century books, newspapers and magazines. These are hung from hardware variety steel shelves usually synonymous with household garages. In Attia's creation the shelves are interlocked and transformed into dangerously high towers, evoking New York's Twin Towers.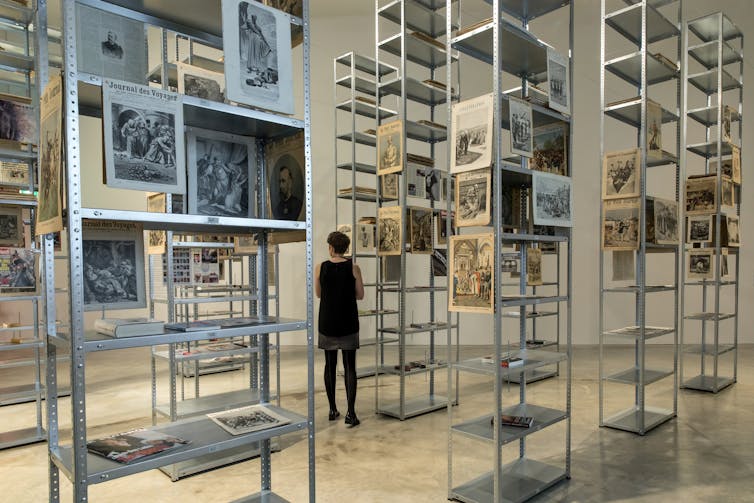 Illustrations, photographs and headlines depict beheadings, torture, bearded Arabs, burqa-clad women, Muslim children bearing guns and screaming terror victims from recent attacks.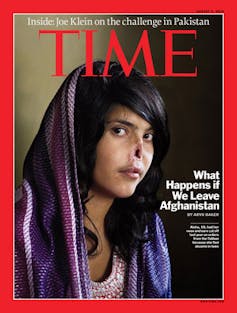 Many images are accompanied by headlines such as Time Magazine's 2010 cover featuring a disturbing portrait of Aesha Mohammadzai, the girl whose nose was cut off by her Taliban husband. The headline states: "What happens if we leave Afghanistan".
"Hate club" and "America at war" are other headlines that scream from the shelves of The Culture of Fear as well as the recurring dark face wearing the keffiyeh (the checkered scarf made prominent by Palestinian leader Yasser Arafat).
Accompanying these contemporary images of "terror" are historical drawings and sketches from 19th century French newspapers. These antique images demonstrate a long history of recycling violent images of Muslims, Arabs and Africans.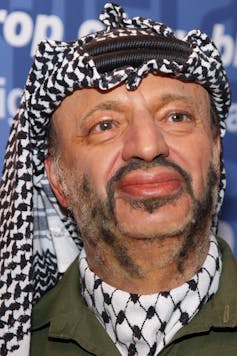 The Culture of Fear is a monumental work. It presents a history of images that have fed the fear of Arabs, Africans and Muslims (despite religion not constituting race) that many in the west feel.
My analysis of this work acknowledges that a primary source of this fear is the fact that major acts of terror - like 9/11, and recently, those in Paris and Nice - have indeed been committed by Muslims in the name of Islam.
However the work prompts us to distinguish between the perpetrators' acts, the images of this terror then produced and disseminated en masse, and the effect the images have in creating dangerously divisive stereotypes.
These stereotypes exaggerate difference and ignore the fear felt by the majority of Muslims. As Abdel-Fattah also noted, they are frightened of racism and terrorism and are most often the victims of both.
All the works in the exhibition are both poetic and political, reflecting Attia's knowledge of history, philosophy, art and politics through various media such as video, sculpture, photography, collage and installation. They examine the effects of colonialism on non-Western cultures as well as the aftermaths of war and injury on the body.
Other key works are Untitled (2016), where the artist has woven red neon into the splitting timber of an ancient wooden sculpture from the Sakalava people of Madagascar. And sharing the gallery with The Culture of Fear is J'Accuse (2016), a series of monumental teak busts and truncated legs that stand opposite a 1938 film montage by the French director Abel Gance.
Gance's film by the same name deals with France's fight against Germany in World War I. In Attia's work, the "war-wounded" faces in the film confront the distorted limbs and faces of the wooden sculptures of the same soldiers, made by Senegalese wood carvers. Reflecting Memory (2016), a 48-minute film examining the "phantom limb", highlights the major theme of "repair" in Attia's practice.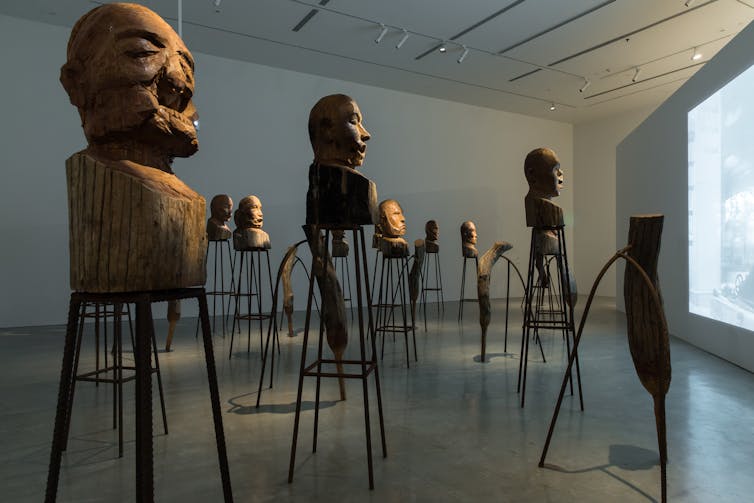 Whilst The Culture of Fear displays images of contemporary conflicts, it shows the roots of these images to be in the documentation of past colonial conquests and conflicts. It serves to highlight that the fresh rise of Islamic terrorism in the west is driven by a reaction to western infiltration in Iraq and Afghanistan, for example. Attia's astute installation also sheds light on the rhetoric our current government adopts towards asylum seekers. Images falsely teach us to fear those from outside, those who seek safety from war-torn countries, those who look different, eat differently and sound differently (they must speak English).
Interestingly, the work also illustrates the lack of images of western "terror" in our media. In historical illustrations and contemporary photographs we see western colonising forces and European conquests of the past as heroic acts of liberation. One must assume that acts of terror by western perpetrators do not produce the same amount of images nor the culture of fear that those from "Middle-Eastern" appearance do.
Kader Attia is curated by Chief Curator Rachel Kent at the Museum of Contemporary Art, Sydney until 30 July 2017, travelling to the Australian Centre for Contemporary Art, Melbourne, from 30 September – 19 November 2017.