Results from the trial literacy and numeracy test for initial teacher education students are in. The tests were sat by 5,000 volunteers across the country, with 92% passing in literacy and 90% in the numeracy component.
The test contains 130 items, including reading comprehension, technical writing skills, algebra, statistics and geometry.
The Australian government wants teachers to be in the top 30% of literacy and numeracy achievement, which is why the test was developed.
The Australian Council for Educational Research claims:
The test has been designed to reflect the contexts in which aspiring teachers are likely to exercise personal literacy and numeracy: personal and community, schools and teaching, and further education and professional learning.
While the test is geared towards the personal and professional literacy and numeracy skills of teachers, they are approximately the equivalent of a year 10 English standard.
Are you clever enough to be a teacher?
Here are a couple of sample questions from the test: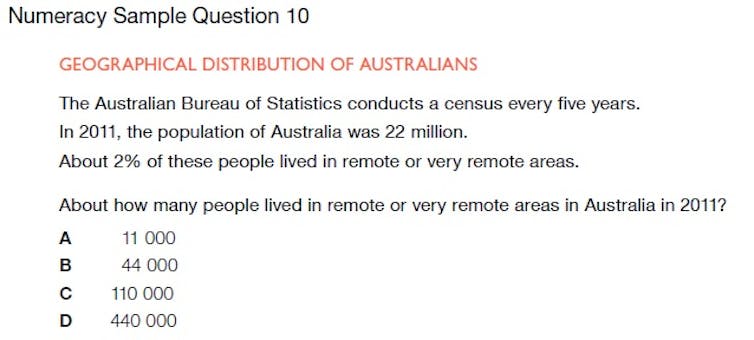 According to The Australian, the tests are:
aimed at weeding out unfit graduates before they enter the classroom.
It seems to me that some problematic assumptions underlie such a claim. The most immediate is that the test is an accurate measure of "fitness" for entering a classroom.
Being able to demonstrate basic grammar skills in a multiple-choice test, for example, does not have any relationship with being able to teach literacy in the classroom.
Another article makes the spurious claim that the results show:
there are thousands fronting the country's classrooms without the proper skills to teach.
Given that the vast majority of students actually passed both the literacy and numeracy tests, I wonder what this means for the supposed crisis of poor-quality teachers being let loose in our classrooms.
I also wonder what it says about the supposed necessity for such a test.
What is the link, if any, between performance in a literacy and numeracy test and the "proper skills" for teaching?
The Queensland Department of Education and Training suggests the following as qualities of a good teacher:
being good at explaining things to others
being a people person and enjoy working with a wide range of people
enthusiasm
having a strong knowledge in particular subject areas
being a good time manager
ability to work in a team as well as using your own initiative
keeping your cool under pressure
having patience and a good sense of humour
being fair-minded
coping well with change
enjoying a challenge.
Teachers' work involves not just preparing and delivering curriculum, assessing and reporting on student learning, but also working with diverse groups of learners, engaging with parents and communities, collaborating with teacher aides, librarians, other teachers, school administration staff, therapists, counsellors and so on.
Teachers engage in multiple extracurricular activities such as excursions, camps and sporting events, as well as attending professional development activities, professional teaching association events and a myriad of other activities connected to their lives as teachers.
These aren't skills, capacities and qualities that are easily assessed in a discrete test, yet they are arguably much more important.
I am not suggesting that teachers shouldn't be highly literate and numerate, but I would argue that the reductive nature of such testing doesn't begin to address the question of how we might get the very best possible teachers into our schools.
There is little evidence to suggest that testing teaching students on their literacy and numeracy will have any impact on the quality of teaching and learning in Australian classrooms.
Reducing the complex work of teaching to performance on a test might work for news outlets that want a quick headline and politicians looking for political gain, but that is about all.