The 2016 election is formally underway, with Prime Minister Malcolm Turnbull going to Government House to obtain a double-dissolution poll on July 2.
The election, flagged in March when Turnbull said he would take both houses to the people if the Senate refused to pass the government's industrial relations legislation, will be preceded by an eight-week campaign. This will be the longest campaign since 1984.
The double-dissolution election – the first since 1987 – is legally based on the Senate rejecting twice or more bills to re-establish the Australian Building and Construction Commission and to toughen trade union governance.
The government and the opposition have been effectively in full campaign mode for weeks. The Coalition is placing its economic plan, outlined in last week's budget, at the centre of its pitch, focusing on growth and jobs, with a commitment to phase down company tax over a decade.
Labor's pitch is posited on "fairness", with boosted spending in its traditionally strong policy areas of education and health.
But, substantially, the battle will be around leadership. Neither Turnbull nor Opposition Leader Bill Shorten have fought a campaign as leader before.
The government and Labor go into the campaign neck and neck in recent opinion polls, although Turnbull – despite steep falls in his ratings – retains a big edge on Shorten as preferred prime minister. A Galaxy poll in News Corp's Sunday papers has a 50-50 dead heat in two-party terms.
Post-redistribution, the government has a notional 89 seats in the House of Representatives. This includes Fairfax, which Palmer United Party leader Clive Palmer last week announced he will not re-contest. Labor has 57 seats. Excluding Fairfax, there are four seats in crossbench hands, one of them held by the Greens.
On these numbers, Labor needs to win 19 seats (in net terms) to form majority government, which requires a 4% two-party uniform swing. The Coalition can lose up to 13 seats and still be in majority government.
The most-marginal Coalition seats – under 2% – are Petrie (Qld) 0.5%; Capricornia (Qld) 0.8%; Lyons (Tas) 1.2%, Solomon (NT) 1.4%, Hindmarsh (SA) 1.9%.
Labor has a lot more highly marginal seats: McEwen (Vic) 0.2%; Dobell (NSW) 0.2%; Paterson (NSW) 0.4%; Lingiari (NT) 0.9%; Bendigo (Vic) 1.3%; Parramatta (NSW) 1.3%; Lilley (Qld) 1.3%; Moreton (Qld) 1.6%; Richmond (NSW) 1.6%; Chisholm (Vic) 1.6%, and Bruce (Vic) 1.8%. Dobell and Paterson have become notional Labor seats in the redistribution.
While the Senate election will be held on the basis of recently passed voting changes that work against micro-players, the fact this is a double dissolution with its smaller quotas means a number of crossbenchers, apart from the Greens, are expected to be elected.
The Coalition and opposition are expected to hit the commercial TV channels with advertising on Sunday night.
Shorten was in Beaconsfield on Sunday afternoon to mark the tenth anniversary of the Beaconsfield rescue of two miners who had been trapped for a fortnight. National secretary of the Australian Workers Union at the time, Shorten had a high profile during rescue operation.
Earlier on Sunday – Mother's Day – Shorten said a Labor government would reverse the Coalition government's cuts to paid parental leave, so that new mothers could claim leave under both the government scheme and their employment schemes.
Labor says that if it is elected, each year 80,000 families with new babies would be as much as A$11,800 better off than they would be under a Coalition government.
A year ago the Coalition condemned the dual claiming as double dipping. The government said it would clamp down on it, but legislation has not yet been passed.
Labor says its promise will cost $1.4 billion over the forward estimates.
Update: Turnbull and Shorten pitch an 'economic plan' versus a 'fair go'
Malcolm Turnbull struck a note of upbeat optimism as he cast the election as a choice between going forward with his government's plan for jobs and growth or returning to Labor's higher taxing, higher spending, debt and deficit agenda that would stop Australia's transition to the new economy "dead in its tracks".
In his first pitch following the formal calling of the poll, Opposition Leader Bill Shorten said the election was much more than a choice between parties and personalities – it was about "what sort of Australia we want to live in".
Constantly repeating the word "plan", Turnbull told a news conference at Parliament House that "the opportunities for Australia have never been greater", and there were many challenges. "But if we embrace this future with confidence and with optimism, with self-belief and a clear plan, then we will succeed as we have never succeeded before."
Speaking after his visit to Government House, he said he would be seeking a mandate from the Australian people to carry out the government's plan "because we know that it will lay the way, clear the way for us to have the greatest years in our history".
Turnbull referenced key aspects of last week's budget, including the initiative to get young people into jobs, the tax changes to combat avoidance and to lower company tax, and its reform of the superannuation system.
He said that "our national economic plan is already reaping rewards for Australians. We are seeing business confidence and growth at higher levels."
Mixing both the positive and the negative, Turnbull said Shorten would make very big promises of higher spending.
Australians should remember Labor had no credible way to pay for them "other than through more debt and higher taxes". Labor was proposing to increase income tax and capital gains tax, and opposing a tax cut for Australian businesses, he said.
Labor was claiming to speak for fairness but in "really speaking for nothing more than increasing taxes, stands in the way of Australians getting ahead", Turnbull said.
He also stressed border protection and defence spending. "Unlike the Labor Party, Australians know we can be trusted to keep Australia safe and secure." He said they knew the Coalition was "totally united" in its commitment to keep the borders secure.
Shorten, at Beaconsfield in Tasmania to mark Monday's tenth anniversary of the rescue of two miners a fortnight after a mine disaster, said the choice was whether this country was one that ensured a fair go was for everyone or that fair go was just limited to "the fortunate few".
He appealed to people to trust Labor to deliver better jobs and conditions; stand up for schools, TAFE, child care and universities; protect Medicare; take real action on climate change; ensure women got a fair go; and make sure multinationals paid their fair share of tax.
Shorten said the election was most definitely about what he and Turnbull stood for. "My opponent has openly said that he wants to give states the right to raise separate income taxes. That he thinks in a perfect world the Commonwealth taxes should not be used for government schools, just to fund private schools."
Shorten drew on the spirit displayed during the Beaconsfield rescue: "It was a story of defiant Aussie spirit. People working together, looking after their mates, and winning through."
Asked about Labor's spending, Shorten said Turnbull was "quick to brush over the fact that he had to be dragged kicking and screaming to confirm that he's going to spend A$50 billion of budget money over the next ten years, Australian taxpayers' money, to give big business a tax break".
He said Labor had announced "a proper path of budget repair that is fair".
Shorten said Labor had learned its lesson and was united in "lockstep". He predicted that after July 2 the Liberal Party "will go to war with itself again".
He said he had been to 25 town hall meetings since Turnbull became prime minister. He believed Australians were "hungry for an election which is more than just slogans. They want to know the detail, they want to know the positive plans and we have a lot of them."
Greens leader Richard Di Natale said the Greens had never been in better shape. "We are a party that is absolutely humming along."
Di Natale said: "On a day when Bill Shorten is out at a mine, kicking off his election campaign we say, 'No more new coal mines if we are to make the transition to a 21st-century economy and save the Great Barrier Reef.'"
The rolls will close on May 23, and nominations will close on June 9. Parliament will be dissolved on Monday morning.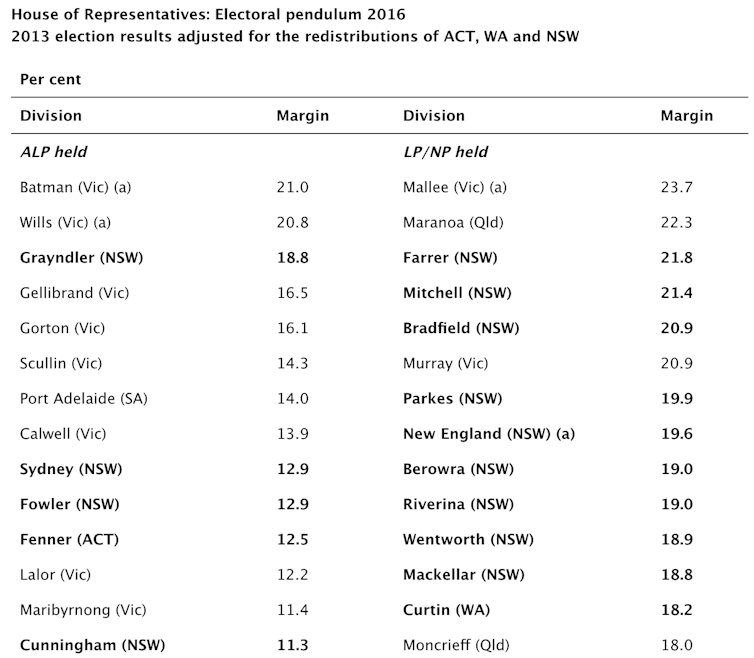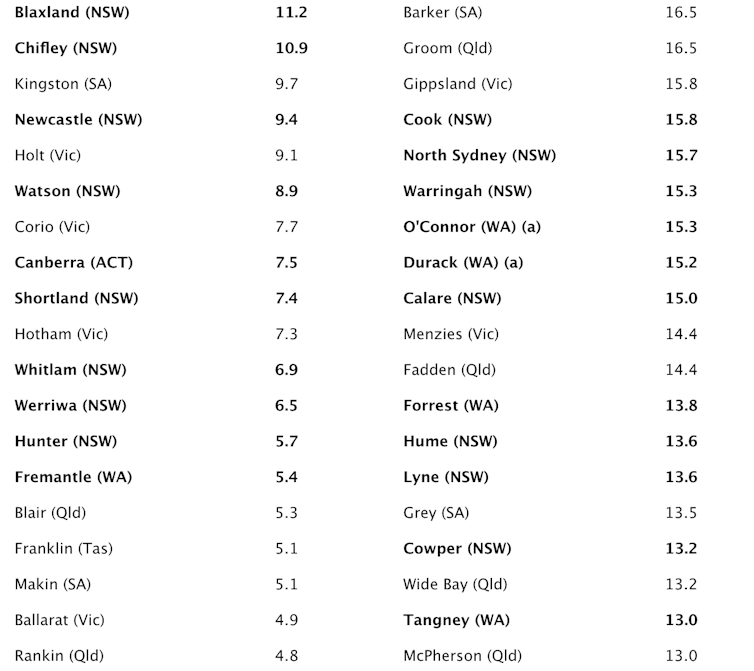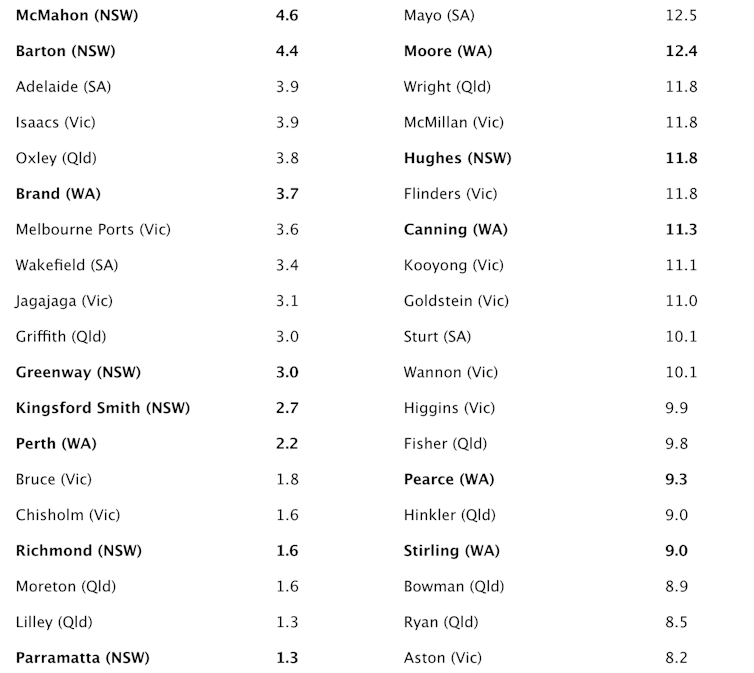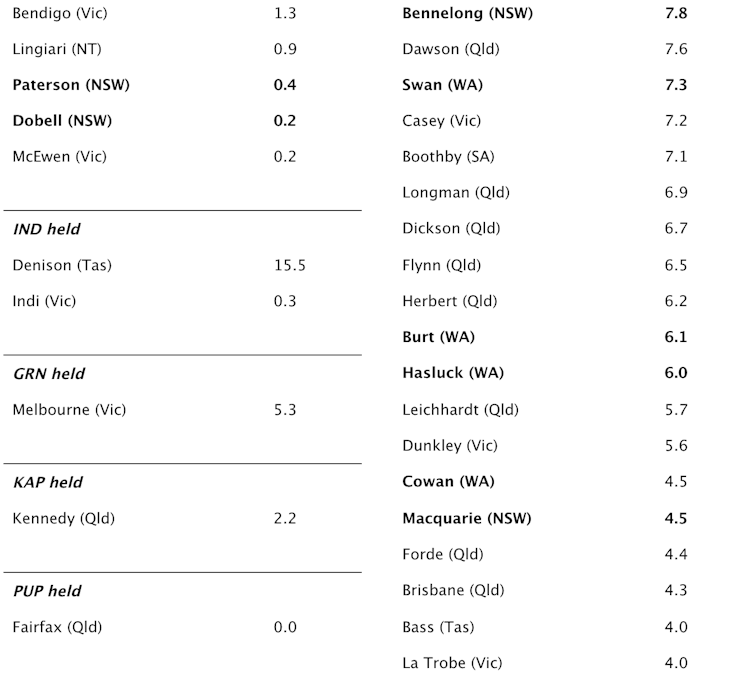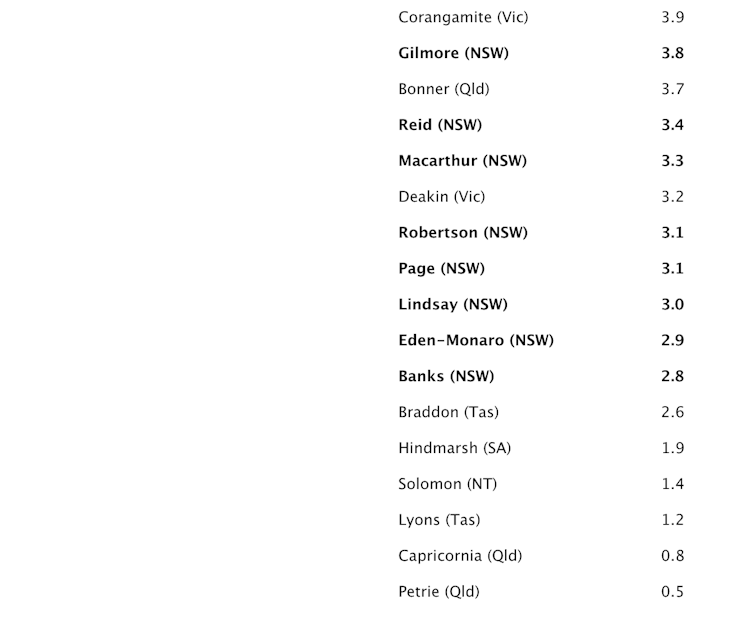 The estimated results for the redistributed divisions in ACT, WA and NSW are bolded.