It has been a long road back for Britain from the economic crisis of 2007/8. The chancellor's Autumn Statement is an indication of how he aims to keep growth on track, but the prime minister has already signalled one key policy initiative for the longer term. Apprenticeships.
Skills have a vital role to play in ensuring the economy continues to grow and apprenticeships, in particular, are a proven means of providing individuals and employers with economically valuable skills. Moreover, they can ease the transition of young people from school to work; an important consideration given the relatively high, though now falling, levels of youth unemployment.
Business benefits. Employers obtain benefits from having well-trained workers who, thanks to their apprenticeship training, are attuned to the values and practices of the company. It is no shock that former apprentices often go on to have successful careers with the firms that trained them.
The apprentices benefit too. Their lifetime earnings, over their entire careers, are likely to be higher than those of their peers with the same characteristics who did not undertake an apprenticeship.
Capacity constraints
Given such a good news story, it is no surprise that David Cameron wants to fund 3m new apprenticeships.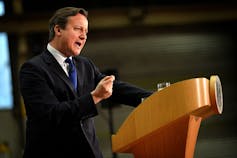 No one wants to pour cold water on good intentions. Apprenticeships, in general, provide individuals and employers with something that is economically and socially valuable – the evidence here is clear. But substantially increasing the number of apprentices poses a number of challenges. There are at least two important considerations.
First, if many more employers and apprentices were to participate in apprenticeships, would the benefits hold up? The law of diminishing returns suggests that they might not. But if, in aggregate, having more apprentices manages to help bump up the performance of the economy, then everyone will be better off than they otherwise would have been. So there is probably less to worry about here than first meets the eye.
Secondly, and more practically, there is the issue of how to persuade many more employers to take on apprentices. There is indicative evidence that there are often many more young people looking for an apprenticeship than employers willing to provide them.
Adding value
Each year there are around half a million people starting an apprenticeship in England in the 7% of workplaces that offer them. Successive governments have worked hard to boost the number of employers willing to take on an apprentice. But here's the rub. It is not a case of simply persuading any employer to take on an apprentice. The aim is to substantially increase the number of employers willing to take on an apprentice where the apprenticeship will fulfil a real business need for trained, skilled labour in the workplace.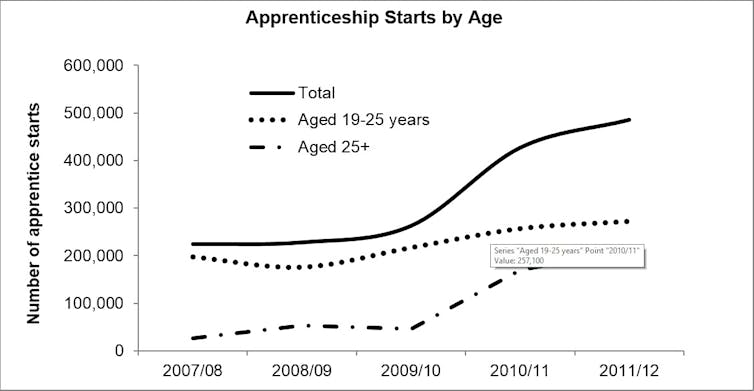 If more apprentices and employers are to obtain the benefits currently enjoyed by both groups today, then there is a need to find more employers who have a demand for the type of skills provided by an apprenticeship. In other words, those employers for whom an apprenticeship programme will add value to their businesses and, in so doing, provide the wage return to the apprentice.
There will be employers who do not currently take on apprentices that would benefit from doing so. Quite how big this group is remains unknown and it will be crucial to flush them out by getting employers currently reaping the benefits to shout about their experience while government agencies back them up.
Substantially increasing the number of apprentices will be a formidable task. Not least because a huge amount of effort has already been expended in this area by a variety of organisations – such as the National Apprenticeship Service – over the years with some success. Boosting the number of apprentices while maintaining the value attached to an apprenticeship is a tough call, and it may be worth acknowledging that this should be a goal – a deeply worthwhile one too – for the medium to long term.