The death of Lou Reed today, aged 71, is unquestionably a sad day for popular music.
Already Rolling Stone has compiled a genre-defined obit focusing on how Reed worked as a Transformer (pun intended, sorry.)
Meanwhile, The Guardian's Alexis Petridis has called Reed "The Man Rock Music Was Waiting For", writing a beautifully detailed but also appropriately gushy piece comparing his innovation to Elvis, The Beatles, and Bob Dylan. Let the trainspotters begin.
The New York Times has taken a more nuanced approach by acknowledging Reed as a man of [polite contradictions](http://www.nytimes.com/2013/10/28/arts/music/lou-reed-dies-at-71.html?_r=0](http://www.nytimes.com/2013/10/28/arts/music/lou-reed-dies-at-71.html?_r=0), while on social media fans from around the world have circulated personal tributes and listening sessions.
A particularly touching one came from Neil Finn, who simply tweeted: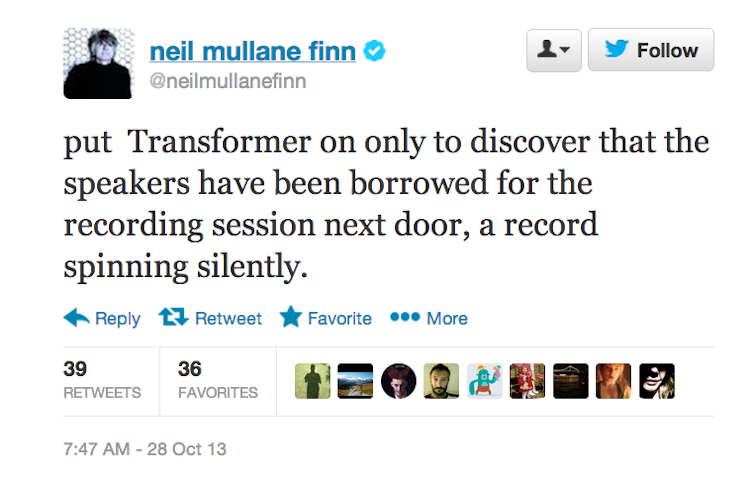 Such tributes to Reed from fellow musicians are making headlines after his death, but tributes to the singer-songwriter from Brooklyn have been flowing for a long time.
Covers, remakes and references are now the thing that lawyers argue over to the smallest semiquaver if the price is right. But these artist statements are proof the music really has made an impact.
It's one thing to have your art move someone to action; it's another to move them to make new art all over again.
There are countless examples of Reed's influence on new artists since he first put pen to paper, and voice to tape. But beyond the lo-fi, art/rock punk poets that are already rightly getting their day, we can consider the unlikely artists who took Reed's idea of innovation and went somewhere unexpected.
Last month Sydney MC Solo and producer Adit, aka Sydney hip-hop duo Horrorshow, covered Walk on the Wild Side for triple j's Like A Version sessions to great acclaim.
When a little folkie from Adelaide decided to call his band The Coloured Girls, he probably did cop a bit of flak for the choice. But Paul Kelly was clearly struck by the simplicity of shining a light on something often constantly present but never acknowledged in music.
The Coloured Girls – the name a reference to the classic Reed track, Walk on the Wild Side – became a new platform to explore the otherwise overlooked closer to home.
At the other extreme, when U2 took it to 11 with their Zoo TV tour in the early 90s, Reed's commitment to the show in the biz was referenced without irony. Bono took the mask off when he dueted with Reed for Satellite of Love. Reed appeared on a screen warbling gently, allowing the Irish boys to demonstrate they could actually do something beautiful despite having run away with the circus.
Reed's influence was not just on weedy singer songwriters or would-be rock gods, but also stretched to some of the really dark and lonely recesses of popular music.
When TV talent quest ugly duckling Susan Boyle asked to perform Perfect Day, many considered it sacrilege – how dare someone so mainstream, so unhip, so inappropriately loved, dare declare Reed's influence?
Despite initial reports suggesting Reed's resistance to the idea, Reed help produce the final product that let Boyle celebrate her relative remoteness to mainstream cool. Some were horrified, others were humbled.
Either way it was proof that music, once out there, can affect anybody.
Satellites of love for Reed will continue, in unlikely places, for years to come.

Further reading:
Transformer: the other faces of Lou Reed