The B20 business leaders meeting this week in advance of November's G20 summit play an important role in advising on what to do about those intractable global issues of economic growth and job creation.
The B20 especially focuses on the recipe for "doing business": improving financial systems and access to business credit, promoting investment in infrastructure, and reducing trade barriers. One of the four stated priorities for the B20 is considering "human capital" in the formula of what's needed for job creation and growth.
The position of the 2013 B20 following its deliberations in Russia last year was that vocational training and university education must be consistently aligned with labour market needs and practical requirements.
It also advocated a high level of business sector involvement in educational policy, curricula development and delivery. It says that education must be more highly focused on basic literacy and numeracy as well as the STEM competencies – science, technology, engineering and mathematics.
For its 2014 deliberations in Australia, the B20's specific human capital interests cover long-term and youth unemployment, jobless growth and the impact of automation and robotics.
So how does Australia square up on this agenda on "human capital" in current policy directions? And is its recipe one we would want to follow in any case?
Business role in education and training
Skilling up young people to step seamlessly from education to work is certainly a desirable goal. The formula advocated by the B20 is heavily oriented towards present workforce needs and strong involvement of business, echoing the 2010 joint G20/International Labour Organisation (ILO) paper A Skilled Workforce for Strong, Sustainable and Balanced Growth.
However the same paper further on also says:
Experience from various countries provides important lessons on the limits of skills forecasting: crucially, that it is better to focus on providing adaptable core, transversal skills, and especially on building the capacity to learn, than on planning training to meet detailed forecasts of technical skill requirements, because these may change before curricula can adjust.
Where is the jobs growth?
The table below shows half of Australia's workforce is in health care and social assistance, education and training, wholesale trade, retail trade, construction and manufacturing. There has been little change in this over the last 30 years.
While manufacturing has declined, more employment is found in health care and social assistance and education and training. While employment in the professional, scientific and technical industry grouping has doubled, it remains a relatively small area of employment.
And, for all the buzz about employment in information technology, media and telecommunications, it remains a tiny sphere of employment and has not grown in the last 30 years. We might also note that in 2014 around 10% of the workforce is in industries designated as administration and 7% in accommodation and food services.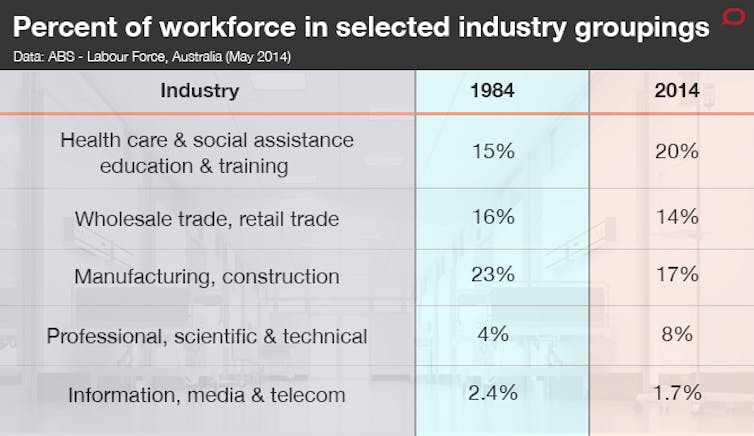 What will the Australia B20 make of these facts? As the recently released Welfare Review report points out, 90% of Australian employment is in the services sector and in the next five years, half the jobs growth will be in health care and social assistance, retail trade and construction. Aged and disability care will be particularly strong growth areas with the introduction of the National Disability Insurance Scheme and of course, the result of population ageing.
The focus on STEM competencies in the formula for human capital development is strongly linked to economic growth aspirations resulting from their innovation potential. But the extent to which the education and training system can prioritise these skill sets is questionable.
And can the Australian science and technology industry sectors sustain a flood of new candidates for jobs? With government policy reducing expenditures and workforces in key institutions such as the CSIRO, and in research funding, such jobs will be much harder to find.
The 2010 G20/ILO competencies in analytical skills involving creativity, problem-solving, communication, teamwork and entrepreneurship will be especially important in the evolving Australian labour market. These would also seem to be the skills that would help young people create their own enterprises, another core interest of the B20.
Youth unemployment – no quick fix
There is an air of crisis in the international community about youth unemployment in the aftermath of the global financial crisis. The G20/B20 concerns are echoed by the World Economic Forum, the European Commission, the OECD, the IMF, and the ILO.
B20 and the IMF make much of the skills mismatch between young people and the job market, assuming the education system is failing to keep up with the new skills needed.
But this is not really supported when considering the composition of the workforce in Australia and the growth in the service sector, particularly in health care.
Other factors that have nothing to do with new types of jobs tend to be overlooked. For instance, unemployment amongst youth is high because there are simply not enough jobs for all who want them, with new entrants competing with experienced contenders.
As economist Jeff Borland has consistently pointed out, the best remedy for youth unemployment is jobs growth. It is also worth noting the current high levels of youth unemployment - around 12-13% - mirror those from the late 1970s. Youth unemployment rates were at the lowest in Australia prior to the GFC but have reverted to what they were across the 1980s and 1990s.
Also impacting on accessibility to jobs for young people is how these jobs are organised and performed. New technologies such as robotics and automation are compressing and reconfiguring jobs, rather than creating new ones.
This transformation, rather than a skill mismatch, may represent the greater challenge facing young people.
The reality is that there may be no "quick fixes" for youth unemployment, apart from sustained jobs growth.
What society should be doing for them is providing them with every possible support, including income support, to allow them to find sustainable work consistent with their education and training. The government's new suite of welfare policies targeting people under 30 is a retrograde step in helping them adjust to the contemporary world of work.