Move over Mad Men – there's a new group of advertising executives hitting the small screen. The Crazy Ones, a TV series set in a Chicago advertising agency, is currently the top-ranked show in the new US television season and it's screening now in Australia.
There are some heavy hitters involved too. The Crazy Ones stars former vampire slayer Sarah Michelle Gellar and comedian Robin Williams. It's created, written and produced by David E. Kelly, the man behind legal dramas Ally McBeal and Boston Legal.
Williams is making a long-awaited return to TV. He hasn't performed in a TV series since his role as Mork in the much-loved 1970s comedy Mork and Mindy. In The Crazy Ones, he plays Simon Roberts, an unconventional advertising executive at the Chicago agency Lewis, Roberts, Roberts. Gellar plays his daughter, Sydney, who also works at the firm and tries her hardest to keep her father under control.
Some 15.61 million viewers watched the first episode broadcast in the US in September and it will be interesting to see whether that momentum is maintained and the series becomes a world-wide hit.
Of course, The Crazy Ones joins a distinguished list of TV series and films set in the colourful world of advertising.
Springing immediately to mind is the Emmy Award-winning series Mad Men, which presents a stylish view of life at the New York advertising agency Sterling Cooper in the 1960s.
The chic lifestyle of the ad executive Donald Draper and the other "mad men" – a term for those who worked in advertising at Madison Avenue – was full of cigarette smoking, drinking, sexism and racism. It was a time so different from today – but many look on the series with nostalgic romanticism.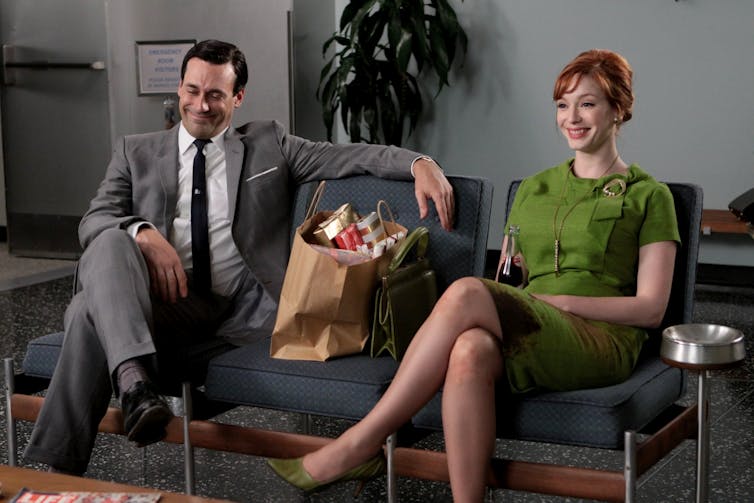 One early peek into the advertising industry was offered in the film The Hucksters (1947), with a stellar cast including Clark Gable, Deborah Kerr, Adolphe Menjou and Ava Gardner. The Hucksters is not a great film – but it does have a great scene that gives some insight into ad-land.
Sydney Greenstreet, the formidable head of the company Beautee Soap, enters a meeting with executives from the Kimberly Agency and spits on the table. He wipes it off and says:
You have just seen me do a disgusting thing. You will always remember what I just did. You see, if nobody remembers your brand, you aren't going to sell any soap.
Ten years later, the comedy Will Success Spoil Rock Hunter? (1957) took a dig at television advertising. Rockwell Hunter (Tony Randall) tries to save his career at the ad agency by getting sex symbol Rita Marlowe (Jayne Mansfield) to endorse the product Stay-Put lipstick. But she'll only agree to do so if Rock acts as her new lover. It's a lot of fun – and occasionally used to screen on TV on lazy Sunday afternoons.
Another is the film Crazy People (1990), starring Dudley Moore, Darryl Hannah and Paul Reiser. In this comedy an ad executive reaches his breaking point and ends up in a mental institution – where else would you send a "mad man"? His career starts again with a new theme of "honesty in advertising". Who could disagree with the slogan: "Volvos, Yes they are boxy, but they're safe".
Trying to answer an eternal question, in What Women Want (2000) Mel Gibson plays an ad agency executive who is magically struck with the gift of being able to hear what women are thinking. He uses this ability against his new boss, Helen Hunt, to gain a new account and, well, you can guess what happens.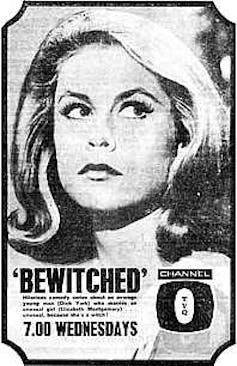 Finally, an honorary mention for the TV series Bewitched (1964-1972). It was about the beautiful witch, Samantha Stephens (Elizabeth Montgomery), who is married to an ordinary human, Darrin (played first by Dick York, and then by Dick Sargent), who uses her magic powers to create and solve their daily family problems.
Darrin works for the advertising agency McMahon and Tate, with his boss and friend Larry Tate. A number of episodes included pitches to potential clients or deals with current clients who in some way were affected by a magical spell. The series has been described as "the original Mad Men".
Bewitched has had a big influence on many peoples' attitudes towards advertising, and those that work in it. I recall a former student of mine saying he had been interested in a career in advertising ever since watching it as a boy. A colleague has also mentioned the "Darrin Stephens School of Advertising" – where all you need is a good creative idea and everything will be solved.
Of course, there are other movies that have had a connection with advertising, such as Picture Perfect (1997), in which Jennifer Aniston plays a young ad executive; Lost in Translation (2003), in which Bill Murray travels to Japan to make an advertisement; and In Good Company (2004), in which a battle of the generations is played out between Dennis Quaid and Topher Grace, as ad sales executives.
Clearly, the advertising industry and those who work in it have been a good source of inspiration for Hollywood. And with the success of the first episodes of The Crazy Ones, it appears that trend is going to continue.