The Trump administration's nationalism (as most recently witnessed in his pro-travel ban Twitter reaction to the London attacks) has had an unfortunate effect on universities in the United States. Namely, some international students, surmising that they're unwelcome or unsafe studying in the U.S., are not applying. As a result, many American universities are reporting a significant decline in international student applications.
This decline in applications, while applauded by those hoping to improve admissions for American students, has unintended long-term consequences: It makes America less safe and less prepared for future global growth.
As a researcher studying how individuals develop cross-cultural competencies, I've found that domestic and international student integration on American university campuses is essential for building cultural understanding – important for the future of national and economic security.
The need for student integration
Over 600 university presidents recently reminded Secretary of Homeland Security John Kelly of international students' benefit to national security. In a letter dated Feb. 3, 2017, they stated that international students who study in the United States return to their home countries as "…ambassadors for American values, democracy and the free market."
According to NAFSA (a nonprofit organization for international educators), international students can help to counteract negative stereotypes of Americans back in their home countries. Research has found that college students with friends from different countries are more open-minded and had less apprehension when engaging in conversation with people from different countries. Both, I believe, are useful characteristics to combat terrorism; those who like Americans would seem less likely to attack America.
In addition to the benefit for national security, integration of international students is critical for American students' development of cultural agility: the ability to work comfortably and effectively in different countries and with people from different cultures. Cultural agility is a competency in high demand by employers, making it an asset for both American and international students upon graduation.
Roughly one-third of multinational firms cite a lack of culturally agile employees as a limit to their global competitiveness. When over 13,000 professionals from 48 countries rated their effectiveness on 12 managerial tasks, the three tasks with the lowest ratings were those with an intercultural component: integrating oneself into foreign environments, intercultural communication, and leading across countries and cultures. Clearly, it's a skill valued by employers, but lacking in the workforce.
My research has found that cultural agility can be readily fostered on diverse college campuses that successfully promote inclusion. It is gained over time, through collaboration and friendship among those from different cultures.
Fostering international and domestic student integration
Some universities have started #YouAreWelcomeHere campaigns to attract international students with a countervailing message of openness and inclusion. The campaign will, hopefully, also encourage wary international students to apply. Enrollment, however, is only half the solution. What happens when the international students arrive?
While studying in another country holds promise for developing cross-cultural competencies, the reality is all too often quite different. According to the South China Morning Post, 25 percent of Chinese students attending Ivy League universities in the U.S. dropped out of school. Many reported difficulties adjusting to the new environment.
For those international students who do not drop out, nearly 40 percent of them reported having no close American friends but would like to have more meaningful relationships, based on a study of over 450 international students attending 10 public universities in the United States. International student experiences fall short of the expectation that cross-cultural bonding and skill-building will occur automatically; sharing a campus and classes is not enough to form friendships.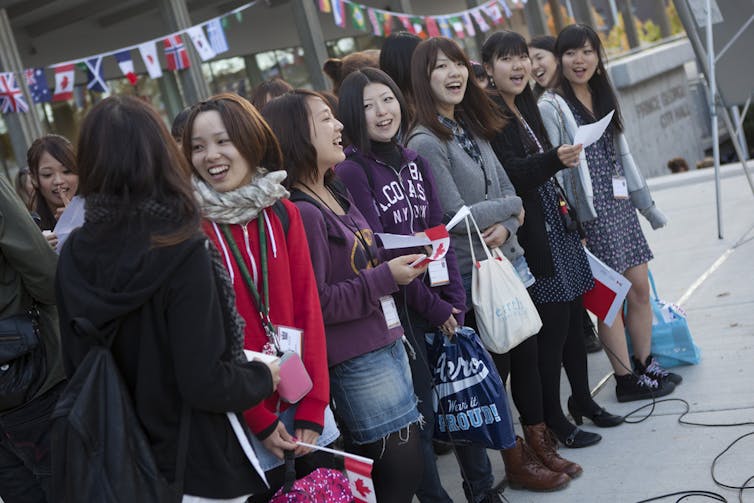 College is a stressful period. When under periods of stress, students, like all of us, have the greatest cognitive and emotional comfort with those who they perceive are going through the same experience.
The result is that people from the same country, when placed in a new country together as foreigners, connect with one another. We see this when we walk around not only college campuses but also expatriate communities abroad. While it is a natural human response, students who associate only with other similar students miss the opportunity to develop their cultural agility.
In an intervention piloted at the College of Business Administration at Kent State University, we found that student integration could be fostered by training both international and domestic students in conversational and cultural skills. The study, while not yet published, found that students who participated in this skill-building program had greater openness and higher levels of integration when compared to a control group. The benefit was an increased sense of ease to make friends on campus, better perceptions of social support, a sense of belonging and overall satisfaction, especially among those students who were less open when starting their freshman year.
Looking ahead
Students, both international and domestic, benefit from their multicultural friendships. Through their college friendships, they can demystify differences and become more open to people from different countries and cultures. This ease with cultural difference is the foundation of cultural agility.
This cultural agility can, in turn, have a lasting, positive effect on their personal career success and international cooperation.
The challenge, especially in today's environment, is for universities to get ahead of the decline in international student applications before it becomes a detrimental trend. If not addressed, the opportunities for cultural development will be limited, potentially eroding national security and our students' professional success as they compete in the global economy.