Worries over binge drinking, women adopting masculine drinking patterns, and debates over legislation to restrict alcohol consumption: World War I has strange similarities to our own time. Since the 1830s, alcohol consumption was increasingly being linked to many social problems and by 1900 an estimated 10% of the population were total abstainers and consumption had begun to fall. One crucial factor in the cultural and social world at this time was the strong temperance movement.
Military personnel, non-combatant men, women and children and those directing the war at the highest level were all aware of the issue of drink. Temperance, of course, originally meant moderation. But early concern about spirit drinking soon gave way after the 1830 Beer Act made beer much easier to obtain, and drunkenness became rife, especially in industrial conurbations.
Slaves to alcohol
Total abstinence, or teetotalism, was taken up by working people as a liberating movement – and this simple creed proved actually easier to follow. Drinking anything at all was presented by temperance groups as inevitably leading to enslavement, and by the 1840s "temperance" came to mean total abstinence for many.
Membership of such groups grew steadily throughout the century and, in some quarters, it advocated prohibition. It is simplistic to see the temperance movement as springing merely from religious piety or the maintenance of social order because it brought the undeniable benefits of domestic safety and prosperity to many.
More widely, concerns about the concept of "national racial vitality" became linked by some to perceived heavy drinking among working-class men, women and children, and in the last two decades of the century the Liberal Party was very sympathetic to locally-imposed prohibition – although no law was passed. Military leaders such as Lord Kitchener wanted the steady hands of teetotal fighters and pre-1914, ending the rum ration was discussed.
The enemy within
Temperance workers sprang into action in August 1914. The month saw thousands of leaflets and posters rushed off the presses, as well as special: "Don't Ask me to Take a Drink" pledge cards that were distributed in conjunction with military recruiting depots and territorial corps. This barrage continued throughout the war.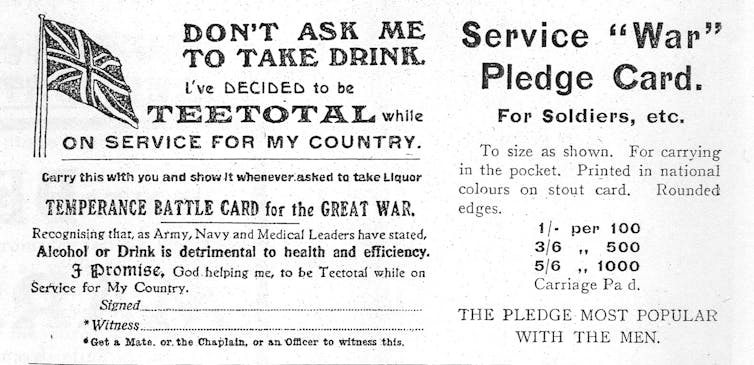 Plentiful material was also produced to support teetotal combatants at the front. The letter columns of The Times were filled with debate over prohibition, or appeals for the adoption of total abstinence – considered morally superior to state coercion.
Yet drinking was perceived by the public to have increased in many situations – from embarking combatants who were given "dutch courage", to munitions workers with increased spending power. Many of this latter group were women, and their public drinking offended current social mores, as well as interfering with production.
As minister for munitions, David Lloyd George repeatedly spoke of such drinking as a problem – for example on February 28, 1915, he declared:
Drink is doing us more damage in the war than all the German submarines put together.
He then told the Shipbuilding Employers Federation on March 15 that Britain was:
Fighting Germany, Austria and Drink, and as far as I can see the greatest of these three deadly foes is Drink.
Not a teetotaller himself, although representing many in his constituency, Lloyd George initiated a campaign for complete abstinence for the duration of the war. The coup was to persuade King George V to support this, with the statement issued that "no wines spirits or beer will be consumed in any of His Majesty's houses after to-day, Tuesday April 6th, 1915."
Delighted temperance campaigners trumpeted: "Follow the King's Lead," in leaflets and posters, and took to the streets regularly to gain more converts.
Government moves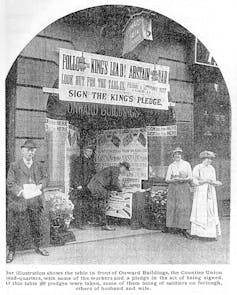 Opening hours in public houses near munitions factories had already been restricted in August 1914, and the Defence of the Realm Act 1914 and subsequent modifications banned drinking on trains and the buying of drinks for others, so-called "treating". Duty on alcohol was progressively increased while the strength of beer was reduced.
Despite this, public concern persisted, fed by reports of public drunkenness in munitions areas such as Carlisle in Cumbria, where convictions for drunkenness had quadrupled. The Central Control Board (Liquor Traffic), set up in May 1915, had considerable powers to control drink production and take over public houses and breweries in naval, military munitions or transport areas, and by September it had purchased all of those around Carlisle. Drink advertising was forbidden, and civil servants were put in to run pubs.
Other restrictions applied nationally. By 1917, there was further public discussion of complete nationalisation of the drink industry, or indeed complete prohibition. However, with a keen political sense, Lloyd George's government did not proceed to these lengths. The measures were presented as an "experiment" rather than a first step.
The result?
Convictions for drunkenness fell, spirit consumption radically declined, and beer consumption reduced in the war period – from 89m gallons in 1914 to 37m in 1918. There was no temperance victory however; with post-war cultural change and a reaction against wartime drink restrictions, the movement itself began to decline. But drinking did not return to pre-war levels. The Carlisle "experiment" continued with controlled pubs until 1971 and influenced wider industry practices, but not until modern times has drink once again been such a topic of concern.