The "stay" side of the EU referendum campaign seems to be fighting fire with lists. The aim being to reel off everything the EU "has ever done for us" in the hope of convincing people to vote to remain.
And as women make up half the electorate deciding whether the UK stays in the EU, it seems appropriate to ask for some evidence on what the EU has, or has not done, for gender equality. After all, the Brexit campaigners have launched a dedicated women's group, claiming that their struggle is akin to that of the Suffragettes.
The list-makers would point us to the multiple areas of EU "activity" related to gender equality. Sex discrimination in the workplace, and in goods and services, equal pay, pregnancy discrimination, maternity and paternity rights, childcare, domestic violence and female genital mutilation are all part of the European agenda. But the challenge is to sieve through these activities to find genuine changes – particularly ones that would not have happened anyway.
Assessing the record
Here are some examples from the first entry on the list – sex discrimination in the workplace. In spite of having adopted sex equality legislation in the 1970s, there are a number of specific aspects of sex discrimination on which the UK dragged its heels until EU institutions intervened.
The EU Court of Justice told the UK it couldn't impose a compensation cap in sex discrimination claims, for example. And it instructed the UK to stop requiring a "sick man" comparator for pregnant women, since this had effectively permitted discrimination on the grounds of pregnancy.
The EU also permitted women on maternity leave to accrue holiday pay (though UK rules remained in conflict with this principle for some years).
The EU appears more ambitious (if not always effectively so) than the UK on the subject of further changes to maternity rules. The European Parliament recently proposed extending full pay to 20 weeks of maternity leave – a suggestion rejected by the UK. The idea has since been abandoned.
When it comes to discrimination at work, The EU's rulings have been incremental, rather than revolutionary. They also tend to operate squarely within a pre-determined, male-leaning model of economic activity and male work patterns.
The limitations of the EU's sex equality legislation are further underlined by the exclusion of unpaid care of adults from the reach of discrimination protection, while reproductive work simply does not register on the EU's radar.
On the agenda
Figures on the pay gap vary. Women earn on average 16.4% less than men per hour in the EU economy as a whole. But we know that it fluctuates according to age, sector, whether work is full or part time, and level of pay. Highly-paid women earn 20% less than highly paid men, while male bonuses were recently reported to be double those of women's. It also varies considerably between member states, and between regions of each state, as this pay gap map shows.
The EU has acknowledged "persistent gender differences" and notes that they "should be effectively tackled whenever they result from societal or institutional barriers or constraints". Warm words indeed, but it hasn't given much by way of an action plan.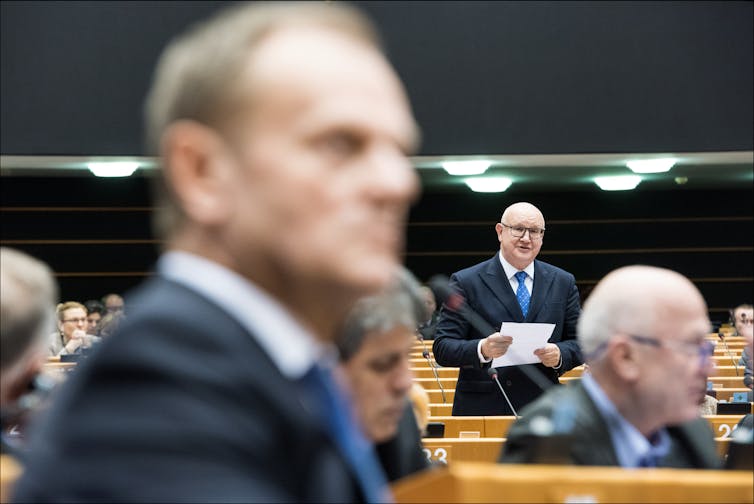 Access to childcare remains critical for increasing female labour market participation, career prospects, and earning potential. Way back in 2002, the European Council pledged to provide childcare to at least 90% of children over the age of three before they start school and at least 33% of children under three. By 2013, just ten member states had reached the target for under threes and only nine reached the target for over threes. Even where the targets were met – as in the UK – cost, availability and quality were all significant problems.
Brussels boys club
On inadequate child care and related pay gap policies, the member states – including the UK – must take a share of the blame. But the EU must take responsibility for how its own institutions are constituted – and they are constituted largely of men.
Even allowing for the role of member states in nominating representatives, it is implausible to say the EU could not address the striking male tilt in Brussels.
There are five female judges in the Court of Justice – out of 28 in total (and two out of 11 Advocates General). There are six out of 28 in the General Court.
Women account for just nine of the 28 Commissioners, and only eight of 36 Directors General – and that is after a reshuffle to improve the gender balance. The European Parliament, where women make up 37% of MEPs, is a little more balanced.
It should also be said that as dismal as these numbers seem, they still compare favourably to domestic institutions. In the UK, 191 out of 650 MPs are women (29%). Only one out of twelve Supreme Court judges is a woman, and eight out of 43 Court of Appeal judges.
But in light of the dominantly male character of EU institutions, it shouldn't be surprising that its actions on gender equality are found wanting.
If we ask what the EU has ever done for women, we are suggesting that the EU is somehow a separate entity to women, who should be grateful recipients of well-intentioned, mostly-male actions. Paternalism is disenfranchising and disempowering. The EU "doing things for women" is not enough. Women need to be "doing things" in the EU.
This article also appears on The UK in a Changing Europe blog