You'd not have known it from the media coverage, but the national election on May 7 was not the only contest playing out in the UK. Almost all English district and unitary councils – 279 of 293 – held elections too, and there were also votes for six mayors, for many parish and town councils, plus the odd local referendum.
There were no council elections in London, Scotland or Wales, but English voters – many doubtless to their surprise – were confronted by up to five ballot papers. Those in Bedford, for example, had votes for an MP, a mayor, two borough councillors, up to 11 parish councillors, and a referendum on their Police and Crime Commissioner's proposal to increase council tax – the first ever of its kind.
The predictions
These multiple ballots offered electors the obvious opportunity for split-voting: one for their MP or national government, and another more personal, local or protest vote.
The chief beneficiaries of any split-voting were expected to be minor parties and independents in the council elections. But, as the nearly complete results table shows, that was another prediction largely confounded in these elections.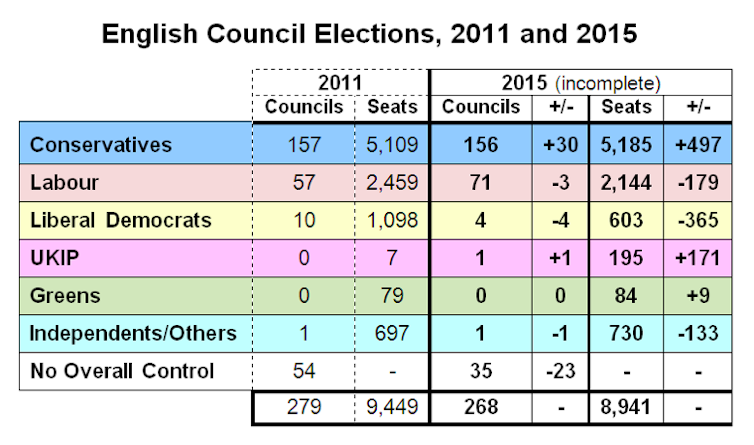 Local government's four-year electoral cycle means that the baseline with which to compare these elections was 2011, when most of the actual council seats up this year were last won and lost.
Since then, the opinion poll ratings of both Labour and the Conservatives have dropped. The Conservatives, though, were thought likely to be the bigger losers, having done well in 2011 and therefore defending far more seats than Labour, and having also been more damaged by UKIP's dramatic rise.
But just as predictions for the national election proved wide of the mark, so did those for the 9,500 local contests.
The results
The Conservatives were the unambiguous winners of these local elections and Labour not just the net, but absolute, loser. The Lib Dems suffered as painfully as they did nationally. The junior coalition partners were predicted to lose around 50 seats but ended up ceding more than seven times that number. UKIP made progress, but less than it hoped, and the Greens flatlined.
The Conservatives won overall control of more than 30 councils – mostly, it should be noted, councils without a single party majority before the vote. Those gains rightly got the headlines, but two of the party's most satisfying results will be its retained and slightly strengthened control in Solihull and Trafford – the only two of the 36 big metropolitan councils it currently holds.
Other now Conservative controlled unitary councils include Basingstoke & Deane, Poole, and Bath & North East Somerset, where there are now two Greens, but 14 fewer Lib Dems and a first-time Conservative majority.
Shire district councils won included traditionally independent Babergh, Suffolk, also for the first time; Amber Valley, Gravesham, and North Warwickshire straight from Labour; Hinckley & Bosworth from the Lib Dems; Gloucester, St Albans, Scarborough, Winchester, and Worcester.
Further Labour losses included Walsall metropolitan borough and the unitaries Plymouth and Stoke-on-Trent – all now left with no single majority party.
Even defeated parties must find consolation somewhere, and Labour's will include hanging on to a knife-edge majority in Bradford, thanks to independent candidates, UKIP and Respect all losing seats, and gaining majorities in unitary Stockton-on-Tees, and, after a suspended recount and overnight rest, Cheshire West & Chester.
Labour is also now the largest party on Brighton & Hove – which in 2011 had become the first council to be run by the Greens.
As in the national election, the Greens' recent membership surge didn't really translate into hard results, though they will be encouraged by seven gains in Labour-dominated Bristol, bringing them within touching distance of official opposition.
In this year's local elections, UKIP was the history maker. Party leader Nigel Farage had failed to become Thanet South's MP, but his party reduced Labour councillors from 24 to four and won overall control of Thanet district – its first principal council.
The mayors
Good Lib Dem news was at a premium all weekend, but enough of Bedford's conscientious voters backed Dave Hodgson to re-elect him comfortably for a third term as the borough's mayor.
In other mayoral votes, Peter Soulsby was re-elected for Labour in Leicester, Gordon Oliver for the Conservatives in Torbay, and Mansfield's three-term Independent Tony Egginton was succeeded by his Mansfield Independent Forum colleague, Kate Allsop.
Another Independent, Mike Starkie, was elected as the first mayor of Copeland in Cumbria, while in Middlesbrough three-term Independent Ray Mallon has retired and is replaced by Labour's Dave Budd – though only after a second preference count and the rejection of large numbers of spoilt ballots, presumably from the many Labour members who, despite the result, want the mayoral system abolished.
In these mayoral elections at least, then, there was something for almost everyone: Labour, Conservative, Lib Dem, and Independent.