Coal seam gas (CSG) is one of the most controversial issues bubbling through the New South Wales election campaign.
It's a particularly hot topic in regional NSW, where communities and farmers have often felt their concerns have not taken seriously enough by the CSG industry and successive Labor and Coalition governments. As NSW Deputy Premier and Nationals' leader Troy Grant recently said about the CSG debate:
People are yelling at each other. It's probably one of the most difficult things we've had to grapple with in government.
Since losing government in 2011, Labor has backed away from its strong past support for the CSG industry. In the lead up to the March 28 poll, Labor leader Luke Foley has promised to suspend all existing CSG exploration licences and not issue any new exploration or extraction licences, and only lift that moratorium if the industry "is proven to be safe". Labor would also introduce a permanent ban on CSG in the Northern Rivers region, the Pilliga Forest in the state's north-west, and core drinking water catchments, as well as 2 kilometre buffer zones around National Parks, RAMSAR listed wetlands, and residential areas.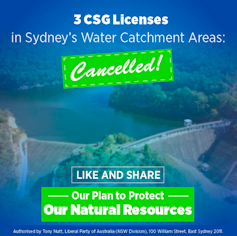 Fred Nile's Christian Democrats – who could prove pivotal in the state's upper house after the election – have also backed an immediate moratorium on new CSG exploration and production licences. The Greens plan to go further and introduce a bill after the election to permanently ban CSG projects.
Meanwhile, the Liberal National coalition government has cancelled around a dozen exploration licences granted under the former Labor government, including those relinquished by the exploration company Pangea as unlikely to yield commercial reserves. However, Premier Mike Baird said this week that coal seam gas "will remain a big part of the economy, yes, and it is part of our overall solution."
If Labor wins at the March 28 election, the state's CSG industry looks set to go on hold. But if the opinion polls are right, and the Baird government is returned, what is likely to happen next? And what are some of the key issues to watch, no matter whether you're a supporter or an opponent of the CSG industry?
The Baird government's gas plan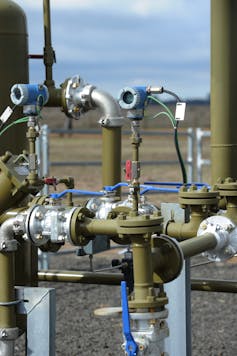 CSG resources in NSW are very small relative to Queensland resources but, if a sensible and transparent mining regime could be put in place, they could provide a useful additional source of gas.
However, before this can happen, better information is required about the risks from CSG extraction.
In November last year, the Baird government released its new Gas Plan. Its plan adopted all of the recommendations of an inquiry into the state's CSG industry by the NSW Chief Scientist and Engineer, Professor Mary O'Kane. The new gas plan also followed the May 2014 suspension of gas explorer Metgasco's right to drill a controversial exploration well.
Among other things, the gas plan commits the Baird government to:
Undertake more science and collect and publish more information on CSG, including providing communities with much better information covering how exploration and production will impact their region
Define much more closely which areas of the state are available for exploration
Introduce world best practice regulations covering exploration and production, with the EPA becoming the new regulator for gas exploration and production
Legislate that the financial benefits from gas exploration and production are shared with landowners and communities
Secure NSW gas supplies, by diversifying sources of supply and driving national reforms.
But will the new plan be sufficient to sufficiently rekindle community confidence in the local industry for gas exploration to recommence, and see new projects brought into production? Or are incidents like AGL's recent suspension of production at Waukivory pilot project evidence of further problems ahead?
Water, community and regulation
The new policy framework gives much greater weight than before to getting the community on board. Even so, there remain three critical areas to watch:
the risks to groundwater
the need for a tighter, more transparent, regulatory framework, incorporating stronger environmental protections
the need for better processes to arbitrate established landowner interests and the interests of prospective miners.
On water resources, the NSW government should carefully examine the National Assessment Of Chemicals Associated With Coal Seam Gas Extraction In Australia and the US Environmental Planning Agency's report on hydraulic fracturing and drinking water, which are both due to be completed within months. It should also take advantage of the national Bioregional Assessments that are currently being undertaken in northern NSW.
The O'Kane inquiry's report suggests risks to water resources are manageable. But do the above reports back up this judgment? For example, is the mobilisation of BTEX chemicals (which stands for benzene, toluene, ethylbenzene and xylene) likely to be a major issue with hydraulic fracturing in CSG?
These national and international studies will provide communities with much needed peer-reviewed science on risks associated with CSG production. They will enable stress testing of the O'Kane conclusions. The Bioregional Assessments will also provide important baseline information, should any projects be approved for production in NSW.
Experience over recent years shows how much damage can be done to industry if it fails to secure strong community support, and particularly if it shows little respect for local views.
That for the most part requires a commonsense approach to explaining risk, rather than belittling community concerns. In recent years, the CSG industry has performed well below what is expected when it comes to community engagement – and it's now reaping the consequences.
Restoring confidence after it has been lost will require concerted sensible and transparent behaviour. For example, AGL's managing director, Michael Fraser, said in a January 2015 media release that the Waukivory Pilot Project was being suspended "because of community concern about the detection of BTEX" chemicals. Surely AGL should be concerned in its own right?
Finally, NSW will need to be mindful of the total regulatory costs and royalty charges it imposes.
Its overall plan needs to determine whether there is a sweet point between competing demands of world-class regulation and protection of the environment, compensation to landowners and communities affected by new unconventional gas projects, weighed up against minimising prices to consumers and supply availability. This is particularly the case with the recent massive fall in world oil and gas prices.
As unlikely as it may sound, one approach would be for NSW to show leadership in national regulatory forums, by seeking COAG support to put in place sensible national environmental regulations, assuring communities that their interests will be looked after.
Looking after groundwater resources must be at the top of that list for protecting community and environmental interests. National rules and consistent behaviour, including strong independent monitoring and oversight of groundwater resources, would contribute to community confidence.
Equally, we also need a well-functioning eastern seaboard gas market that operates efficiently and effectively, which will help to minimise prices for everyone.
Whichever party forms government after the NSW election, there is plenty of room for both companies and communities to carefully examine the evidence on CSG and its implications, and for governments to take decisions based on them in the best interests of the wider community.