One of the striking announcements in George Osborne's last budget before the election is a significant reduction in the amount of budget surplus he is aiming for by the end of the next parliament. He is now only aiming for a £7 billion surplus in 2019-2020, instead of the whopping £23 billion he wanted in his Autumn Statement in December.
As the Office for Budget Responsibility said today, public service spending is in for a rollercoaster, as displayed by the following graph: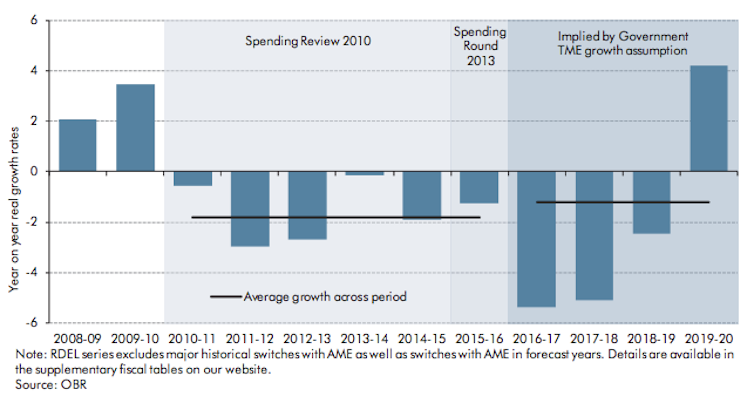 The strange spending path is due to politics. The implication of the Autumn Statement was that public service spending would be cut to levels not seen since 1948. Now they will be 36% of GDP – marginally above 1999-2000 (when it was 35.9%).
The productivity problem
What the chancellor didn't mention is that UK GDP per person is 16% lower than we would have expected on pre-crisis trends and the major factor is lousy productivity growth. Productivity is important because, while the chancellor can point to healthy GDP growth numbers and high employment figures, productivity (GDP per hour) is critical for long-run income growth.
The chancellor neither mentioned the productivity problem, nor did anything to address it. Indeed, several of his policies will make it worse. For example, £2.2 billion has been pencilled in for a continuation of the awful Help to Buy Scheme which subsidises house demand for first-time buyers. But without a serious way of delivering an increase in housing supply this will simply lead to further escalation in house prices.
Further, the Conservative fiscal plan is to deliver a balance on the total budget by 2018-2019, whereas the other main parties are focused on balancing the current budget (which excludes public investment). This matters, because the Conservative fiscal rules leave little room for the government to borrow for investment.
Low rates of investment, especially in infrastructure and research and development, have been an important cause of low productivity. The cuts in public investment of 40% over the first two years of this parliament were a huge policy error and contributed to the slowest recovery in a century.
Austerity and cuts to come
The Chancellor announced some tax takeaways (such as an extra £4.4 billion from the bank levy) and giveaways (like £5.7 billion in extra personal allowances) and we can expect more of the latter in the election campaign. But what the public is still unprepared for is the scale of austerity to come.
All the main parties have signed up to the Charter for Budget Responsibility which means balancing the cyclically adjusted current budget and cutting the deficit by 2017-2018. It is hard to see how this will be done without further tax rises, especially given the proposed cuts in unprotected public services. Tax rises have occurred after each of the last five elections, so don't be surprised for a few unexpected tax shocks after polling day.