Australia has some of the world's most ancient soils, many of which grow delicious produce. In this series, "The good earth", soil scientist Robert Edis profiles some of those soils and the flavours they bring.
The most famous Australian terroir is that part of the Coonawarra region in south-eastern South Australia with "Terra Rossa" soil.
Cabernet Sauvignon vines growing here produce low yields of grapes that are highly concentrated in chemical compounds called flavonoids. The flavonoids lead to elegantly intense blackcurrant flavours with mint, even choc-mint, characters in the subsequent wine. The real thrill of these grapes is best appreciated straight from the vine – lots of skin and seeds but blinding, jaw-zinging flavour like staring at the sun coming out of an eclipse.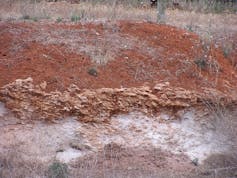 Formally, this Terra Rossa is a petrocalcic red Dermosol. These are astonishingly beautiful soils in profile, bright red earth over the white parent material (limestone) below.
The depth of the soil is highly variable. During the periods between ice ages, the depth increased as wind-blown material, iron oxides (giving the bright rust red colours) and some organic matter piled up. According to Professor Robert White (author of Understanding Vineyards Soils), insoluble impurities like quartz and clay in the limestone accumulate as the limestone dissolves.
The most brightly coloured red Dermosol has developed on the top of a 2000ha narrow, slightly elevated ridge of calcrete capping. The capping is a secondary calcium carbonate on top of the less-dense limestone below.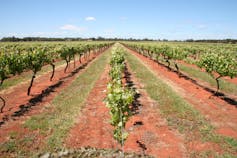 The calcrete curbs deep root growth and reduces access to water; though as Professor White observes, the roots of older vines do appear to get into the underlying limestone in much the same way as in the St Emilion and Cote d'Or wine regions in France. This rate of supply is supposed to contribute to the concentration of flavour and distinctiveness of the wines.
The soil is calcium rich, which along with the iron oxides, leads to good drainage. The soil pH is neutral to slightly alkaline, maintained by the dissolving calcium carbonate. This restricts the availability of nutrients such as phosphorus, copper, zinc and manganese.
The biosynthesis of flavour chemicals by the vine is driven by genetic and environmental factors. The stresses and luxuries a plant encounters will influence the relative abundance of these chemicals, sometimes resulting in pleasurable combinations as seen here. How a specific suite of soil conditions influences the balance of grape qualities is poorly understood. However if you see a bright red soil on a white calcrete capping you could be on a winner (depending on the climate of course).
Last week: Thorpdale Red Ferrosol and chip potatoes.