The illegal immigration bill has generated endless controversy on its way to becoming law. The bill, which effectively bans asylum seeking in the UK, has faced heavy criticism for its treatment of children, its approach to modern slavery victims and other provisions that are likely to breach international law.
You might remember a lot of debate only last year over a new immigration act. Priti Patel, then home secretary, claimed the Nationality and Borders Act would finally fix the problems that have resulted from a "broken system … of illegal migration". At the time, she stated it is "heartless and immoral" to let small boat crossings continue. But a year after the act came into force, crossings are still happening, with a record-high number in June 2023.
What's the difference between these two pieces of legislation?
Law one: a two-tier asylum system
The Nationality and Borders Act introduced a two-tier system that offered refugees different levels of protection depending on how they entered the UK. Those who arrived via "safe and legal routes" were granted permission to stay. Meanwhile, those who entered irregularly, such as by small boat, received limited rights including a temporary stay of 30 months, no defined route to settlement and restricted family reunification rights.
The act also included new procedures for determining the age of young asylum seekers. And it set the stage for the controversial Rwanda plan by providing for offshore processing of asylum claims.
It deemed anyone who arrived irregularly inadmissible for asylum. But if the Home Office was unable to provide proof or actually remove the person, the rules required that they still be admitted into the asylum process.
Law two: an outright ban
The illegal migration bill is the most extreme piece of immigration legislation to date, and amounts to a ban on asylum. It also makes much of the Nationality and Borders Act – passed just a year ago – redundant, though the smaller provisions such as age assessment and offshore processing will remain.
Under the proposed law, anyone who enters the UK irregularly (the majority of asylum seekers) will never have their asylum claims assessed. They and their children will never be granted any permission to stay in the UK. And, the government will immediately move to detain and deport them to their country of origin or another "safe" country.
The bill also stops people who arrived irregularly from accessing modern slavery support, or from using claims of trafficking as a reason that they should not be removed. This part of the bill faced fierce opposition in the House of Lords and from Conservative backbenchers, leading to a prolonged "ping-pong" between houses.
---
Read more: Nationality and Borders Act becomes law: five key changes explained
---
Why do we need both?
The government says the illegal migration bill is needed because the asylum system is (still) broken, citing the increase in small boat crossings since 2018.
Tighter security in recent years, as well as the pandemic, has made other clandestine routes (such as concealed in a lorry) more difficult. There is some evidence of a snowball effect, in that the success of many small boat migrants being granted asylum has encouraged others to make the risky journey.
The introduction of the illegal migration bill is, in effect, an admission that the Nationality and Borders Act hasn't worked the way the government hoped it would. The government claims that the new bill will work because: "If people know there is no way for them to stay in the UK, they won't risk their lives and pay criminals thousands of pounds to get here."
However, decades of research has shown that asylum seekers are rarely aware of the policies of the receiving state.
Targeting Albanians
Another reason for introducing the bill is as a direct response to the large number of Albanians crossing in small boats – making up just under one third of the crossings in 2022.
The government has claimed that Albanians and others from "well-established safe countries" are falsely claiming to be victims of trafficking in order to access support they are entitled to under the Modern Slavery Act. Steeped in a history of xenophobia, this has been a common trope through both the Sunak and Johnson administrations with Sunak singling out Albanians in a speech in December 2022 on illegal immigration.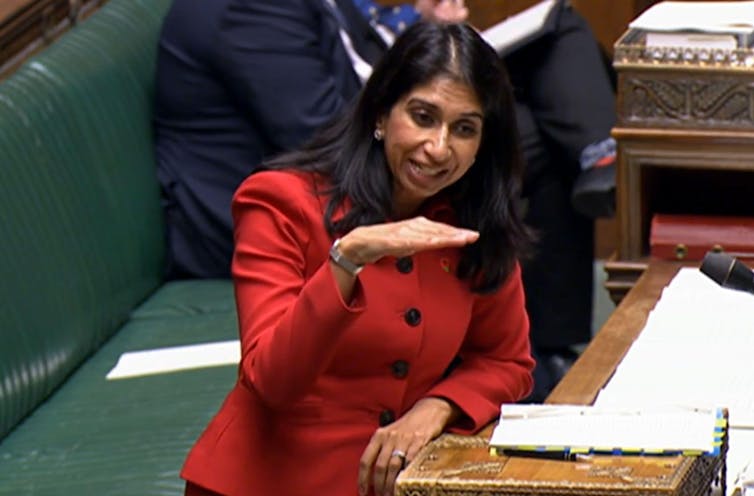 The government's evidence for this is that Albanians are the top nationality referred to the modern slavery system, despite the country having signed on to an anti-trafficking treaty.
But there is evidence that many Albanians flee due to blood feuds between families, for which the Albanian state offers little protection. In a bid to deter Albanians from seeking asylum in the UK, the government signed an agreement with Albania to speed up the return of its citizens.
---
Read more: Modern slavery: UK's focus on 'genuine' victims has failed survivors since the 1800s
---
Albania also has longstanding issues related to trafficking, as well as discrimination and violence against LGBTQ+ people and ethnic Roma and Egyptian communities.
Performance politics
The government has spent the last few years on two major pieces of legislation to deal with the same issue. Both are legally questionable. And what's more, the Home Office doesn't have the resources or, arguably, institutional competence to implement them.
Most importantly, both policies are built on a strategy of deterrence, which even the Home Office acknowledges doesn't work.
Ultimately, both pieces of legislation are performance politics that have more to do with winning an election than solving policy problems. Stoking the issue of immigration plays well politically for the Conservatives, while deflecting from failures on the economy and the NHS.
It is also a mark of the Conservatives' intra-party factionalism. Suella Braveman wants to make her mark as the toughest home secretary to date. Sunak is desperately distinguishing his administration from his toxic predecessor's, and wants to be seen to fulfil his promise to "stop the boats". This will be done at all costs, even through unworkable, unethical and unevidenced policies.