In Spring 2016, Croatia, Slovenia and Macedonia "closed" their borders to migrants who had been transiting these countries via the "Balkan route" on their way further into the European Union. The closures follow other attempts at shutting EU borders: Hungary built a fence along its border with Serbia, while the so-called "EU-Turkey" deal was intended to prevent people from reaching EU borders by sending those who had crossed the Mediterranean back to Turkey.
Despite the border closures, the Balkan route is still active – a problem recognised at an EU leaders' meeting in July. Now those refugees not able to get any further are stuck in limbo. Non-governmental organisatons (NGOs) and the UNHCR estimate there are at least 200 arrivals per day in Serbia, with around 5,000 people stuck in Serbia alone.
Even though the number of people stuck in Serbia is comparatively small, our interviews throughout the summer of 2016 showed that a lack of resources and attention is precipitating a secondary humanitarian crisis: a growing refugee population is living in increasingly precarious conditions and is almost wholly reliant on smugglers to leave. The UNHCR believes that border closures divert problems and aggravate living conditions, while Médecins Sans Frontières (MSF) told us they see a correlation between the closures and increased levels of violence against refugees – both by smugglers and border authorities.
The situation in Serbia
Serbia became a focal point of the refugee crisis in the summer of 2015, when an unprecedented number of new arrivals crossed into the country on their way to Western Europe via Hungary and Croatia. Typically, most people stayed in Serbia for only a few days before moving towards the EU. In contrast to measures employed by its neighbours, the Serbian government adopted an official policy stating that it would not erect fences and would respect international laws on human rights by not restricting movement of people searching protection. This changed dramatically a year later, and although Serbia has not completely sealed its own borders, policy has shifted from protecting rights to protecting borders.
These attempts at sealing borders have been accompanied with a complex and fragmented regional regime of asylum registrations and so called "push backs", where people crossing the border into Hungary, for instance, are intercepted and returned to Serbia. The official and "legal" way to cross into Hungary is via one of the waiting lists operated by local authorities. But one local NGO working with refugees in Serbia said the information about how these waiting lists operate is unclear and contradictory.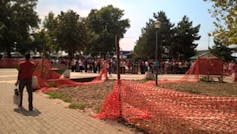 Only 30 people are admitted into Hungary legally each day via two border points with Serbia, but the number of people arriving in Serbia each day far exceeds the number "allowed" to leave, so people are staying for longer periods of time (in some cases, several months). Refugees are also reporting to aid workers that they are facing increasing violence against them by Hungarian border police. Similar reports are also being collated by activists working with refugees in Belgrade.
Crossing borders into Hungary or Croatia now takes several attempts, both for people attempting to cross legally and illegally. The prices paid to smugglers have, according to our informants, increased dramatically: crossing the Serbia-Croatia border with a smuggler, we were told, now costs €1,500 per person. Deaths have also occurred along the Bulgaria-Romania border, as refugees try to find alternative routes, following the "closure" of the Macedonian border.
Pressures on resources
The Serbian state is partly unwilling and partly unable to provide adequate support and welfare for the growing number of refugees. Politically, its policy has shifted away from supporting refugees towards controlling borders in an effort to appease voters who are no longer sympathetic to the refugees' stay in the country. In practical terms, the state has a support system in place – a state-run Commissariat for Refugees and Asylum, which oversees distribution of aid and runs "asylum reception centres". But the infrastructure in place is not wholly adequate in meeting the actual needs of the refugees.
UNHCR reports that 87% of refugees are housed in official centres. But the need for shelter far outstrips supply, and homelessness – particularly among single men – is growing. The state-run "asylum reception centres" are located near Belgrade, the Hungarian-Serbian border, the Croatian-Serbian border and in Presevo, near the Macedonian border. Information on the centres is contradictory.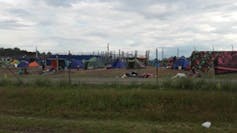 The government claims that reception centres with a capacity for 2,000 people are not full. But during our visits to the centres between June and August 2016, it was clear that in at least four of them, people were being accommodated in tents pitched outside of the centres themselves, suggesting overcrowding.
It's also possible that refugees are choosing not to go the official camps, as it is unclear to most people – including aid workers – whether refugees staying there would be allowed to leave Serbia later. Informal camps and settlements along the Hungarian border have also sprung up, and we saw families with small children living in these settlements.
Pushed out of public places
In places like Belgrade, people, mainly single men unable or unwilling to access official camps, are sleeping rough in parks and squats. Ever since the crisis unfolded, public parks have been important hubs for sharing information about the route, and establishing contacts with other refugees and activists. Parks have free public wifi, free meals distributed by the NGO Refugee Aid Serbia, and various activists – some who speak Arabic and Farsi – who help refugees access information, answer questions and provide free tea.
This summer, the local authorities started to clear the city of refugees by discouraging people from sleeping in the two centrally located parks – the Luka Celovic Park and Bristol Park – both located near the central bus station, via which many refugees arrived into Belgrade. In July 2016, all the grass in the central parks populated by refugees was dug up, and the parks fenced off, which precipitated a hunger strike by them.
For a while, people sleeping rough in the park relocated to decrepit buildings in a nearby derelict storage yard, living in a squat with no facilities, except for a single hosepipe. But on September 16 2016, local authorities evicted refugees as some of the buildings were being demolished to make way for a controversial development scheme, Belgrade Waterfront.
Refugees living in squats and parks rely on food donations by Refugee Aid Serbia for survival, and wait for a chance to cross the borders. Longer stays mean that many are running out of money and must either wait for money to arrive from family abroad, or seek increasingly desperate means of procuring it.
The fencing off of the parks has led to vocal protests by activists who see this as an attempt to break up the refugee communities, push them to the margins of the city and disable them from contacting smugglers, who use the parks as places to establish contact with refugees.
The support networks to help refugees are continually under threat: all NGOs must register with the commissariat in order to operate, but the official policy towards them is becoming increasingly hostile. Volunteers are also starting to report police harassment of activists aiding refugees in the park, particularly those not officially affiliated to NGOs.
Local tensions
Another perceptible change has been the shift in public mood. While outright xenophobic attacks against refugees are rare in Serbia, there have been some local anti-refugee protests.
In the border town of Sid, residents are petitioning for the removal of the refugee camp, and in Belgrade, a group of residents carried out a daily protest throughout August 2016 against refugees living in the park. This marks a drastic departure from a broadly sympathetic public attitude in 2015 and the emergence of solidarity networks. The change in mood can partly be attributed to the population's own economic woes, mass unemployment and generally poor welfare provision, and the feeling that refugees have now overstayed their welcome.
Our interviews this summer show how the border closures around transit countries come with hidden costs. Politicians are able to claim that specific routes are "closed", so giving the impression that all problems pertaining to these routes have been dealt with. In reality, border closures simply mean that attention is diverted from the increasingly precarious living conditions in which refugees stuck in transit zones find themselves. The EU border closures have left a significant population reliant on volunteers, donations, aid organisations and smugglers.