If rumours are true about its forthcoming product release - the iWatch - Apple is inadvertently paying homage to the comic strip legend Dick Tracy.
The fictional 1940s police detective with the ridiculously chiselled jaw was famous for his wristwatch radio, which he used for two-way communications to headquarters.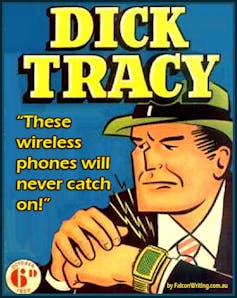 While it's unknown if and when the iWatch will be released - and Apple, of course, refuses to comment on speculation on yet-to-be announced products - the company has the technology to create such a device following the announcement last year that the manufacturers of the glass used in iPhones, Corning, had perfected the creation of bendable glass.
So, no-one really know what's going on – which is serving only to fuel the fire. Earlier this week, The Guardian ran a series of interpretations by designers of what the watch might look like – all of which can be seen here.
So what do we think we know?
Apple's rumoured iWatch might not have phone-capability as yet but the company's initial foray into wrist-worn gadgetry is predicted to have a navigation system, health and fitness monitoring features and a Siri-like natural language interface - so you'll still be able to talk to your device (a la Tick-Tock Tracy?).
Oh, and you'll also be able to use it to tell what time it is.
The big question for me is whether the iWatch will have an analogue or digital dial, or both? If the hour and minute hands make a welcome virtual return, clockwise may soon be back in vogue with this retro technology – but only if users can wean themselves off using their smartphones as a time-piece.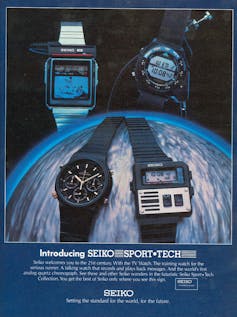 This perhaps is another reason why the iWatch should evolve in later iterations to act like a phone. Whether Swatch-like or not in its maiden implementation, other hints suggest that the clock face will be made of Willow Glass, which is used for making thin, pliable displays, similar to the Gorilla Glass used on more than one billion devices worldwide.
Who knows, but the robust nature of this novel glass might make accidentally cracked Apple screens a thing of the past.
The iWatch as digital Switch Army knife in terms of multiple functionalities is a nostalgic throwback to the 1980s.
In that last golden era of digital watch technology, companies such as Seiko produced a wristwatch with a tiny built-in television screen while Casio marketed watches with a plethora of extra embedded features, including a thermometer, calculator, altimeter, barometer, compass and even a rudimentary language translator.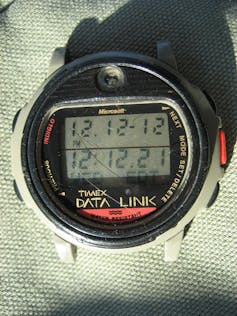 The Timex Datalink line of smartwatches from the mid-1990s was designed in partnership with Microsoft to be the vanguard of wearable personal digital assistants with their key selling point being wireless data transfer from watch to computer.
Some critics may have accused these as being mere geek toys – and none of these ever lasted: chiefly because the smartphone eventually arrived on the scene and became the one-stop device of convenience for the masses due to technological convergence.
From a fashion perspective, the advent of the smartphone, with its planned obsolescence as a contributing factor, may have also supplanted the wristwatch as a unisex item of personal jewellery.
You wear it well
One enduring hassle with the growth of smartphones is that, as their screens become subtly larger, so too does the whole package. The conundrum is then where to pocket the damn thing, if it can even fit neatly into one.
Users can end up doing the twitchy smartphone hand-to-hand dance or they can dangle it from their necks or belts or keep it in their handbags and so forth.
This is a major usability issue, in my opinion, and one that can possibly be addressed through well-designed wearable technology.
Form shouldn't follow function for tech that you wear; these qualities should run in parallel. In this regard, I do hope that future versions of the iWatch morph into something more phone-like – the type of thing Dick Tracy would indeed be proud to wear, as well as having everything else built-in except for the kitchen sink.