Picking the right insurance plans for your budget and health needs is challenging. Weighing monthly premiums and co-pays against yearly deductibles and comparing the benefits different plans offer can make your head spin, especially if you are newly insured.
Over the past 10 years, I have been studying how people make health decisions. More recently, I have explored how health literacy affects the decisions they make about health insurance. The less familiar people are with health insurance language, the more trouble they have choosing the right plan for them and their families.
By 2022, about 30 million individuals are expected to enroll in health plans using the insurance exchanges created by the Affordable Care Act (ACA). But fewer than 25% of uninsured individuals feel confident that they understand basic health insurance terms and concepts.
People may even find the word "premium" (the monthly bill one pays to have health insurance) unfamiliar in the context of health insurance. And when people have trouble understanding insurance terms, it can keep them from enrolling or prevent them from choosing the best health insurance plan for their needs and budget. We need to do more to help people understand how health insurance works and how to choose a plan that works for them.
It's hard to choose the right plan when the terms are new and confusing
Before the passage of ACA, about half of the uninsured had been without insurance for at least five years, and nearly 20% had never had health coverage. Many people who will be gaining insurance over the next several years don't have much experience with choosing plans, or the kind of language used to describe the benefits plans offer.
When people choose an insurance plan, they need to weigh trade-offs between cost and coverage for insurance features. Picking a plan that provides the coverage you need at a price you can afford is a difficult task. It's even harder when you don't have a great understanding of the language that insurers use to describe plans. For example, choosing the right plan is tough when you aren't sure what "deductible" means.
This kind of knowledge is called health insurance literacy. More specifically, it is:
the knowledge, ability, and confidence to find and evaluate information about health plans, select the best plan for their financial and health circumstances, and use the plan once enrolled.
When people feel overwhelmed by choices and information, they can experience information overload and avoid making a choice as a result. Worse yet, without appropriate support through the process of choosing an insurance plan, many people could wind up with a plan that does not meet their needs and become saddled with bills as a result. In some cases, having the wrong plan could be worse financially than having no plan at all because people might wind up paying high costs for care on top of a high monthly premium.
In 2013, my colleagues and I spoke to 51 uninsured adults to find out how much they knew about insurance. Some thought that a deductible was a way to lower the cost of a bill when one couldn't afford it ("they deduct it down"), and not the amount of money a patient has to pay before his health insurance plan starts sharing their part of the bills. If consumers with high health care needs choose a high-deductible plan, they might wind up spending far more on health care bills than they anticipated. They may feel they were better off without insurance at all.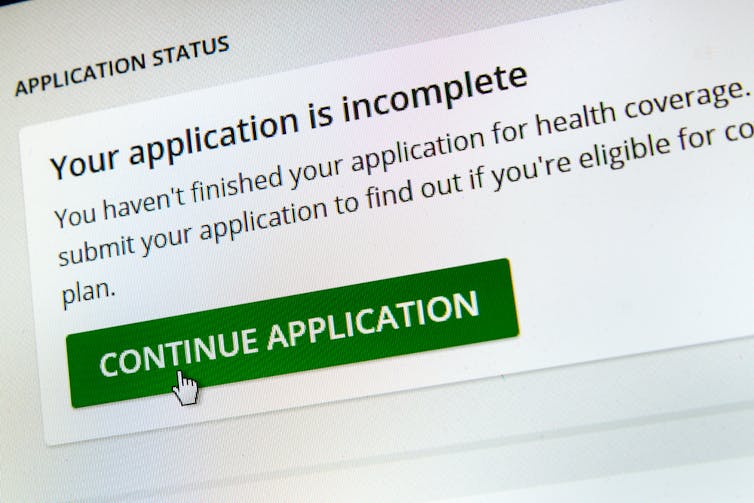 Developing new tools to help people pick plans
Recently, we have been working with a team led by investigators at Washington University in St. Louis to develop a decision support tool to guide Missourians through the process of enrolling in health insurance in the federal marketplace (Missouri is one of the 34 states using the federal marketplace on HealthCare.gov).
To develop this tool, we wanted to know the terminology and details that were most confusing to the uninsured. To do that, we interviewed more than 50 uninsured individuals in the St. Louis region.
We found that a number of common insurance terms – including coinsurance, deductible, out-of-pocket maximum, prior authorization and formulary – were confusing. Those who had never had health insurance in particular struggled to understand these terms.
Through this work, we created some strategies that can help people understand health insurance better. We found that many people who had purchased car insurance referred to it when thinking about the word "deductible."
And people better understood a word's meaning when provided with concrete examples. When asked about the term "formulary" (the types and brands of medicine that an insurer will cover), for example, one participant explained, "I haven't heard the word, but, like, when I go to [pharmacy name] and stuff, they'll, they'll tell you if the insurance company is not covering that medicine."
We used these findings to develop three tools to support enrollment:
A table containing definitions and examples of various terms in plain language
Images paired with these definitions and
A series of written narratives describing how other people made their decisions about health insurance.
How well do these tools work?
It looks like a little bit of explanation and support can go a long way. In a study we published in April, we found that these tools helped consumers make decisions about health insurance that were consistent with their needs and preferences.
We studied 363 uninsured or recently insured individuals, and found that plain language and concrete examples were essential to consumers' health insurance understanding. Narratives helped engage people in the material and helped them see the process that others use when making a plan choice.
Developing better tools
Now we are working to expand these tools. We have interviewed insurance navigators who are certified and trained to educate people about their insurance options, policymakers, and uninsured participants to gather feedback about the tools and graphics.
For example, tailoring information to individuals' family status and health status can help consumers better weigh the trade-offs between cost and coverage across plans.
We have started working with the Center for Health Communication Research at the University of Michigan to program an online tool with educational material, a section to ask consumers what matters most to them about insurance, and a section showing them plans that match with their health status and preferred plan features. We hope this tool will help individuals to identify the plans that best match their health and financial needs and preferences.
In fall 2015, we will begin a trial to see how well this new tool works. We'll randomly assign participants who do not have insurance to learn about health plans by using HealthCare.gov or the new tool.
We will ask participants to report what plan they would choose given this information, how well they understood the information and how confident they feel in their choice of insurance to test the tool's effectiveness. We will give them a printout of the information before they enroll so that they can use it while choosing a plan.
Navigating the changes in the health care system is challenging for many people, especially for those with limited health insurance literacy.
For the uninsured adults that will be using HealthCare.gov to enroll, the process of applying for coverage and selecting a health plan requires understanding insurance terms, calculating complicated costs and assessing risk. Our research may be an important step toward improving health insurance literacy and connecting individuals and families with the health plans that best meet their needs.
---
This piece was written with the assistance of Brianna Cusanno, Public Health Advanced Summer Education (PHASE) student research assistant at Washington University in St Louis and Carey Kebodeaux, MPH, Project Coordinator at Washington University in St Louis.