Although his acting was eclipsed by his music, David Bowie pursued a fascinating parallel career, appearing on stage, television and in films by a diverse range of directors that includes Nicolas Roeg, Nagisa Ôshima, Martin Scorsese, David Lynch, Julian Schnabel, Jim Henson, Julien Temple, Tony Scott and Christopher Nolan.
His roles ranged from an alien being to a Goblin King to a rapidly ageing vampire and a captured World war II British army officer.
The critical response to his performances was generally mixed, but considered together they are of a piece with the restless, experimental approach he applied to his music. They represent a consistent attempt to move beyond the medium in which he was comfortably successful, bravely exposing rather than concealing his limitations.
His first significant role was as the extraterrestrial protagonist in the 1976 science fiction film in Roeg's, The Man Who Fell to Earth (1976). It is the film that makes by far the best use of his performance style.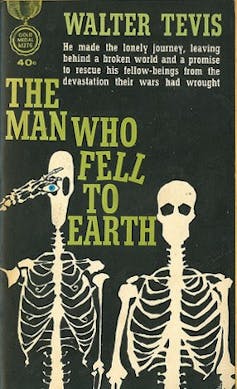 Adapted from a 1963 novel by American author Walter Tevis, this bleak, beautiful, formally playful eco-film tells the story of an alien who has travelled to earth in search of water to save his drought-ridden home planet. Despite struggling with the heat and stronger gravity of earth he is able to pass as human and exploits superior alien technology to become extremely wealthy, setting up a global corporation in order to build spaceships that can travel between earth and his home world.
Roeg recounted in his autobiography that while he had initially wanted to cast the novelist Michael Crichton for the role, (since he, like the alien in the novel, was extremely tall), and also considered Peter O'Toole, he decided to offer Bowie the role, despite the musician's lack of acting experience, after spotting him in a BBC documentary.
It was undoubtedly a financially smart move to employ one of the most famous musicians on the planet in the lead role – and the casting cannily invokes the apocalyptic science fiction scenarios of Bowie's albums, The Rise and Fall of Ziggy Stardust and the Spiders from Mars and Diamond Dogs.
Awkward and self-conscious? Ideal
However, what drew Roeg to Bowie was the fact that he wasn't a professional actor. In this film and others, when viewed alongside the confident, expressive, naturalistic performances of experienced screen actors, Bowie's understated delivery of lines, approximation of accents and hesitant bodily presence can seem awkward and self-conscious, or even technically incompetent. It is an example of what Richard Maltby terms "autonomous performance" – acting that can make us aware that we are watching a performance through action and spectacle in contrast to an "integrated performance" style in which a technically skilled actor is convincingly subsumed into a character.
Watching Bowie on screen, we always watch the singer playing a role, even when he is playing himself. Of course, it is also the case that when we watch actors such as Daniel Day-Lewis or Christian Bale, we are always invited to study and admire their masterful displays of technically accomplished acting as well as the characters they portray, but for Roeg, who had previously worked with Mick Jagger in the brilliant, uncategorisable Performance (1970) and went on to direct Art Garfunkel in Bad Timing (1980), the attraction of a rock star was that they can act in a way that is simply impossible for a conventionally trained actor.
As Roeg explains in his autobiography:
There's a very fine line between actor and performer. Performers have to have an extraordinary gift of projection or personality. You can learn certain things like voice projection, or to always look at someone and then vary it but there's something odd about the art of performance. In the Hollywood Bowl there were something like 60,000 people for Mick Jagger. How many straight actors have had 60,000 people turn up for a single performance? Mick gives a performance unlike anyone else. It's an extraordinary piece of acting art.
The same is true of Bowie's exceptional performance in this film. Placing his naked, pale, skinny body on display, he portrays the alien as a fragile, wry, anxious, lustful, poly-sexual and tragically lonely character who is steadily brutalised – brought down to earth and humanised – by an indifferent, paranoid, consumerist society.
The producers at Warner Brothers were sceptical about the casting but, as Roeg explained to them, this was a film about an alien pretending to be human. In this respect, Bowie's sometimes stilted performance was the perfect realisation of this character. However, what gives the unforgettable portrayal a greater poignancy is the sense that this figure stranded in a strange, confusing and hostile environment is really a description of Bowie himself. As Roeg recalled: "He wasn't putting it on, it was who he was […] For example, Bowie has a marvellous laugh. It was just left of centre. It was like [Bowie had thought], 'Isn't that how they laugh on earth?'"