Even if you've not had the chance to see it, you'll know Melbourne is currently going to town over Wagner and The Ring Cycle. There's a clear historic precedent for this – but we have to go back a whole century to find it.
In 1912, Englishman [Thomas Quinlan](http://en.wikipedia.org/wiki/Thomas_Quinlan_(impresario/) visited Australia with his travelling opera company as part of an Empire circuit. His company promised to sing "in English to English speaking peoples all the time, never leaving the red portions of the geographical map".
Before departing Australia he posted a letter in major newspapers alerting readers that he would be back in 1913 and was willing to put on Wagner's Ring Cycle – "if 1,000 subscribers could be found to provide an advance subsidy".
Quinlan's production would mark the centenary of the German composer's birth. A century later, Opera Australia's Melbourne Ring Cycle, directed by theatre veteran Neil Armfield, is the centrepiece of this month's Ring Festival in Melbourne.
The full Ring Cycle was performed in Adelaide in 1998 and again in 2004, but it hasn't been performed in its entirety anywhere else in Australia since Quinlan's version.
Tickets for the current production sold out quickly – the cheapest going for A$1,000 a pop – and the best seats in the house for A$2,000.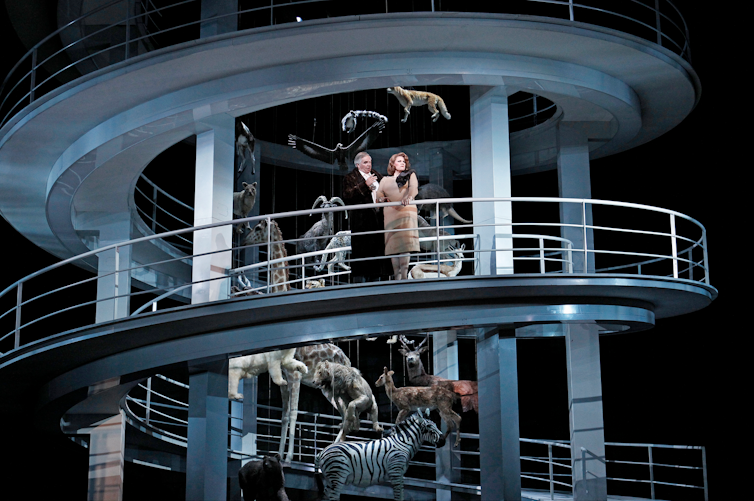 Because opera lovers can't elect to go along for just one night of Wagnerian excess – the Ring Cycle is made up of four operas, Das Rheingold, Die Walküre, Siegried and Götterdämmerung – it's the whole cycle, or nothing. But this clearly hasn't been a deterrent.
Quinlan encountered similar enthusiasm to that evidenced by the forthcoming sell-out shows when he put his proposal to Melburnians more than a century ago.
He asked for one guinea each for dress circle tickets, less for stalls and gallery and no tickets issued except for the whole cycle. Quinlan made big claims about Wagner's four-opera cycle:
"The Ring, which is the supremest expression of music drama, and which should be of incalculable service to the advancement of Australian musical art has to be done on a scale of splendid completeness or not at all. It does not admit of mediocrity."
Quinlan obtained his subsidy easily and returned the following year with 475 tons of scenery and wardrobe, and 176 people.
The company, many of whom were recruited from Covent Garden, sang the operas in English and travelled with their own large orchestra. Members of the company knew each other well.
They were well rehearsed when they arrived and could thus set a truly punishing schedule as can be seen from the following list for Melbourne:
opening night on the Saturday was Wagner's Die Meistersinger von Nürnberg
Monday, Verdi's Rigoletto
Tuesday, Wagner's Das Rheingold (the first of the Ring operas)
Wednesday, Offenbach's Tales of Hoffmann, matinée and Puccini's Tosca evening
Thursday, Saint-Saëns' Samson and Delilah
Friday, Wagner's Die Walküre (the second installment in the Ring Cycle)
Saturday, Gounod's Faust
Sunday, free
Monday, Wagner's Siegried (the third of the Ring operas)
Tuesday, Verdi's Aida
Wednesday, Tales of Hoffmann matinée and Wagner's Tannhauser evening
Thursday Charpentier's Louise
Friday, Wagner's Götterdämmerung, the final opera in the Ring Cycle.
All up, the company performed 14 different operas in 14 days. Such a feat is unheard of today!
Although The Bulletin's critic maintained steady ironic criticism of the libretto of The Ring – writing that "a God incapable of sterilising a gnome's curse or stopping his wife's tongue is not much of a person to write a four-volume opera about" – the majority of the critics raved about the Ring claiming a new epoch in Australia's musical history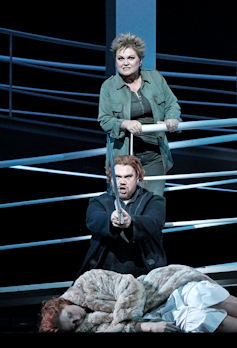 Audiences flocked to the Ring Cycle, despite expensive tickets – they cost twice as much as those to the other operas in the season – and there was an overall sense of gratitude to Quinlan.
(Tickets to The Ring Cycle are still much more expensive than those for other operas. The priciest tickets for Opera Australia's production of Puccini's La Bohème in Sydney in January 2014 go for more than $300 – but it's also possible to score a seat for $70.)
Melbourne was greedy for more, and a petition was put to Quinlan to put on another Ring Cycle. He obliged and it was a weary troupe that then moved on to Sydney.
Quinlan's desire to perform in English had an evangelical edge to it. He was on a mission to introduce new audiences to opera and he stated confidently:
"I am quite certain that no other language will in future be acceptable to English-speaking audiences in any country that we have visited."
Plans for further tours were stopped by the first world war, and The Ring was not staged in its entirety in Australia until 1998 when the State Opera of South Australia tackled it. Obviously antagonism towards Germany had an impact on performances of German opera in the periods after two world wars.
But opera programs after 1913 also showed a growing conservatism. Touring companies did not feel able to take risks, since the costs of box office failure were crippling. And when finally the first permanent opera company, the Australian Elizabethan Theatre Trust, as Opera Australia was first known, was established in Australia in mid 1956, risk taking was also not on the agenda.
Now 100 years later Melbourne audiences again have the opportunity to see the entire Ring Cycle in their home city. Sung in German this time, but as in 1913, with tickets far more expensive than those for any other opera – and sold out the day after the box office opened to the public.
Performances of the sold-out Melbourne Ring Cycle take place until December 13, 2013.
Further reading:
Explainer: Wagner's Ring Cycle, Der Ring des Nibelungen
Should we fund Wagner operas or statues of Kyle Sandilands?